New York isn't just about the landmarks – its culinary delights are attractions in themselves! With so many amazing foods on offer, you'll never be stuck for options whether you're looking for breakfast, dinner, or a cheap snack on the go. Take a look at the unmissable eats that nobody does better than NYC!
New York-Style Pizza
New Yorkers are fiercely proud of their pizza and claim it is even better than the Italian original! Characterised by a puffy crust, thin base and just a light covering of tomato, New York pizza is commonly sold by the slice and folded in half for ease of eating.
Bagels
A staple of the New York diet is the bagel, a dense bread roll that is sure to fill you up for the day! Bagels are sold all over the city with a wide variety of toppings, but the classic New York bagel is smeared with cream cheese and topped with lox, a tender smoked salmon fillet.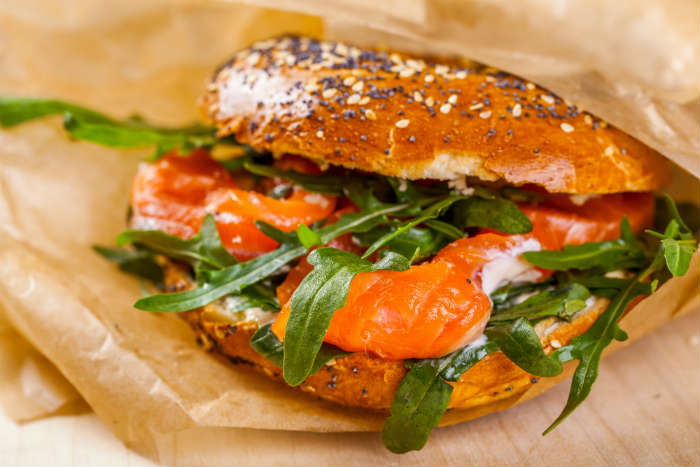 Cupcakes
Popularised by Carrie and Miranda's visit to the Magnolia Bakery in Sex and the City, the cupcake is one simple sweet treat that never seems to go out of style. Any New Yorker will tell you that there are much better bakeries than Magnolia, so track one down or head for the quirky cupcake ATM on Lexington Avenue.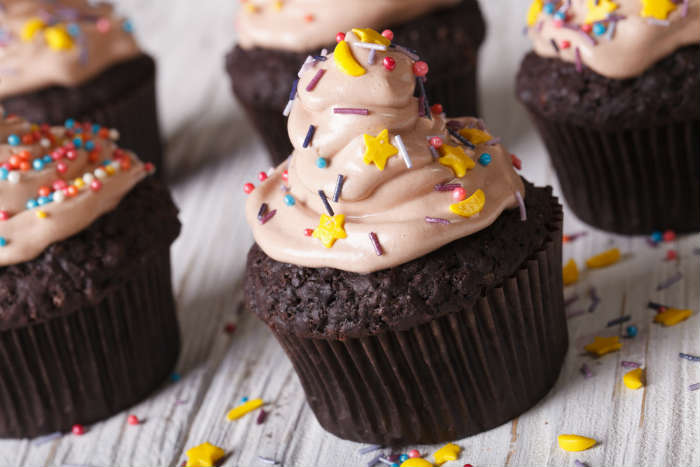 Hot Dogs
The hot dog street vendors are as symbolic of New York as the Empire State Building but don't let this mislead you; the dogs themselves are not so hot. Gray's Papaya and Papaya King are the most famous places to grab a hot dog, but generally any restaurant will serve up better fare than the street carts.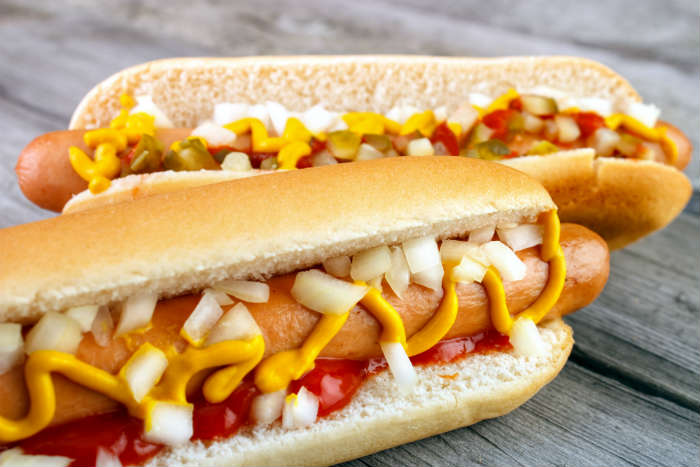 Doughnuts
In New York a good doughnut is treated as a work of art, and Dunkin Donuts is seen as a run-of-the-mill alternative to the lesser-known but higher quality independent outlets. In the USA doughnuts come in every flavour imaginable, and New York has even produced a new doughnut/croissant hybrid; the cronut.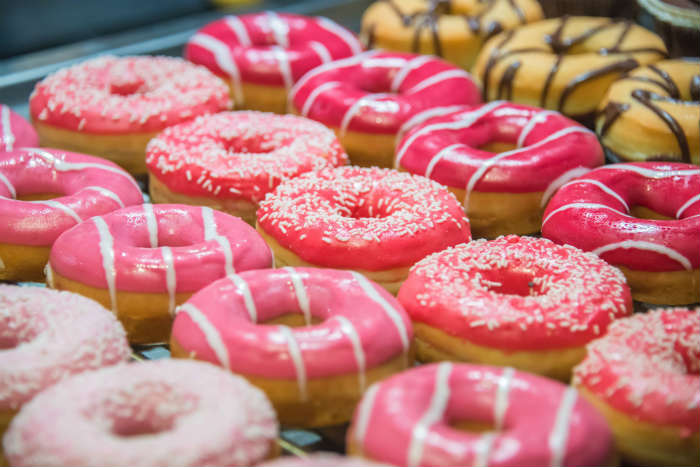 Brunch
Technically a meal rather than a food, but we couldn't skip over this New York institution! A weekend in New York is not complete without brunch, a combination of breakfast and lunch that includes, to name just a few, eggs benedict, pancakes, bagels and mimosa cocktails, America's answer to Buck's Fizz.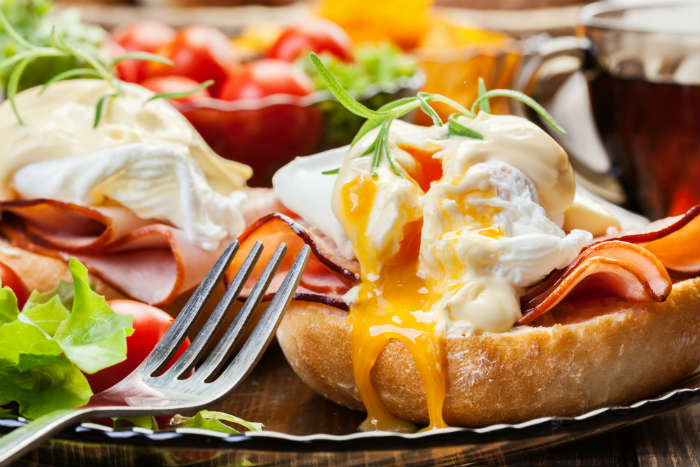 Pastrami
Popularised by the city's huge Jewish community, 'pastrami on rye' is the go-to deli sandwich for locals and visitors alike. Typically served over the counter or by brisk waiters at no-frills delis, a pastrami sandwich is ideal for a quick lunch stop.
New York Cheesecake
Not for those on a diet, New York style cheesecake is made with heavy cream or sour cream and usually twice-baked, making for a dense and creamy dessert that may be best shared between two! Although it can come in a variety of flavours, the classic New York cheesecake is simply vanilla, garnished with a scoop of fruit compote.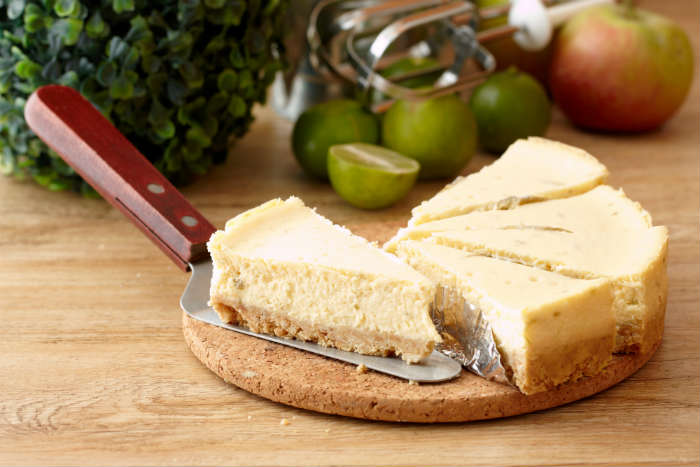 Steak
Steak restaurants can be found on almost every street corner in New York; your challenge is to seek out the good ones. New York steakhouses practically have their own culture, and offer every cut imaginable prepared in all conceivable ways. Be ready to have your mind blown – you've never had steak like this before!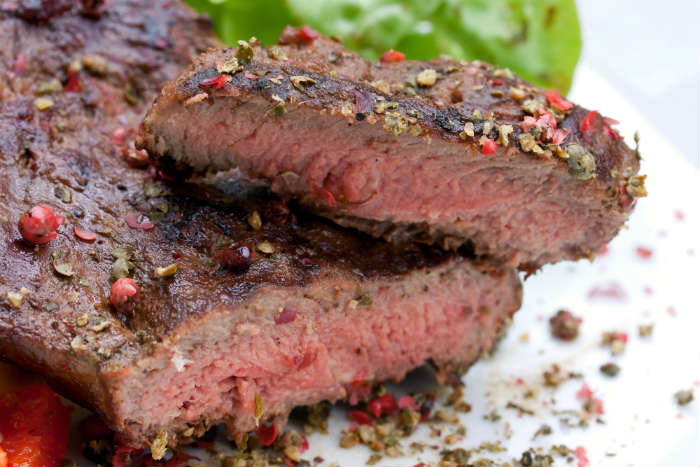 Black and White Cookies
Often overshadowed by donuts and cupcakes, the black and white cookie is worthy of attention. With a texture that is half cake and half cookie, the cookie gets its name from the fact that the biscuit is topped with half black icing and half white. Simple but delicious.
Compare New York holidays now!