Do you love the Greek Islands? Have you tried Rhodes yet? Well if not, you're missing out on the magical combination of gorgeous beaches and old buildings that ooze medieval history. There are also lush, green valleys nature lovers will adore and thermal springs that are just waiting to be bathed in.
If we're tempting you with those little snippets of Rhodes, then take a look below at these 10 photos that will make you want to go there…
Historic Sights
The sightseeing in Rhodes is pretty impressive. It's not just the beaches that are amazing here but there are well preserved medieval structures and streets dotted all around the island. One of the most popular sights is the Acropolis in Lindos which towers over the bay. Go up here for amazing views of the beach below or learn about how this building used to be the centre wealth on Rhodes.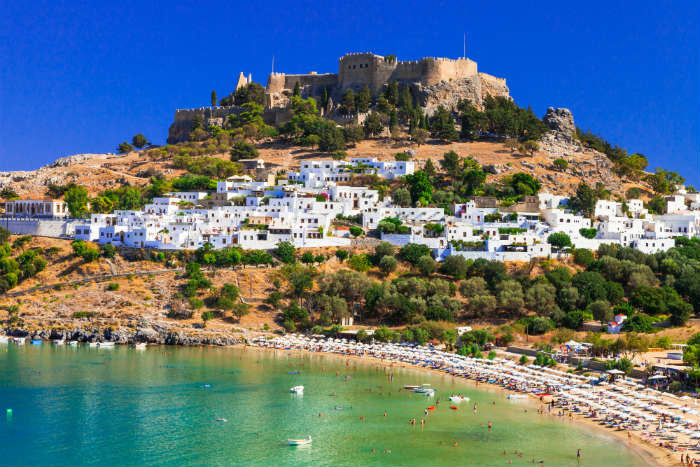 The Old Town Of Rhodes
Rhodes is a town of two sides. The old and the new. The new will contain everything we're familiar with in the modern world but it is the old town that is striking with it's thick, sturdy stone walls that were once a protection against anyone that threatened this Greek Island. Inside the Old Town walls, you'll find charming streets, narrow alleys and stone arches. One visit will probably not be enough to the Old Town as it's been known to be a bit of a heart stealer…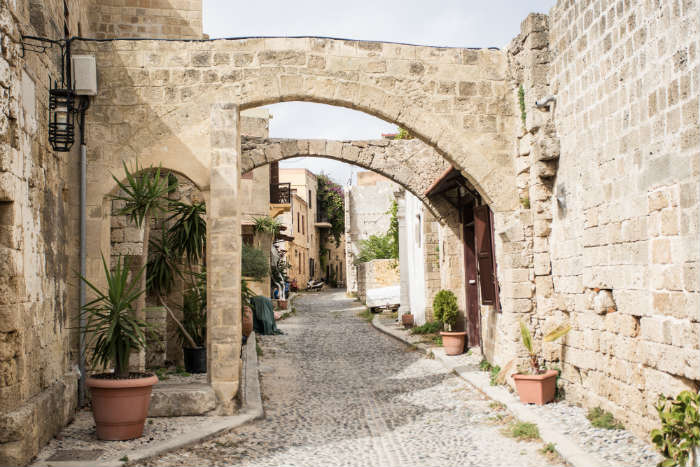 Lindos Bay
If Lindos Bay looked appealing from up at the Acropolis, why not go and spend a day there soaking up the sun? You can rent sun beds and if you're interested, you can even go diving in the clear water.
The Avenue Of Knights
It sounds pretty grand, doesn't it? Well, this street has earned its name for a reason. The Avenue of Knights used to be home to knights in the 15th Century that occupied the old town. In charge of the knights was the Grand Master who lived in the Palace of The Grand Masters.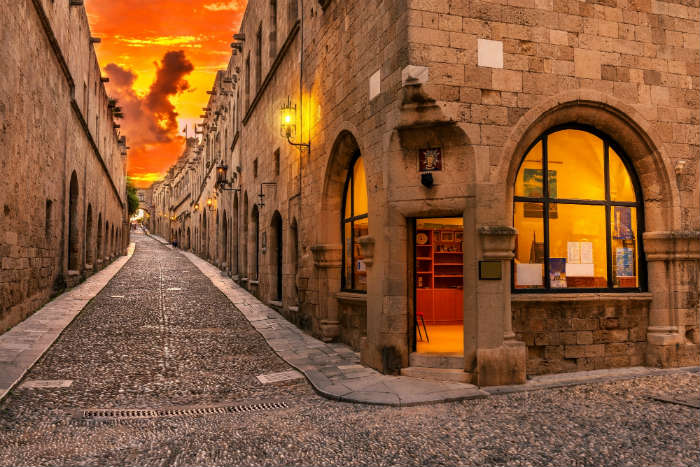 Palace Of The Grand Masters
Can you believe that this place used to have 158 rooms? Yes, it was huge. You can visit 24 of those rooms today and walk around the place that used to be central to the governing of Rhodes. In the 1800s, a lot of the palace was destroyed by explosives, but restored by the Italians when they occupied the island in the 20th Century and it looks like they did a pretty good job.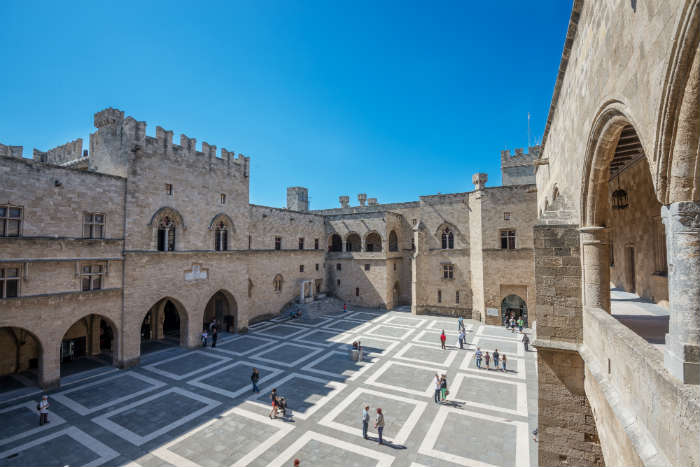 Petaloudes
On the north west coast of Rhodes lies Butterfly Valley, a lush, green place that's home hundreds and thousands of Jersey Tiger moths. These creatures make the valley come alive during the spring and summer and there's every chance of seeing them as you walk through this valley, past flowing waterfalls, and over bridges and streams. Just be careful not to disturb the butterflies as you observe them.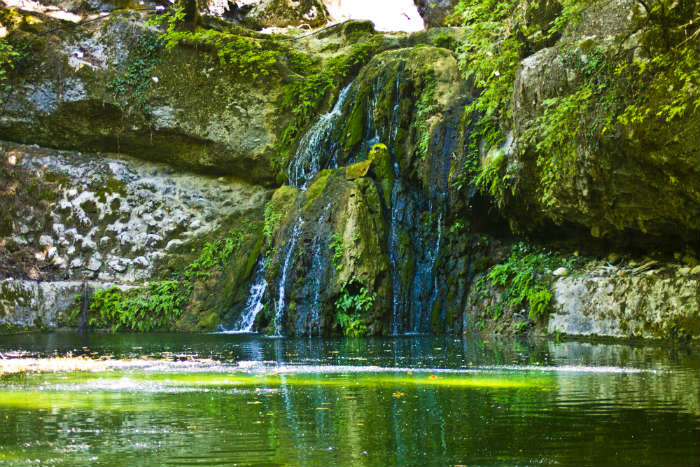 Anthony Quinn Beach
If you're looking for some quiet time in a cute little cove, Anthony Quinn Beach is the place to be. Although it's not the sandiest beach on the island – it's a combination of pebbles, sand and rocks – the surrounding scenery is unforgettable. Pine trees surround the beach along with rocky hills that contrast against the calm, clear water.
Thermal Springs In Kalithea
A chance to relax in thermal water? A rejuvenating experience? A chance to take part in something that people of Rhodes have been doing for years? Yes, you can do all of these at Kalithea with its crystal clear waters. There are also modern facilities here where you can grab a bite to eat or a refreshing drink during the day!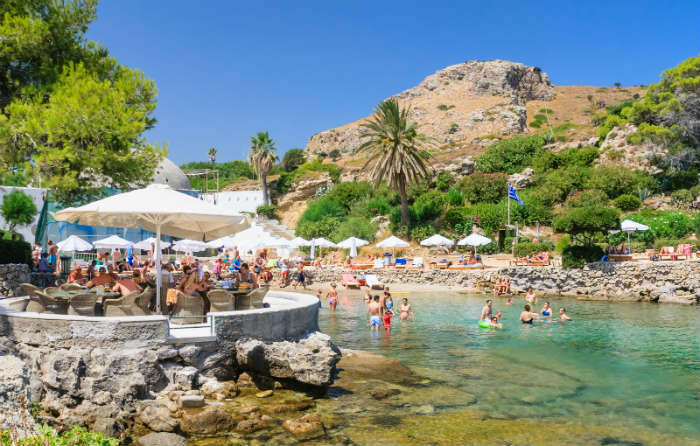 Tsambika Beach
If you're wanting a sandy beach, then Tsambiki is a great place to spend a few hours. Surrounded by sandy hills and green trees, Tsambiki is soft under the feet and has a cove full of shallow water that's perfect for families. Plus, it's usually pretty quiet here so you'll have a lot of space to spread out away from the crowds.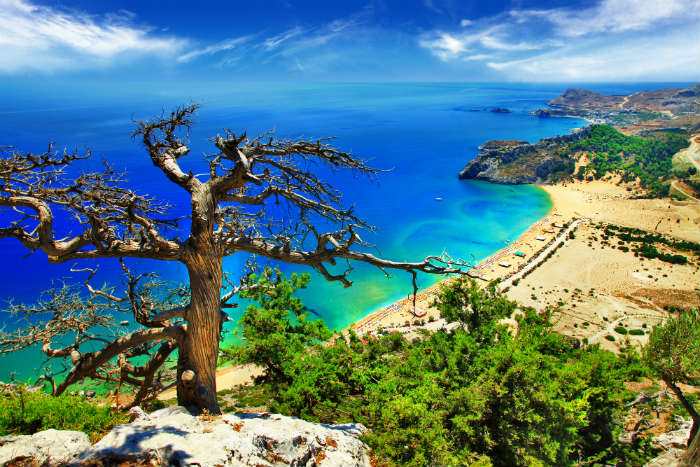 Sunrise Over The Ocean
This picture is at Anthony Quinn Bay but, if you get up early enough, we bet you'll see a cracking sunrise from anywhere on the east of Rhodes. Even if it's the sunrise coming back from an evening out, it'll be a pretty spectacular sight.
Have you ever been to Rhodes before? Let us know in the comments below which places you'd recommend!