Like an annoying young couple madly in love, these skyscrapers are constantly throwing cringeworthy insults at one another. "You're weird," remarks one. "No, you're weird," responds the next. Of course that's not exactly true because buildings can't talk. Or maybe you just don't have non-human speaking powers. We can't all be Dr Dolittle.
Anyway, read on to find more about some of the most unique structures the world has to offer…
Elephant Building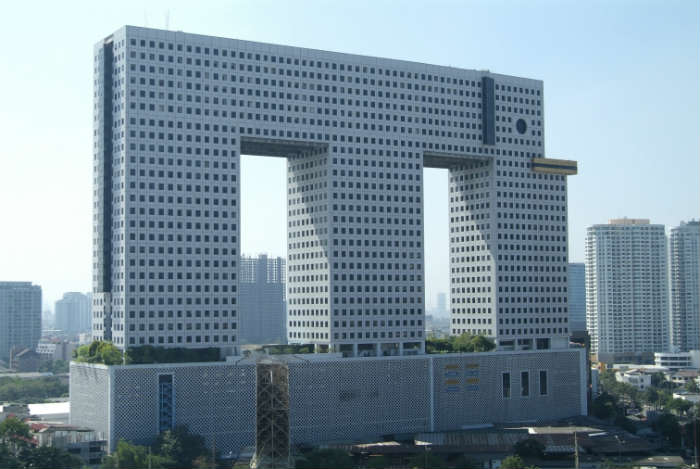 What makes it so bizarre? This triple-towered construction was first thought up in 1997 and built to resemble an elephant – Thailand's national animal. Encompassing numerous offices, shops and luxury apartments, ears are imitated through the use of multi-storey balconies whilst two rounded windows on either side represent eyes and the golden tusks house its management company.
Where can I see it? Bangkok, Thailand.
Cell Phone Building

Photograph: David Myers Photography/Alamy

What makes it so bizarre? Cell phone building, huh? Wonder why they decided to (ahem) call it that? The high-rise shopping mall has windows shaped like buttons, whilst its screen is an upper-storey window for the penthouse office, though we can't help but think this retro handset could soon be due an upgrade.
Where can I see it? Kunming, China.
Zizkov Television Tower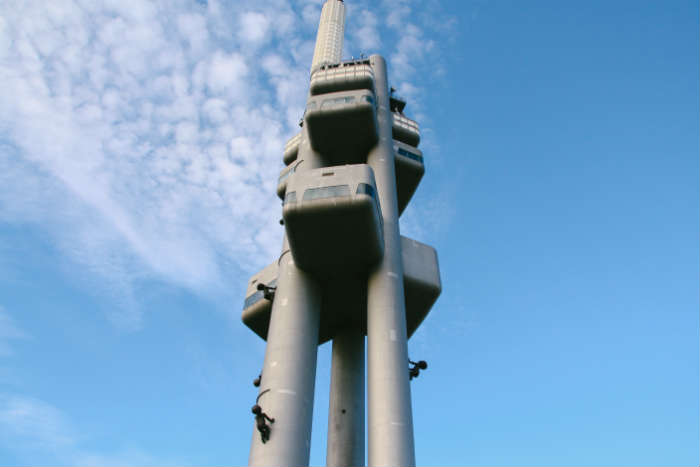 lulu and isabelle / Shutterstock.com

What makes it so bizarre? This wacky television tower is most recognisable due to the addition of numerous naked infants back in 2000 that are displayed crawling up its 216m sides. The baby-lined building purposely stands high above Prague's traditional skyline in order to leave lots of womb for other surrounding structures.
Where can I see it? Prague, Czech Republic.
Robot Building

Photograph: John S Lander/LightRocket via Getty Images

What makes it so bizarre? Bangkok's 20-storey Robot Building represents the computerisation of banking. Because how else would you do such a thing, right? Designed by Sumet Jumasi as a protest against 'bland international style in architecture', each feature has a practical use, including eyelashes for sunshades and an antennae that doubles up as lightning rods.
Where can I see it? Bangkok, Thailand.
Fake Hills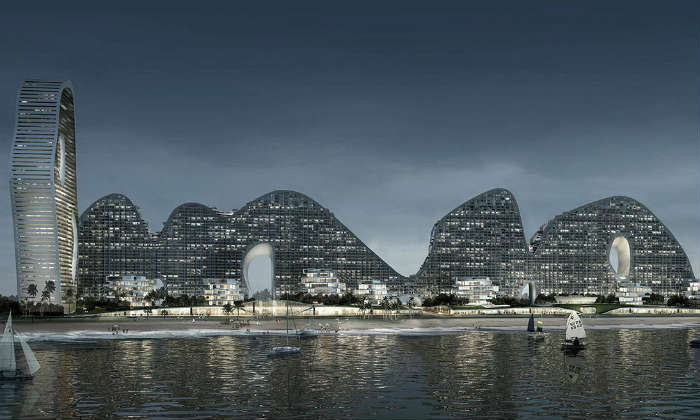 Photograph: MAD architects

What makes it so bizarre? Feeling flat? This Chinese coastal town must have been when they decided to construct a residential development that combines groundscraper and high-rise typology. The structure provides some bumpy height to an otherwise low-level part of the country.
Where can I see it? Beihai, China.
Cross Towers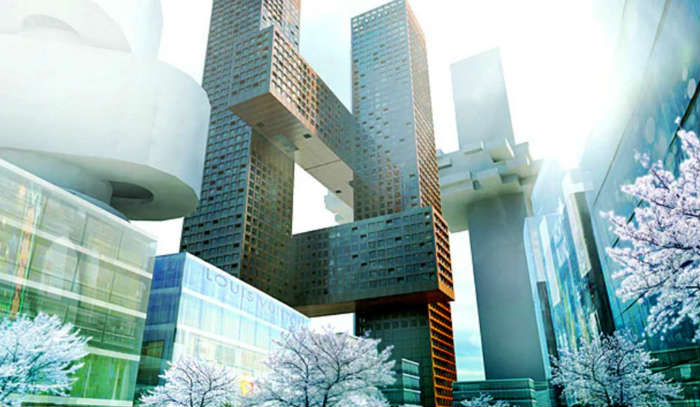 Photograph: www.theguardian.com

What makes it so bizarre? The genius Cross Towers design was proposed to get around South Korea's height regulations whilst maximising density and replicates the Twitter-famed hashtag symbol. Maybe they were hoping to set a trend…
Where can I see it? Unfortunately it's still waiting for the green light, but the concept is intended for Seoul in South Korea.
Lippo Centre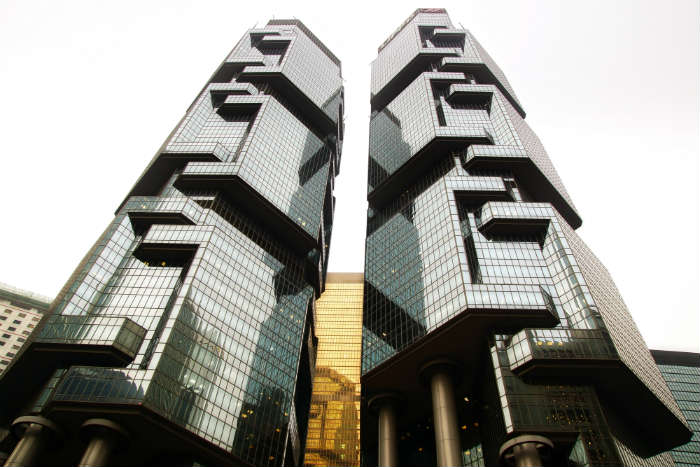 iStock.com/vidalidali

What makes it so bizarre? Dubbed the Koala Tree due to its resemblance to, well, a koala on a tree, Hong Kong's Lippo Centre has been home to many global companies since its completion in 1988. A cluster of windows form each of the large c-shapes to help it stand out against other similarly towering structures.
Where can I see it? Admiralty, Hong Kong.
Longaberger Basket Building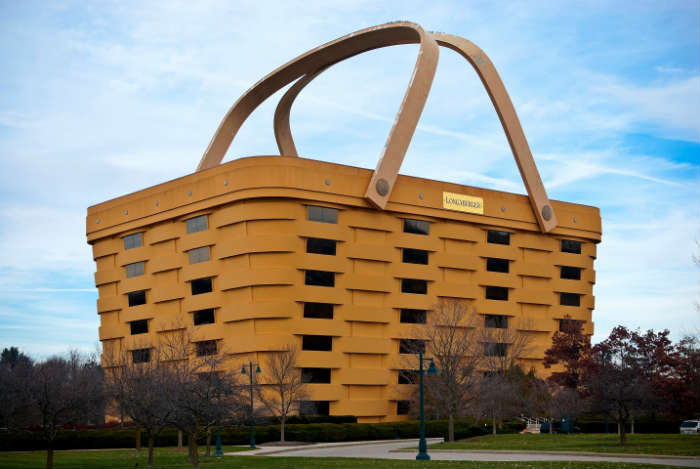 CJM Grafx / Shutterstock.com

What makes it so bizarre? Alright, so it's not technically a skyscraper but we couldn't omit Longaberger's rather peculiar headquarters. Made to look like the product they're known for, the 150 tons heated handles were designed to prevent ice forming and preserve the rest of the building from gradual destruction.
Where can I see it? You've missed your chance! The Longaberger Company recently relocated their HQ to a different part of US state Ohio.
Central China TV Headquarters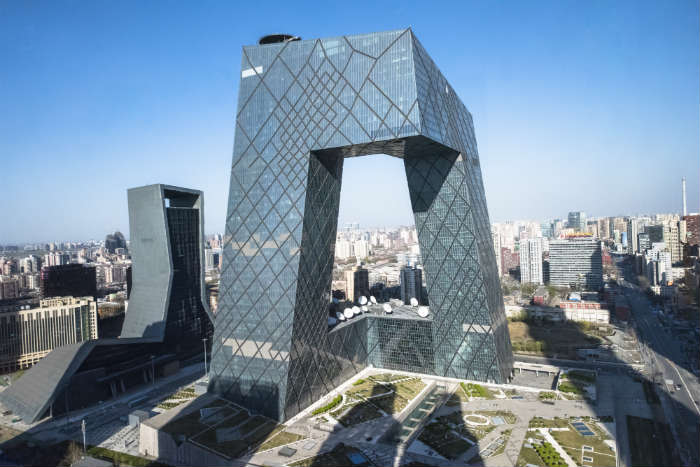 axz700 / Shutterstock.com

What makes it so bizarre? Standing 44 stories tall, CCTV's Beijing base was finished in 2009 and quickly became known simply as 'Big Boxer Shorts' for pretty self-explanatory reasons. Some people think it's pants but we quite like it.
Where can I see it? Beijing, China.
Sutyagin House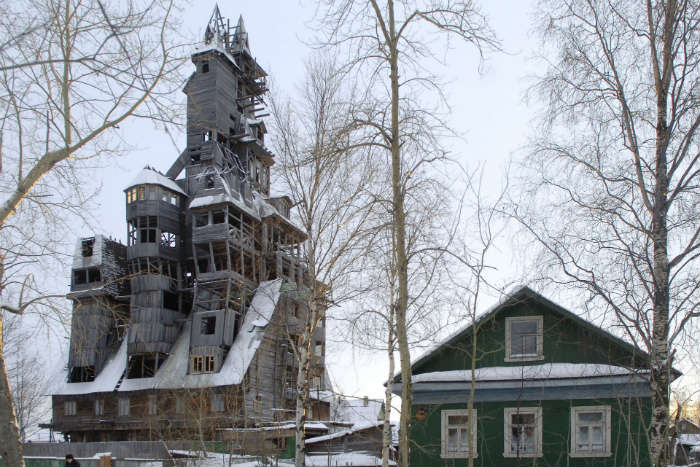 Photograph: Itar-Tass Photo Agency/Alamy

What makes it so bizarre? Wooden skyscrapers? That's taking flat-pack furniture to a whole new level. Nikolai Sutyagin spent years continuously adding new floors to his Russian home and didn't stop until it was 144 feet and 13 stories high. However, without formal plans or a building permit, it was later labelled a fire hazard and pulled down.
Where can I see it? Sorry. The picture will have to do!
Turning Torso

Nielskliim / Shutterstock.com

What makes it so bizarre? Regarded as the first twisted skyscraper in the world, Malmo's Turning Torso is the tallest residential building in Sweden and swivels a full 90 degrees from top to bottom. The guy who drew this up certainly let his imagination spiral out of control…
Where can I see it? Malmo, Sweden.