With the whole of Europe on the doorstep of the UK, it can sometimes feel a little too much like home when searching to book a holiday. Luckily, with many major airports across the UK, we have the option to fly long haul to more exotic locations.
However, long haul holidays can sometimes be a little pricey, especially when travelling in the peak summer months – but they don't have to be. We have scoured the internet travel market and found the best long haul bargains flying out next month, so prepare to feast your eyes on these amazing deals.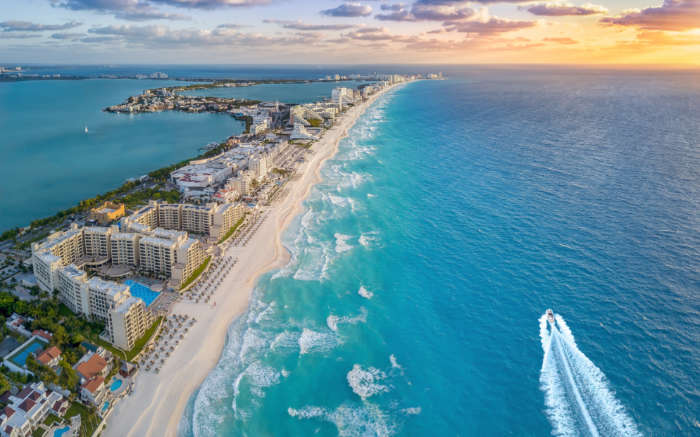 Cancun, Mexico
Cancun is a popular holiday destination with Brits and Americans alike, so this can push up prices to over £1,000 for a lot of the year. If you're prepared to book a long haul holiday with only a month's notice then you're likely to get a great deal, like these that we have found from £850pp for a 3* hotel on a room only basis.
Holidays to Mexico are the perfect blend of luxury, fun and culture; and you certainly won't be short of things to keep you entertained. There are over 6,000 miles of coastline in Mexico, which makes it the perfect place to indulge in water sports – or just chilling on a beautiful white sandy beach.
Cancun is also known for its vibrant nightlife, and really comes to life during Spring Break, which sees the bars fill with young people escaping during the school break. If the nightlife scene isn't for you then don't worry, as there are a plethora of quieter bars and restaurants to while away your evenings in.
Dubai, UAE
With some of the richest people in the world using Dubai as their playground, it can sometimes seem like it is a destination only for the rich and famous. Dubai has seen their tourism expand in recent years and it's now seen as a popular holiday destination for many people, and not just the super-rich. You don't need to spend a small fortune on a booking to see the sights, and we've found deals from £600pp based on a room only in a 3* hotel – which leaves you with plenty of spending money to shop whilst you're there soaking up the sun.
When visiting Dubai you can check out the many spectacular sights such as the man-made islands, the show stopping cars on every corner and of course, the many shops selling luxury goods. No trip to Dubai would be complete without checking out the stunning skyscrapers, and the Burj Khalifa should be at the top of your list to visit – at 830 meters tall it's the largest building in the world.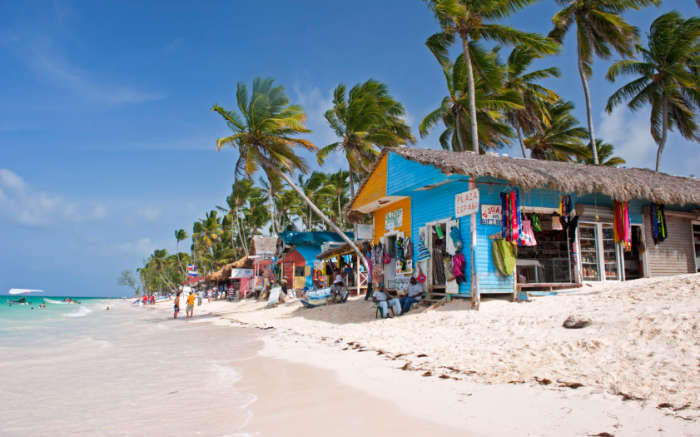 Pueblo Bavaro/Punta Cana, Dominican Republic
If a more relaxing holiday is what you have in mind, then the Caribbean can offer you just that. With deals from £900pp for a week in Pueblo Bavaro based on room only in 3* apartments, you can bag a bargain week of relaxation.
The Dominican Republic is home to vast sandy white beaches and tropical seas, which make the perfect backdrop to a week spent soaking up the sun and kicking back. The most popular stretch of sand on the island is Bavaro Beach, which boasts varied games, water sports and plenty of sun loungers to relax on. During an evening you can soak up the vibrant culture at nearby restaurants and bars – we recommend trying the local dish of Sancocho to really get a flavour of the island. There are also many local shows and cabarets on, so you can immerse yourself in the mix of cultures.
Compare Dominican Republic deals
Abu Dhabi, UAE
Our second entry for the United Arab Emirates is Abu Dhabi, another beautiful destination where you can find a great holiday deal. We manged to find a one week stay in Abu Dhabi from £650pp based on a 4* hotel on a room only basis – that has to be cheaper than Spain, right?
If the uber glitz and glam of Dubai isn't quite to your taste, then maybe Abu Dhabi will be the perfect fit? Abu Dhabi is the capital of the United Arab Emirates, however it's more understated than the neighbouring city of Dubai. You will still find many sky-scrapers, but these are sat beside traditional Arab buildings – a true mix of old meets new. Abu Dhabi is known for its more relaxed pace, although you can still partake in extreme sports or seek thrills. You'll be amazed at the history of the city and the many breathtaking mosques, such as Sheikh Zayed Grand Mosque; a large scale mosque decorated in white and gold.
Where is your ideal long haul holiday destination?