What do you get when you combine our love for cats, coffee, tea and cute cafes? Well, you get the novel phenomenon of cat cafés, a curiously successful idea that sprung up in Taiwan in the late 90's. Since then, Cat Café's have started popping up all over the world and we want to go visit them all. Enjoying a milky latte and homemade cake while petting the cutest moggy in the land? We can't think of anything better – except maybe if puppies were involved. So if you think cat cafés will be your kind of thing, here are some of the most amazing cat cafés around the world.
Cat Café | Budapest, Hungary
With cats called Little Hoti, Luna and Sushi, how could you resist coming to this cat café on a trip to Budapest's capital, Hungary? Sit back and relax with an espresso, fruit tea or chocolate whiskey while having a cuddle with these cute creatures or play a board game while you're waiting for the cats to get used to you.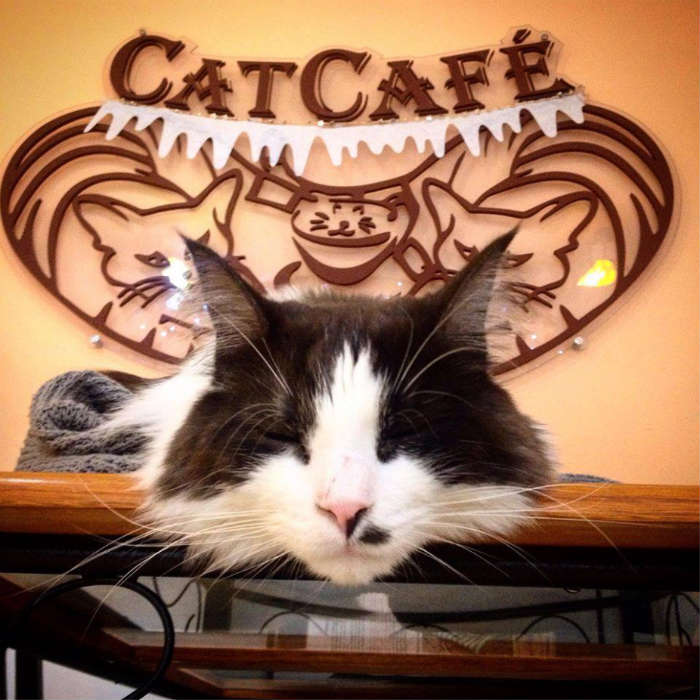 Image courtesy of Cat Cafe Budapest

Café Neko | Vienna, Austria
Step foot into Austria's very first cat café, Café Neko. Here you'll find 5 adorable cats that go by the names of Sonia, Thomas, Moritz, Luca and Kurumi. There's plenty of cat love to go around but while you're waiting for their attention, why not treat yourself to a tasty strawberry mousse, crème caramel or the cafes homemade cake of the day?

Les Café Des Chats | Paris, France
Opened in 2013, Les Café Des Chats is Paris' fancy tea room full of cats. Well, it's not full of cats but there are 12 of them that have been adopted from animal welfare groups around the city. Not only has Les Café Des Chats given these fluffy kitties a second chance but they also get to live in the lap of luxury in this pretty stone walled café which is situated near the Place de la Bastille in central Paris.
Image courtesy of Les Cafe Des Chats
Lady Dinah's Cat Emporium | London, UK
Based in the very trendy Shoreditch area of London, Lady Dinah's Cat Emporium is the first crowdfunded cat café in the world – which shows just how much people love cats, and cake, and coffee. There are 10 cats here altogether with adorable names such as Wookie and Biscuit - yes the cats are as cute as their names. Lady Dinah's Cat Emporium also names their speciality drinks after their much loved cats. You have "The Lizzie" which is a Cranberry White Hot Chocolate and "The Carbonelle" which is a Peanut Butter Jelly Latte. If we didn't like cats, we'd still go for the delicious sounding drinks...

Image courtesy of Lady Dinah's Cat Emporium

KitTea | San Francisco, USA
KitTea is San Francisco's first cat café and a pretty charming one at that! All the cats you see at KitTea are up for adoption although unfortunately, if you're from the UK, you won't be able to bring one back in your luggage with you. It's recommended to book ahead as it's so popular here. However, if you do walk in but find there's no space in the room of cats, there's a separate café attached where you can get a Belgian waffle and a freshly brewed tea where the leaves are shipped straight from Japan. Ooh, fancy!

Have you been to a cat cafe before? Would you want to go to one? If you have we'd love to know which one you've been to!