"Brrrrrrrrr." No, that wasn't your alarm clock. It was our wintry greeting to you all. Like the one you always do when you step outside on a cold day, look at your friend, nod, and both agree it is indeed rather chilly by exclaiming that very two letter word. This always biting time of year has got us dreaming of a trip to snowier surroundings, so read on and check out which destinations look top drawer when the white stuff falls. Or you could revisit this after you've gone back to sleep. Your alarm clock didn't actually go off, remember.
New York
You could argue that there's no better time to head for the Big Apple than when winter comes around. It's often referred to as one of the best places to spend Christmas abroad but when the day of festivities has ended, New York's true beauty prospers as snow begins to land. Habitually arriving between January and March, it's common for locals and tourists alike to hit the ice for a skating session that's sure to give you the chills. It's not scary or anything. Just cold because, you know, ice and stuff. You could always warm yourself up with a signature hot chocolate, NYC-style slice of pizza or a delicious hot dog from one of the many street vendors that are a symbolic feature of the state.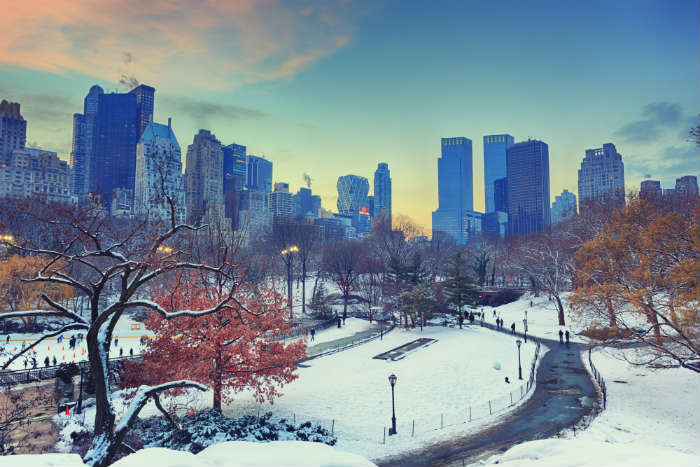 Norway
If short haul snow is what you're looking for, a trip to Scandinavia will be right up your street. Well, not quite. Unless dear old Mrs Perkins over at no.23 has suddenly decided to turn her new conservatory into a Nordic wonderland. The whole area is beautifully covered, particularly during the frosty season, but we're focusing on Norway; a place where nights are long and dark but stunning all the same. There's the added incentive of witnessing the Northern Lights, a glorious alternative to the aforementioned lack of sunshine. Lillehammer, the former Olympic bobsleigh venue, offers sleigh rides that can reach speeds up to 60mph if you're looking for an adrenaline kick, whilst mjød, popularly referred to as honey-wine, is a drink usually consumed hot and a pretty sweet way to keep warm. In more ways than one…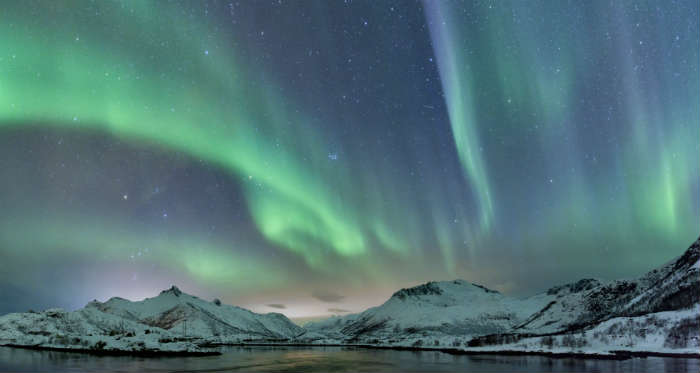 Canada
Bitterly cold winters are a regular occurrence just up from the United States at neighbouring Canada. It in fact realistically has the potential to snow somewhere in the country at any time of year so pick your dates and jet off for a holiday beautifully decorated with flakes from the sky. Banff National Park is one of the most visited of its kind in the whole of North America, with Moraine Lake undoubtedly a star feature. Crystal clear waters reflect the snow-capped Valley of the Ten Peaks, so visually pleasing that the Canadians put that very scene on their $20 banknotes during the 1970s. Didn't quite make the $50 but it's still good, honest. Countless ski resorts also provide the chance to spice up your trip; take a look at our pointers for skiing on a budget if that floats your metaphorical boat.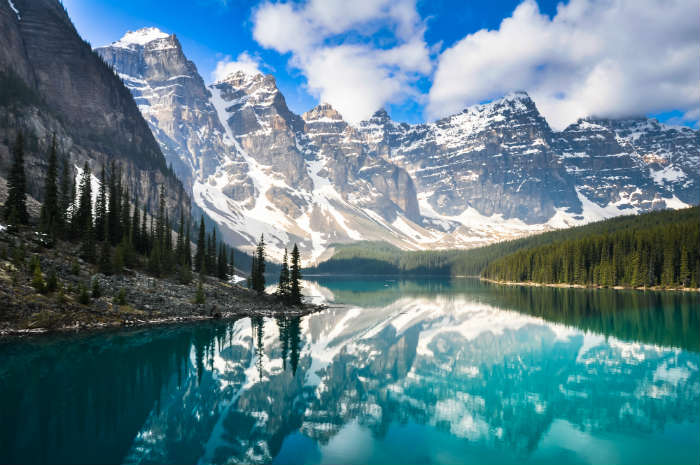 Austria
Another country renowned for its slopes is central Europe's perfectly situated Austria, which combines everything from vibrant inner city living and serene outer suburb calmness with ski-fuelled fun. Be it a wander round historic towns, relaxing strolls through its varied landscapes or hitting the Alps you're after, Austria truly has it all. The tiny lakeside village of Hallstatt is a UNESCO World Heritage Site and certainly worth taking in with your own eyes. An area made all the more glorious when nearby Salzburg Mountain is blanketed in beautiful wintry weather, it's often voted as one of the prettiest villages worldwide and absolutely gets our seal of approval. There's snow doubt about that…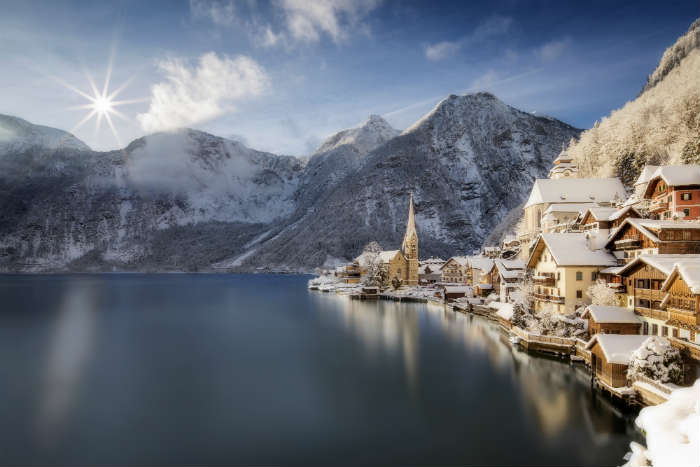 Have you been anywhere that looks super-pretty when the snow falls? Let us know by commenting below!