It's destination discovery time once again, where the icelolly.com content team provide info on holiday spots that are slightly more 'out there' – think unusual, unknown or otherwise different to the norm! This week we're taking a look at Banff in Canada, so put your feet up, have a read and get ready to add this stunning destination to your bucket list…
Overview…
Banff is located in Alberta, Canada, and is the second largest National Park in the country spanning over 2,500 square miles. It's well known for its beautiful scenery, turquoise lakes, hiking trails and world famous lake – Lake Louise. The town of Banff itself is located within the National Park and is fairly small spanning only 2.5 miles and with a population of 8,000.
Not only is the destination popular among hikers due to the 1,000 miles of hiking trails, but also with wildlife buffs. The park is home to various different species, most notably grizzly bears, wolves, deer, elk and bald eagles! It's certainly a destination where you won't want to forget your camera.
Our Top 3 Things To See & Do…
Take A Hike: When you're surrounded by such stunning scenery it would be rude not to take it all in via a hike, right? There are hikes for all abilities, from short walks to treks through the mountains, so no matter your ability you can take in the views.
Visit Moraine Lake: You may not have heard of Moraine Lake before but you will certainly have seen it in travel pictures. The lake is a glacier fed which gives it it's distinctive bright turquoise colour as the light reflects form the rock flour. Set in the surrounds of mountains, waterfalls and rock piles it's a picture perfect location and a great way to spend the day either taking in the views lakeside, or by grabbing a canoe and getting on the lake itself!
Take The Banff Gondola: Sulphur Mountain in the Rockies offers breath taking views from its summit. You can take an 8 minute ride in a gondola to the top of the 7,500 feet tall peak for a 360 degree view via the observational deck.
Useful Things To Know…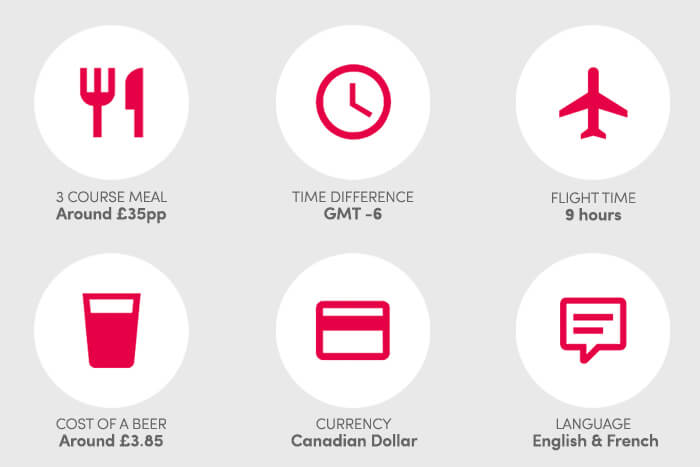 Food & Drink…
Typical tasty delights from Banff include:
Taber Corn: It may look like any normal corn, but the Taber Corn is famed for its sweetness thanks to the areas sunshine.
Poutine: A mix of hand cut French fries, gravy and fresh cheese curds, this dish could cure even the worst hangover! It's a dish made famous in Quebec but is now known all over Canada.
Bannock: A traditional bread amongst the Aboriginal people of Canada and North America, this is now a widely popular dish. There are many variations of the bread as the recipe has changed over the years, but it's commonly either oven baked or pan fried and leavened.
Fun Facts…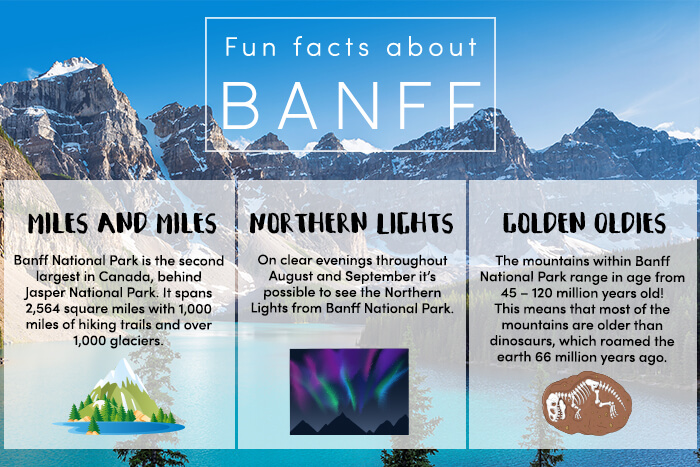 What The Bloggers Think…
Take a look at what these two travel bloggers think Banff, Canada…
Serena from Serena's Lenses: "One thing I was worried about was whether Banff is over hyped by social media; there are many places that look better in photos than in real life. Fortunately, Banff is even more beautiful in person and one of the most stunning and relaxing places you can visit in the world. There are also so many things to do in Banff that you will never feel bored."
Amanda from Kevin And Amanda: "Banff is a breath-taking mountain town in Alberta, just a few hours away from Calgary. The spectacular mountain views of the Canadian Rockies are unparalleled. We went the last two weeks of September and I think it was the perfect time to go! The weather was still nice and the leaves on the trees were changing colors. So beautiful!"
Have you been to Banff? Tweet @icelollyholiday & let us know what you thought!
About The Author: