Every week the experts at icelolly HQ help you discover a hidden gem of a destination, focusing on unique, unusual or otherwise different places that you may not have thought about travelling to. Today, we'll be showcasing beautiful Bergen, a historic port city and the gateway to the Fjords of Norway.
Overview
Bergen is a charming city on Norway's southwestern coast that's surrounded by seven dramatic mountains and idyllic fjords. Named a European City of Culture and boasting an UNESCO World Heritage Site, Bergen is a melting pot of Norwegian history and culture. The city centre is full of narrow cobbled roads, colourful wooden houses from the 14th century and a bustling atmosphere, and just outside, you'll be among some of the most spectacular scenery in the world.
Our Top 3 Things To See & Do
Bryggen: Translating as The Wharf, Bryggen is a characterful UNESCO World Heritage Site that dates back to the 12th century. The 62 brightly painted wooden buildings lining the waterfront have stood for hundreds of years. Although fires have devasted the area in the past, everything was restored using traditional methods to make sure no charm was lost.
Fløibanen funicular: Rather than climbing up Mount Fløyen, why not take the train from the city centre to the very top? The journey up the mountain is a magnificent experience in itself, and on arrival, you can explore or choose to ride a cable car to the summit of Mount Ulriken, the highest of the seven mountains surrounding Bergen.
Skomakerdiket Lake: This idyllic mountain lake sits at the top of Mount Fløyen, just a short walk away from the Observation Deck or the railway station. It's a peaceful natural area that's surrounded by forest. Choose to follow one of the hiking trails, or rent a free canoe (if you're travelling between late June and the end of August).
Useful Things To Know
Food & Drink
From humble beginnings as a trade centre for fishermen to a UNESCO city of gastronomy, Bergen is the perfect place to tantalise your tastebuds. You can enjoy everything from fresh seafood restaurants to coffee shops, quirky cafés, traditional pubs and contemporary bars and nightclubs.
Plukkfisk: This hearty Norwegian dish consists of fish, potatoes and onion, all cooked in a bechamel sauce and served with flatbread, sour cream or buttercream.
Raspeballer: These potato dumplings that are usually stuffed with meat or served alongside cooked sausages and boiled meats are bound to fill you up. They're perfect for colder months and are traditionally eaten on Thursdays.
Skillingsboller: Bergen is famous for these moreish cinnamon buns that are loaded with butter to give them a special taste that differs from the American recipe.
Fun Facts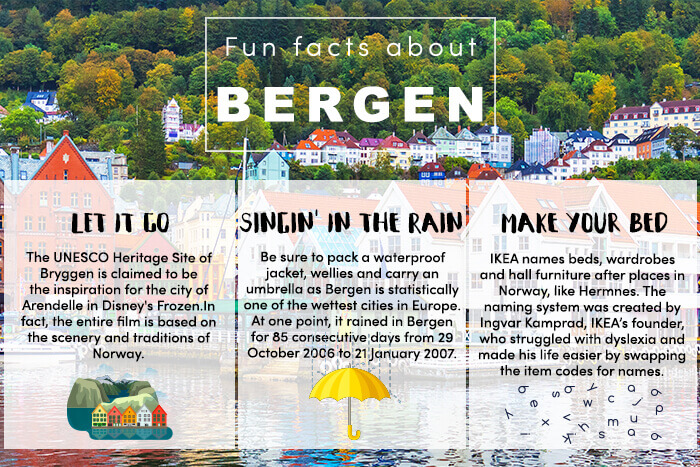 Bloggers' Thoughts
Yaya and Lloyd from Hand Luggage Only said: "I don't think I have ever travelled to a city that has such a wild, protected, and diverse natural environment that is literally minutes from the town centre. As a coastal city, Bergen is blessed with the crisp deep blues of the North Sea… But what attracted me most was the sprawling mountains and forests that I could see at every opportunity once we arrived."
Lucy from On The Luce said: "Looking out over a place from high above is always one of my favourite things to do in a new destination[...] Bergen has the Fløibanen funicular railway to take the strain on the way up to the city's best viewpoint. It only takes just over five minutes to climb up to the top of Mount Fløyen."
Caroline from Pack The Suitcases said: "3 days in Bergen, Norway was a perfect amount of time to fall in love with this little city. The waterfront is gorgeous against the mountainous backdrop and it was one of the prettiest places we've ever explored."
Have you been to Bergen? Tweet @icelollyholiday & let us know what you thought!
About The Author: