It's the stage of the week that we love here at icelolly.com HQ – where members of our content team reveal more about unique destinations you may never have thought about visiting before. This time the spotlight is on Bogotá, so sit back, relax and enjoy discovering details about this intriguing holiday spot.
Overview…
The largest and most populous city in Colombia, Bogotá is situated right in the centre of the country and filled with architectural and creative sights.
With a history dating back to 1538, Bogotá provides tourists an array of cultural spots to explore, good food, great weather and unique travel experiences to boot.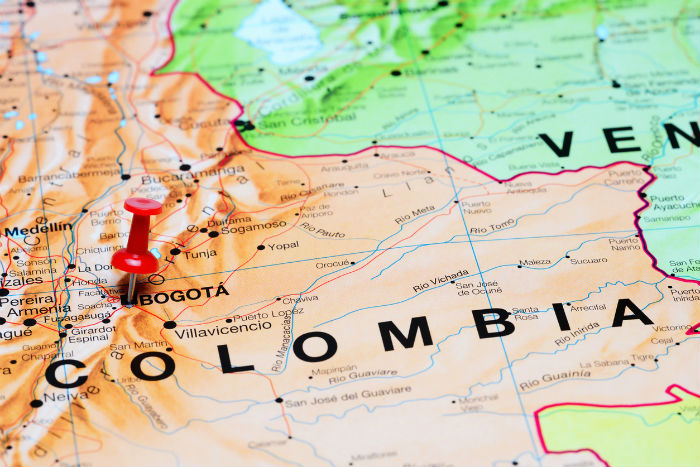 Our Top 3 Things To See & Do…
Wander Through La Candelaria: You'll find tourists galore in this historic centre of Bogotá, but it's certainly a must-visit and filled with cobblestone streets, colonial buildings, cathedrals and impressive street art.
Visit The Gold Museum: Home to more than 30,000 pieces of gold, Museo Del Oro is the most popular museum in the whole of Bogotá and well worth the small entrance fee.
Get Pretty Views Of The Whole City: Climb Monserrate, a hill that dominates the city, and get stunning views from way high up.
Useful Things To Know…
Food & Drink…
Coffee: Okay, so clearly you can drink coffee anytime back home in the UK, but the caffeine-based beverage has long been one of Colombia's most famous exports. Try a cup made from roast premium-quality Colombian beans.
Arepa: Made from a combination of corn and wheat flour, sugar, cheese and butter, this cuisine is very popular in Bogotá, often eaten with barbecued beef and available at any asadero restaurant.
Empanada: Empanadas are common all over Latin America, though often prepared and eaten differently in different areas. In Bogotá, you'll find them deep-fried and filled with rice, egg, meat and various other kinds of filling.
Fun Facts…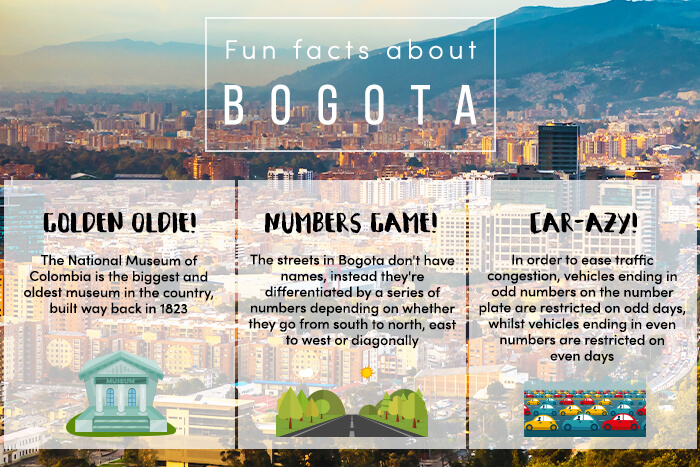 What The Bloggers Think…
Here's what a couple of travel bloggers think about holidaying in Bogotá…
Kiki from The Blonde Abroad: "With sun-drenched colonial plazas sitting beside ultramodern skyscrapers, Colombia's capital city is a place of contrasts. Forget the outdated notions of this place, Bogotá is a safe and forward-thinking city that is trending with global adventurers.
"With a rich history and a promising future, Bogotá is a fascinating place to be right now. And it's so much bigger than you think! With a metro population of nearly ten million people, the city dwarfs most American and European cities."
Jonathan from Two Monkeys Travel Group: "Nestled high up in a natural bowl between cool green hills, Bogotá is the heart of modern Colombia, with over 6.5 million inhabitants. It's a centre of arts and culture, an innovator, a mecca of colonial architecture and modern architecture, a cycle-friendly paradise, a haven of green spaces and a culinary capital.
"From world-class museums and art galleries to street art and graffiti, the old cobbled streets of the Candelaria to the fashionable chic of Zona Rosa and from skyscrapers to 400-acre parks – There are so many awesome things to do in Bogotá, you'll wish you could stay longer!"
Have you been to Bogotá before? Tweet @icelollyholiday and let us know what got up to!