South Africa was the destination of choice for the recent test cricket series between England and South Africa, and its legislative capital is currently preparing to become the filming location for winter Love Island so it's no surprise Cape Town is our latest Destination of the Week.
Overview
Set against beautiful natural landscapes including rugged coastline and the stunning backdrop of Table Mountain, the city and seaport of Cape Town is among the most postcard-worthy destinations in the world. Therefore, it's easy to see why it was the site of the first European settlement in South Africa and came to be known as the country's "mother city".
With heavenly beaches, fascinating history and Mediterranean climate, Cape Town is an exciting year-round destination best enjoyed from November to March for some winter sun.
Top Things To See & Do
Table Mountain: Although an early start is required, the fantastic views and amazing breakfast options atop the mountain are worth not snoozing your alarm. Don't worry, you can choose to hike or opt for a cable car if you'd prefer. Just be sure to check the weather before you go as if you can see the Table Cloth, a layer of fluffy white clouds that cover its summit, you may be best saving the trip for another day.
African Penguins at Boulders Beach: Boulders Beach is a popular sheltered beach as visitors can climb over the boulders, explore the rock pools, or swim in the cool, clear False Bay water. Oh, and you can also walk along the boardwalk and get up close and personal with the resident penguins.
Robben Island Museum: This island pays tribute to former prisoners, including Nelson Mandela before he became the President of South Africa.
Useful Things To Know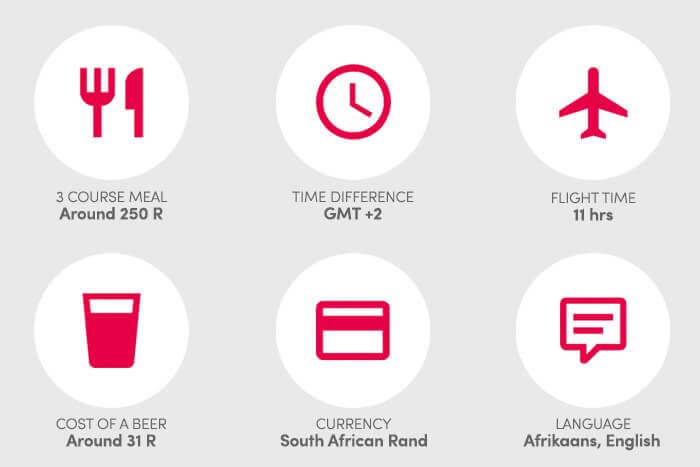 Food And Drink
Cape Town is a melting pot of cultures and cuisines, with influences from the Netherlands, Malaysia and more countires
Wine: Wine lovers rejoice, Cape Town boasts some the best and oldest wine farms in the region. Choose a route that's convenient for you, and select four or five estates to enjoy multiple guided tours and/or tastings.
Biltong: Translating to 'rump strip' in Dutch, Biltong is a form of sundried, cured meat that can be enjoyed spicy, smoked or chewy. It's the perfect healthy snack for when you're on the go as it's low in calories and carbs, but high on protein.
Gatsby: No, we don't mean the F. Scott Fitzgerald kind! In South Africa, a Gastby is actually a mouthwatering foot-long sub filled with chips, meat, trimmings and plenty of sauce.
Fun Facts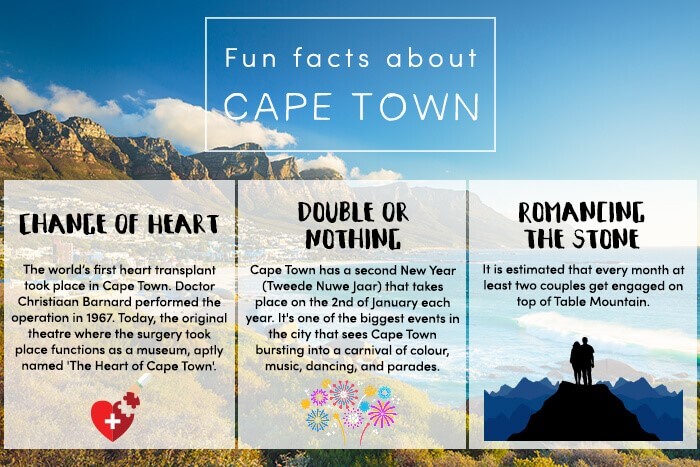 What Do The Bloggers Think?
Elaine and Dave from The Whole World Is A Playground said: "Cape Town is one of the most beautiful cities in the world. From the iconic Table Mountain and the historic Robben Island to the surrounding world-class vineyards and the stunning coastal drives, Cape Town has it all."
Kay from Kay's Kitchen said: "I struggle to encapsulate the landscape in words. It's just so jaw-droppingly beautiful. I'm already wistfully longing to return."
Have you ever visited Cape Town? Tweet @icelollyholiday and let us know your holiday stories!
About The Author: