It's destination discovery time, where the icelolly.com content team provide info on holiday spots that are slightly more unusual, unknown or otherwise different to the norm! This week we're taking a look at Cappadocia in Turkey, so put you feet up, have a read and get ready to add this magical destination to your bucket list…
Overview…
Cappadocia is not your typical Turkish holiday destination, but don't let this put you off. The semi-arid region is growing in popularity for travellers due to the amazing landscapes and how amazingly photogenic it is. It's not just all about the hot air balloons either, Cappadocia has a rich history which includes secret hidden church caves, underground cities and geological oddities.
The peculiar looking landscape is due to volcanic eruptions which blanketed the region with ash. The thick ash then solidified into a soft rock which has hardened over the years and formed the tall pillars and chimneys which stretch as far as 130 feet into the sky.
Our Top 3 Things To See & Do…
Take a hot air balloon ride: Cappadocia is known for the vast amounts of hot air balloons floating through the sky, so you'd be crazy to miss out on joining in. Taking a balloon ride across the fairy chimneys should certainly be at the top of any visitor's list.
Visit the underground cities: Below the surface of Cappadocia lay more than 100 tunnels! You can trek through them and visit stables, kitchens and even wine cellars. The underground city is said to have once housed over 20,000 people across the eight floors.
Spend a night at Sultan Cave Suites: This fancy hotel is an Instagrammer's dream! With rooms set into the caves, terraces to watch the early morning ballooners and even an Instagram style breakfast set-up for when you're taking in the views, it's the perfect place to capture all your holiday snaps.
Useful Things To Know…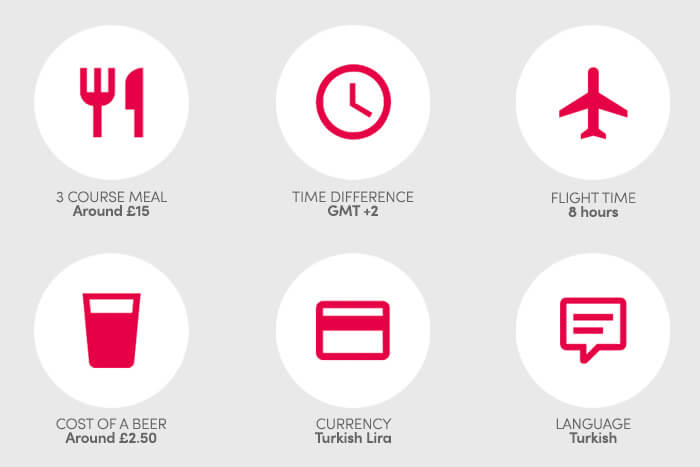 Food & Drink…
Typical tasty Turkish delicacies include:
Manti: A traditional dish from Cappadocia which are small pockets of pasta stuffed with meats or cheeses and served with a tomato and garlic sauce.
Testi Kebab: These are also commonly known as Pottery Kebabs as they are served in a clay pot. The dish includes either lamb, beef or chicken and a variety of vegetables which are stewed and then sealed with a bread like dough.
Turkish Coffee: It would be rude to visit Turkey and not indulge in their famously rich, dark and robust coffee.
Fun Facts…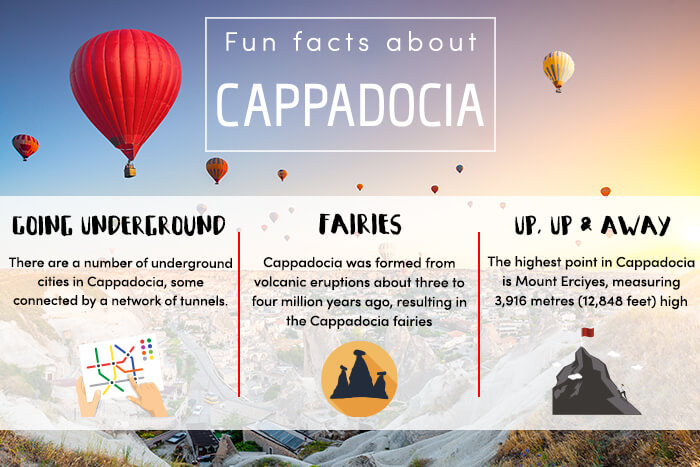 What Bloggers Think…
Take a look at what these two travel bloggers think to Cappadocia as a holiday destination…
Jenni from Travel To Recovery: "I went to Cappadocia a number of years ago before it became as popular as it is today. It was, and still is, one of the best places I have visited and I still think about it today.
"It was my first time in a hot air balloon and I was so scared but it is still a special memory. Gliding over the valleys and buildings that look like something out a of a fairy tale was magical, and to think that people lived and still stay in these caves was amazing. I was in a hotel that had been converted from a cave and it is a unique place to stay and surprisingly very comfortable."
Kiara from Gallop Around The Globe: "One of the main reasons I'd recommend you visit Cappadocia is because it's unlike any other place on earth! You've probably seen photos of the famous 'fairy chimneys' on Instagram or Pinterest, but what a lot of people don't realise is just what a huge area the valleys of Cappadocia cover.
For this reason, I'd advise dedicating a day to Goreme Open Air Museum and the Red Valley, a second to Uchisar, White Valley and Love Valley, and for the third take a tour to explore the The Ihlara Valley and Derinkuyu Underground City. Also don't leave without booking a sunrise hot air balloon flight over this strange and surreal landscape!"
You can read more of Kiara's thoughts on Cappadocia here!
Have you been to Cappadocia? Tweet @icelollyholiday & let us know what you thought!
About The Author: