It's time for our Destination Of The Week, our weekly series focusing on unique, unusual or otherwise different holiday hotspots that you may not have considered adding to your list. Today, we're showcasing Dallas, Texas' capital of glitz that certainly lives up to it's how it was portrayed in the famous TV show.
Overview
Dallas is a richly diverse city located in the south of the United States that's home to 1.3 million people. The modern metropolis is one of the country's fastest-growing cities and the cultural hub of the Texas region.
The Big D, as Dallas is sometimes known, fuses Southern charm with a cosmopolitan skyline and an eclectic mix of museums, exhibits, festivals, and not to mention the Dallas Arts District - the largest of its kind in the nation.
Our Top 3 Things To See & Do
Fort Worth Stockyards: Here you'll be transported to the Wild West and get to experience a neighbourhood full of cowboys, saloons and rodeos. Don't miss the cattle drive where cowboys drive a herd of longhorn up Exchange Ave.
Sixth Floor Museum: Perfect for conspiracy theory lovers, this museum gives visitors the chance to delve into the assassination of John F. Kennedy and learn about the events that rocked the country in 1963.
Texas State Fair: Between late September and mid-October, Fair Park in Dallas is transformed by the lively Texas State Fair. Complete with Big Tex, live music, animals, rides and food stalls.
Useful Things To Know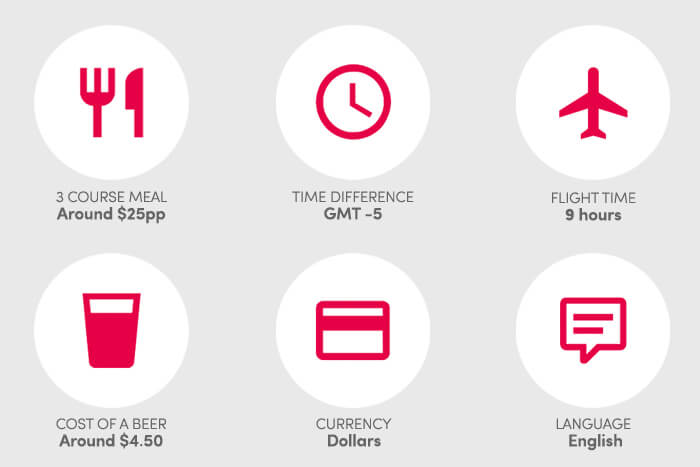 Food & Drink
Chili: Dallas is the place to be for a real bowl o' red. Texas Red is a potent, pungent dish that takes a no-frills approach to chili: just meat, spices and as many chiles as you can stand. To Texans, anything else isn't even called chili and don't even get them started on beans.
Chicken-fried steak: As confusing as the name makes it seem, there is actually no chicken involved in the making of this dish. It's essentially a thin piece of beef which is lightly battered and fried until crisp, think traditional fried chicken but with beef. It's the ultimate comfort food.
Margaritas: Whether on the rocks, frozen, or infused with fruit, Cosmopolitan Dallas is famous for its margaritas. Dallas is even home to the Margarita Mile, where you'll find 20 of the best and brightest margaritas in the city.
Fun Facts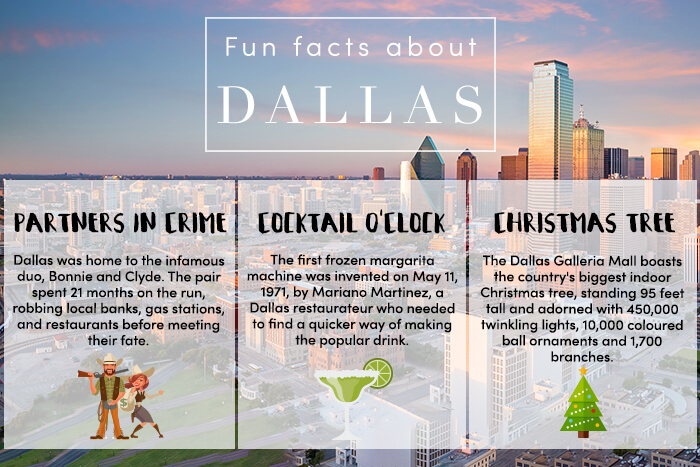 Bloggers' Thoughts
Lindsey from Look About Lindsey said: "We were looking for a true Texas experience, and there's not a better spot than the Fort Worth Stockyards! I could talk about this place all day, mainly because we spent all day here, but it was such a fun experience!
"It is a working stockyard, which means real longhorns, horses, and cowboys are always in attendance. We went on a Saturday when a rodeo was in town, so the old town was buzzing with excitement. We even went into a little shop and bought some really cheap cowboy hats to try to fit in."
Michelle from That Texas Couple: "The Top O'Hill Terrace is a cool place to visit that few people know about. Top O'Hill Terrace was built in the 1920s in Arlington, Texas by the Fred and Mary Browning. During prohibition, the house served as a casino and brothel, complete with escape tunnels! You can schedule a tour to explore the building and learn its fascinating history."
Have you been to Dallas? Tweet @icelollyholiday & let us know what you thought!
About The Author: