It's that time of week again where the experts at icelolly showcase a destination you may or may not have thought of travelling to. Today, we're highlighting Gdansk, a city in Poland that comes complete with cobbled streets and vibrant buildings in the old town, as well as wild beaches on the coast.
Overview
Located in the North of Poland, Gdansk is only two hours away from the UK, making it the perfect place to enjoy a city break. Better yet, flights from the UK to Gdansk Lech Walesa Airport are normally extremely affordable.
The Eastern European gem is home to beautiful architecture, centuries of rich history and a relaxed vibe. Whether it's the fascinating museums you're drawn to or the modern marina and riverfront, Gdansk is definitely a place to be explored. The centre is quite compact so you'll be able to see most of it by foot, or even enjoy a little cruise along the waterways.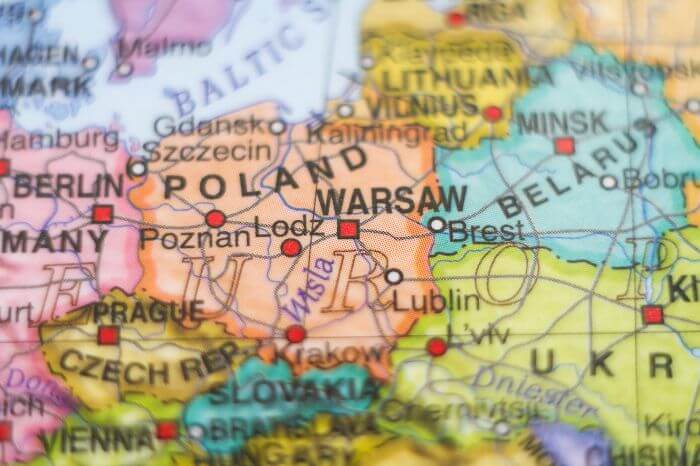 Our Top 3 Things To See & Do
St. Dominic's Fair: Every summer, between July-August, the streets in Gdansk are lined with bustling market and food stalls. With nightly music, entertainment and a real festive atmosphere, it's the biggest event in the Gdansk cultural calendar and on par with Germany's Oktoberfest.
Brzeźno Beach: It may come as a surprise that Gdansk is actually located on the Baltic Coast and comes complete with lovely sandy beaches and clear water. It's easily accessible from the city centre too as you can get the tram or choose to rent a bike.
Gdansk Crane: Now part of the nearby National Maritime Museum, this crane is a medieval structure dating all the way back to 1367! It was once used to place masts on ships and to load cargo between ships and shore, but is now known as one of the defining symbols of the city as people come from across the globe to see it.
Useful Things To Know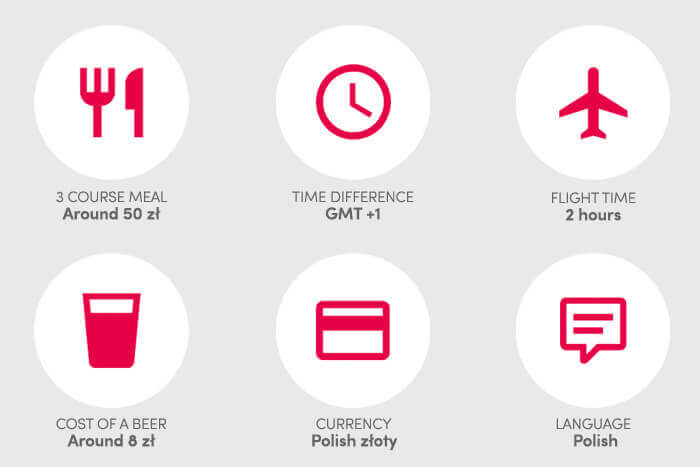 Food & Drink
Goldwasser: The city's special drink is the locally produced liqueur with tiny flakes of gold floating in the bottle. The elixir is said to bring good luck to those who drink it.
Bigos: This traditional stew consists of meat, sausages, sauerkraut, honey, tomatoes and mushrooms, and is usually accompanied with bread or potatoes.
Pierogi: AKA, small dumplings, are a massive part of Polish culture. They can be boiled, baked or fried, and are usually stuffed with anything from mushrooms to duck to strawberries.
Fun Facts
What The Bloggers Think…
Felicia and Wes from Feather and the Wind: "The port city of Gdansk is so far north in Poland that I'm sure many miss out on this gem while exploring Europe. But, please, do yourself a favour and add Gdansk to your itinerary if you can. The picturesque setting and colourful architecture make this city one of Poland's favourite destinations, especially among locals looking to enjoy their holidays."
Dave from Travel Dave: "My trip to Gdansk took me by surprise. The city is full of rich medieval history, charming backstreets to wander down, wonderful local cuisine and endless nightlife to choose from. It's a perfect location for a weekend escape by the Baltic coast."
Vicky and Chris from Eat, Sleep, Love and Travel: "We loved our time in Gdańsk and it has really sparked a love affair with Poland. We had three days in the city, which we felt was enough. The old town area is pretty compact, which was great as it meant we could walk everywhere."
Have you been to Gdansk before? Tweet @icelollyholiday and let us know what got up to!
About The Author: