It's destination discovery time once again, where the icelolly.com content team provide insight into holiday spots that are slightly more 'out there' – think unusual, unknown or otherwise different to the norm! This week we're taking a look at Mostar in Bosnia and Herzegovina, so put your feet up, have a read and get ready to add this beautiful destination to your bucket list…
Overview…
Mostar is fast becoming one of the most popular cities in Europe for a sightseeing break, and with good reason… Mostar is packed with natural beauty, stunning Ottoman architecture and of course the famous UNESCO World Heritage Stari Most bridge. The city is propped upon mountains along the Neretva River and was first referenced in the 1400s, however it really became known in the 1500s when the famous bridge was commissioned. The architecture and history of Mostar makes it the perfect place for a city break filled with culture!
Our Top 3 Things To See & Do…
Visit The Stari Most: It wouldn't be a trip to Mostar without visiting the famous bridge! Head to the nearby mosque to get the best view of the bridge from afar then to complete the bridge experience head to the bridge itself. Be sure to take some sturdy walking boots/trainers as the bridge is fairly steep and can become quite slippery. If the weather is nice be sure to head to the river banks just below the bridge to soak up the sun and watch the locals dive from bridge… rather them than us!
Do Some Shopping: Not your typical holiday activity, however at either side of the Stari Most you'll find Carsija Marked where you'll find traditional rugs, teas, coffees, scarves – anything your touristy heart desires.
Walk Up To Koski Mehmed Pasha Mosque: Not only does Koski Mehmed Pasha have the best views of Stari Most from the minaret, but it also had amazing architecture and décor making it an attraction in itself. The mosque dates back to 1618 however required some reconstruction after the war. The domes of the mosque are beautifully painted with intricate botanical motifs, offering stunning views and photo opportunities.
Useful Things To Know…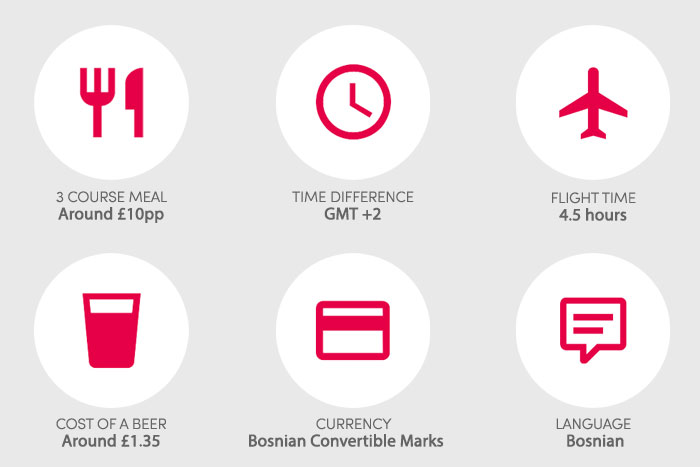 Food & Drink…
Typical tasty delights from Mostar include:
Cevapi: Long oblong shaped kebabs made from either beef or lamb which are served in a pitta bread with raw onions and sometimes a dip or sour cream sauce..
Bosanski Lonac: A delightful stew which is made from a mix of large chunks of meat and vegetables in alternating layers until the pot is full. After simmering the mix for an age,the delicious broth and stew comes as a filling meal packed full of yumminess.
Begova Corba: A local soup made from slow cooking chicken, carrots, potatoes, onions and celery which is thickened by boiling down. This is then served in a clay bowl with pitta and sometimes even a sour cream.
Fun Facts…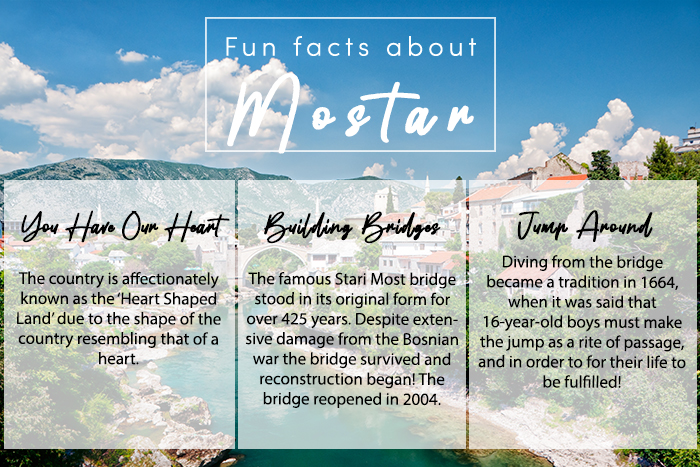 What The Bloggers Think…
Take a look at what these two travel bloggers thought of Mostar…
Jaclynn from The Occasional Traveller: "Bosnia and Herzegovina was a revelation for me when I first visited back in 2016 on my Career Break. I knew next to nothing about this country when I arrived in Mostar on a bus from Dubrovnik, but now it's the first European country I urge people to check out if they are headed that way."
Cheryl from Cheryl Howard: "I admit that Mostar took me by surprise. There is so much more to Mostar than the Old Bridge. From hiking through the nearby forested mountains, to taking in holy sites, posing with weird and offbeat statues, walking through medieval towns, swimming under waterfalls, exploring abandoned ruins, and hunting down street art, I couldn't help but wonder time and time again, why Mostar is not on more peoples' travel radars."
Have you been to Mostar? Tweet @icelollyholiday & let us know what you thought!
About The Author: