We're continuing our destination of the week blog feature with a look at another intriguing holiday spot you really need to be adding to your travel hit list. This time the focus is on Munich, so read on for more information about this fascinating city...
Overview
Munich, the capital and most popular city in Bavaria, home to fine art and breathtaking architecture, but more commonly known for Oktoberfest. The yearly event attracts over 6 million attendees to the Bavarian celebration, which kickstarted back in 1810.
For the other 11 months of the year, Germany is a cultural treasure trove split into two halves; the old town featuring Munich's best sights, gourmet food stalls and the mighty city gates contrasting with the Bohemian Northern quarter Schwabing; the hub of quirky cafes, galleries and the quaint English Gardens.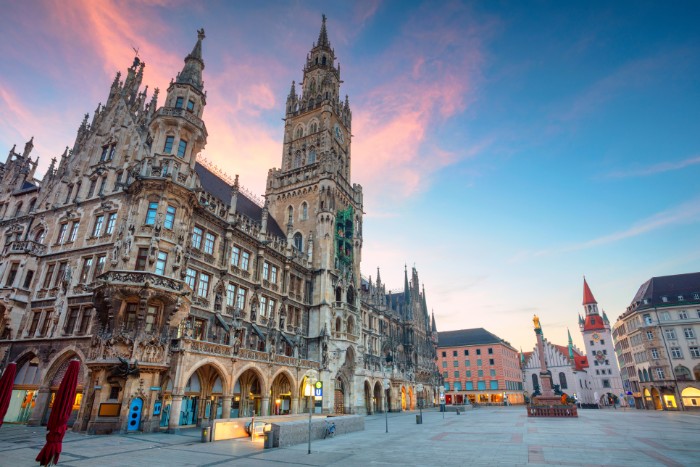 Top 3 Things To See & Do
Beer Halls: The most obvious is the gargantuan beer halls, if you happen to miss Oktoberfest, majority of local breweries have large beer halls that replicate the atmosphere of the well-known festival.
Museums: There are over 80 museums to explore within the city, the most famous being Deutsches Museum with over 28,000 exhibits! The best time to visit is on a Sunday when the majority of state-owned museums charge a mere €1 for entry.
Munich From Above: For those Instagram worthy pics head to Neues Rathaus observatory tower for panoramic views the city.
Useful things to know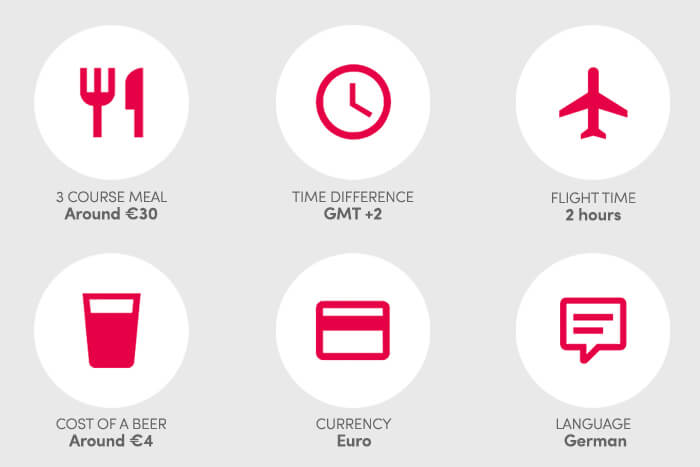 Food And Drink
Schweinshaxe: German pork knuckle, an Oktoberfest must-have is a chunk of meat covered in a layer of fat and skin that when cooked is very crispy!
Obatzada: Another brewery classic which is a mixture of soft cheese, butter and wheat beer, pairing perfectly with pretzels.
Weisswurst: Traditionally eaten for breakfast, the Bavarian delicacy is a white sausage made with either veal or pork, seasoned with parsley, lemon, onion, ginger and cardamon.
Fun facts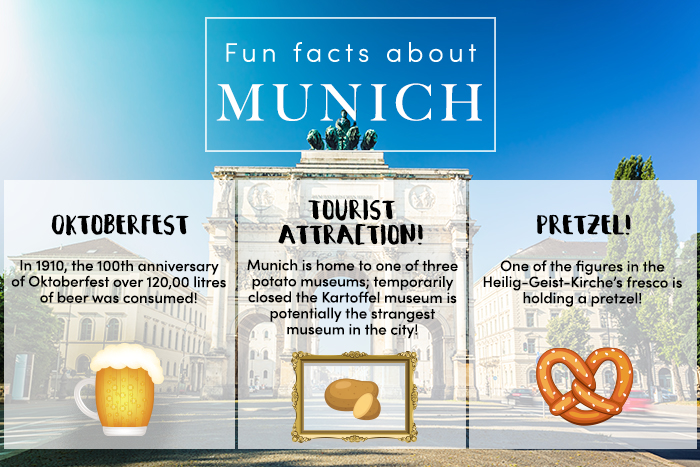 What the bloggers think!
Take a look at what these two travel bloggers think to Munich!
Yaya from Hand Luggage Only said: "Thinking of what Munich is like, If Berlin and Munich were sisters, Berlin would be the edgier and cooler sister (the rebel, so to speak). Munich, on the other hand, is the posher, more-well behaved one (but not afraid to let her hair down and have a good old time)."
Jessica from You Could Travel said: "Munich is highly underrated and has an incredible amount to offer in terms of culture and history while being a vibrant city boasting exciting nightlife, shopping, and stunning architecture."
Have you been to Munich before? Tweet @icelollyholiday and let us know if it's on your tavel bucket list!
About The Author: