Panama City is a UNESCO World Heritage Site, brimming with authentic Spanish architecture, interesting history and gastronomical delights. Better yet, it even has it's own rainforest and plenty of biodiverse National Parks. Here's why we think it deserves to be named our destination of the week...
Overview…
Not to be confused with Panama City Beach in Florida, Panama City is the capital of Panama. It's located in Central America, on the Eastern side of the "S" shaped country. The capital is bordered by the Pacific Ocean and the Panama Canal that connects the Atlantic ocean.
Here, traditional environments are mixed with the contemporary features of an ever-growing city. Highlights guaranteed to make you look twice include the Panama City skyline, particularly when lit up at night, and the contrast of the more historical architecture of the old quarter.
Our Top 3 Things To See & Do…
Casco Viejo: As Panama City's most charming neighbourhood, Casco Viejo is well worth a visit. It's an urban hub, brimming with quirky boutique shops, up and coming restaurants and a lively nightlife. It even has it's own heritage trail for you to follow.
Miraflores Locks: Here you'll see the ships and other vessels going through the locks as they carry cargo to or from the Pacific Ocean port of Balboa in Panama City.
Panama Viejo: Visit this UNESCO World Heritage Site to see the archaeological remains of the former capital of Panama, which was devastated by fire in the late 17th Century.
Useful Things To Know…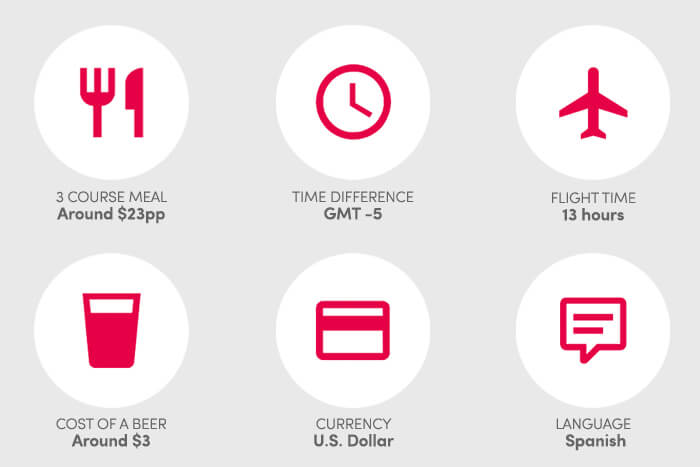 Food & Drink…
Ropa Vieja: Although this dish translates to 'Old Clothes' it's actually just a hearty stew made from beef, black pepper, cumin and oregano. Rumour has it that the name came from a man that ran out of food while serving his dinner guests and played it off by making a stew from (you guessed it), an item of clothing.
Granclement: This is a traditional type of French ice cream that made it's way to Panama when a chef glacier relocated.
Ron Ponche: Essentially the Panamanian version of Egg Nog, this cocktail is best enjoyed when sipped slowly and usually served during Christmas and New Year celebrations.
Fun Facts…
What The Bloggers Think…
Here's what some popular influencers had to say about holidaying in Panama City…
Chloe from Wanderlust Chloe said: "No trip to this city is complete without a trip to the Panama Canal. It's an amazing feat of engineering, and impressive to learn the history of the canal (and the previous failed attempt by the French)!"
Kiki from The Blonde Abroad said: "Though sometimes overlooked as a tourist destination in Central America, there truly is something for everyone in Panama, whether you come for world-famous shopping, the pristine islands of San Blas or for a stroll through Panama City's historic Casco Viejo district."
Alex from Alex In Wanderland said: "Far too many tourists only stay in Panama City long enough to cast a glance on the canal before hightailing it to more exotic destinations elsewhere. Don't make the same mistake!"
Have you been to Panama City before? Tweet @icelollyholiday and let us know if it's on your tavel bucket list!
About The Author: