With another week nearly over it means it's once again time for our weekly destination discovery feature. This time, we're focusing our attention on Plovdiv, Bulgaria – it's a city packed with history and culture. If you've ever had a spot of wanderlust for Plovdiv and fancied taking a trip there, you can find out a little more with our handy guide…
Overview…
Bulgaria's second largest city was named the 2019 European Capital of Culture and is one of the oldest cities in the world, dating back to 6th century BC. Plovdiv certainly has a lot to offer visitors to the ancient city, especially in the year of its Capital of Culture crowning. The city will play host to concerts, exhibitions and street art showcases throughout the year in order to celebrate.
Plovdiv is much more than just this year's culture capital though, it's a city steeped in history, from both the Roman and Thracian eras. From the fairly recently uncovered Roman Amphitheatre - uncovered by accident in the 1970s – to the 18th century revival style housing, the city has something for even the most hard to please history buffs.
Our Top 3 Things To See & Do…
Wander The Streets: The city is ranked 6th on the list of oldest cities in the world, and 1st in Europe, so there's plenty of history and culture to see whilst walking the city streets. The Old Town is packed with winding cobblestoned streets and period buildings.
Visit The Stadium: Plovdiv was once named Philipopolis when it was under control of the Romans, during this time huge sporting events took place in the stadium. Now, it's buried under the streets of Plovdiv but the ends can be seen and explored.
The Archaeological Museum: As Plovdiv is one of the oldest cities in Europe, it has an amazing archaeological museum. They have many well preserved Thracian and Roman artefacts on display, plus many statues and mosaics.
Useful Things To Know…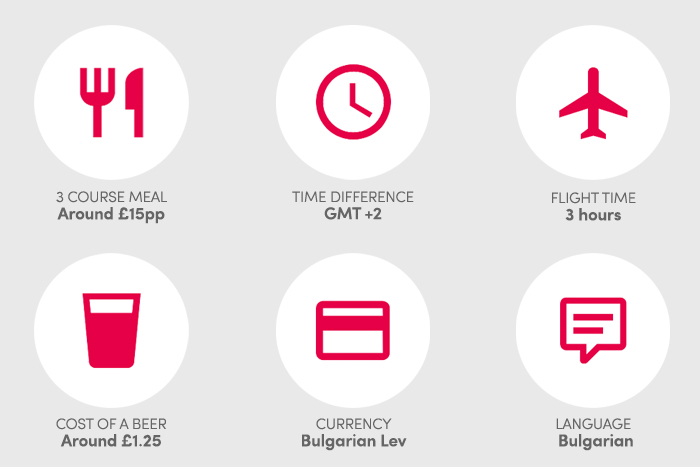 Food & Drink…
Some tasty treats found in Plovidiv that you must try:
Kapama: At least two different types of meat are mixed with rice and fermented cabbage, this is then added into a clay pot and baked for an hour.
Banista: This is a much loved and well known Bulgarian pastry, which is made up of layers of filo which is then stuffed with curd or cheese.
Lukanka: This pressed spiced sausage is mostly used as a cold starter or as a topping on foods like pizza.
Fun Facts…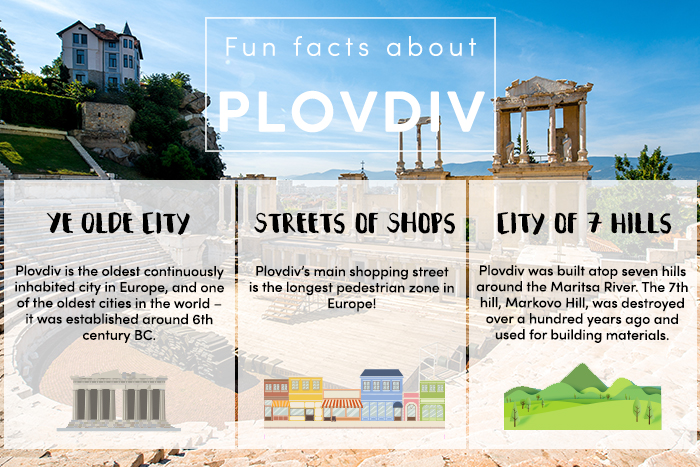 What The Bloggers Think…
Take a look at what these two travel bloggers think to Plovdiv as a holiday destination…
Charlie from Charlie On Travel: "We could hardly believe how much there actually is to do in Plovdiv. It's really the kind of city where you need at least a couple of days to see the sights without rushing through. There are beautiful buildings and scenic spots to admire all around the city. Museums to explore, winding cobbled streets to walk and quirky cafes to sip coffee in."
Annemarie from Travel On The Brain: "Plovdiv is known as the City of Seven Hills and though the hills themselves are not spectacular, their views are splendid. With its cobblestone streets, antique churches and half-timbered houses, Old Town Plovdiv is charming as can be. I actually didn't want to leave."
Have you been to Plovdiv? Tweet @icelollyholiday & let us know what you thought!
About The Author: