We're continuing our destination of the week blog feature with a look at another intriguing holiday spot you really need to be adding to your travel hit list. This time the focus is on the capital of the Cook Islands; Rarotunda. Read on to find out more information about this fascinating island...
Overview
Located in the Southern Pacific between New Zealand and Hawaii, Roratunda is the hub and capital of the fifteen unspoilt Polynesian islands, and by far the most popular. Known for kilometres of long sandy beaches encased by a turquoise lagoon, it's easy to confuse the Cook Islands as 'just a beach break'. However, it also boasts natural volcanic terrain which sets the scene for the ultimate adventure; from mountain buggies to scenic flights over uninhabited islands and backyard tours, the options are endless.
Made up of several villages, the most popular being Avarua, Muri and Aroa, the whole island is easily treated as one large resort. Roratunda is only 32km in circumference so it takes less than an hour to complete a round trip of the island. The most common way to explore the island is via the two buses running clockwise and anti-clockwise, but you can also travel by scooter. Licenses are easily obtained from the police station for $40NZ, with a short theory and practical test giving you the freedom to explore and find a unique souvenir to take home.
Top Things To See & Do
Aitutaki: Meaning 'little paradise', Aitutaki is a 50 minute flight from Rarotonga and known for the islet that sits within the turquoise lagoon.
Muri Night Market: Home to the best street food and cheap eats; Muri Beach Village is held atleast three times a week. Remember to bring cash, as the stalls don't accept card!
Sea Scooters: Make the most of the crystal clear waters and tropical creatures with a unique sea scooter tour!
Useful Things To Know
Food And Drink
Ika Mata: Roughly translating as raw fish, this dish is a fresh salad with mixed vegetables and a coconut cream base.
Curried Octopus: Another delicacy cooked in coconut cream, spices and garlic!
Rori: Also known as a sea cucumber, this food can be served raw or cooked, and is known for its sweet and salty taste!
Fun Facts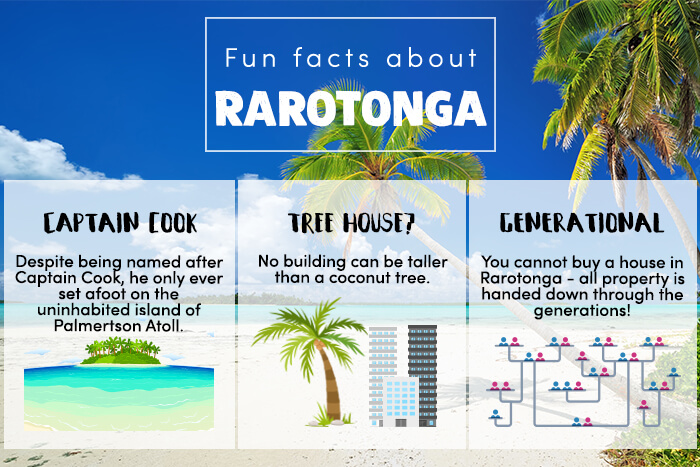 What The Bloggers Think?
Take a look at what these two travel bloggers think of Rarotonga?
Lauren from Never Ending Footsteps said: "I loved my time there. The locals were so warm and friendly, travelling on a budget wasn't horrendous, I doubt I'll ever go anywhere as spectacular as Aitutaki, and I'm already plotting my return! If you're looking for paradise, head to the Cook Islands. It's amazing."
Hana from We Are Travel Girls said: "... As Belinda sings in her most famous song – "Heaven is a place on Earth" – I found heaven on Rarotonga in the Cook Islands, a collection little gems on the indigo blue South Pacific Ocean."
Have you been to Rarotunda or the Cook Islands before? Tweet @icelollyholiday and let us know if it's on your tavel bucket list!
About The Author: