With a mere 5 more sleeps to go until Christmas, we're bringing you our most magical destination of the week to date, a once in a lifetime destination filled with festive cheer, incredible wildlife and beautiful scenery.
If you haven't already guessed, we're talking about the arctic city of Rovaniemi, also known as the the "official" hometown of the man himself, Santa Claus! Read on to find out all about this winter wonderland that has plenty for adults and children alike to enjoy...
Overview
Situated in Northern Finland, Rovaniemi is a very fitting capital for Finnish Lapland. You may already know that the city was destroyed during World War II, but did you know it was rebuilt so that from above, its outline looks just like a reindeer's head, complete with antlers? If you're lucky enough, back on land, you'll be able to look up and see the Northern Lights.
Inside this bustling city, you'll find everything from modern shopping malls and art exhibitions to ski slopes, raging rivers and cascading waterfalls.
Top Things To See & Do
Santa Claus Village: A magical experience that's open every day of the year. Come along and say "Hi" to Santa and his elves in their office, send a postcard with his special postmark, shop for presents or learn about Finland's traditions in an unforgettable winter wonderland setting.
Arktikum Museum And Science Centre: Delve into the history and culture of the Arctic and Finnish Lapland at the Arktikum, a unique museum filled with exhibitions on human life, nature and more.
Arctic Safari: From Husky rides and snowshoeing to hunting down the Northern Lights, book onto an Arctic Safari to explore the beauty of Rovaniemi area and see unique wildlife, with the help of a knowledgeable guide. These wintery adventures in the wilderness really are one of a kind and will leave you with great stories and an even better Instagram grid!
Useful Things To Know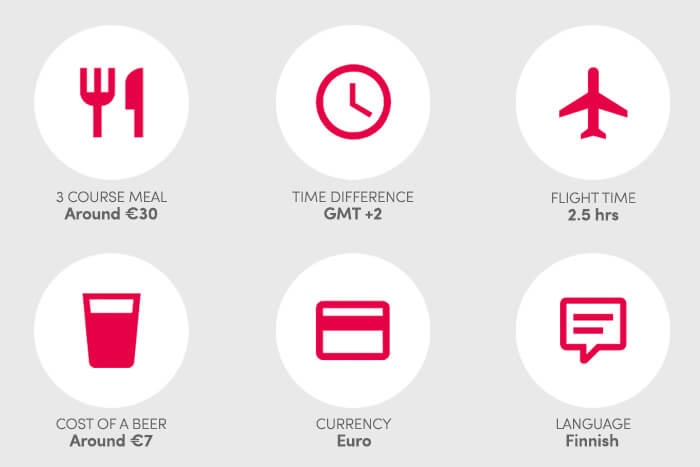 Food And Drink
Leipäjuusto: Also known as 'Finnish squeaky cheese' or 'bread cheese', this dairy product is similar to halloumi. It's quite mild and is usually served in the form of a flatbread.
Kampanisu: Translating to 'comb scone' in English, this traditional sweet pastry is the perfect accompaniment to any hot drink.
Salmon Soup: Filled with plenty of salmon and chunky veg, this dish is the go-to-recipe for those who are short on time but still want to eat healthily.
Fun Facts
What Do The Bloggers Think?
Victoria from Bridges and Balloons said: "Visiting Lapland in the wintertime is like stepping into a fairytale, filled with beautiful creatures amid an endless snowy forest. From riding in a sleigh drawn by reindeers to speeding around the trees on snowmobiles, there are many adventures to be had."
Jackie from The Globetrotting Teacher said: "Finnish Lapland is filled with one "pinch-me-now-moment" after the next. I'm not talking about the kind of moments that linger in your mind for a while only to fade into a larger collection of travel experiences. No, I mean moments which combine surreal, grateful, and mind-blowing into never to be forgotten memories. Simply put, Finnish Lapland is an awesome place to visit!"
Have you ever spent the festive season in Lapland? Was it as magical as you expected it to be? Tweet @icelollyholiday your stories!
About The Author: