We're back with a brand new destination of the week and the spotlight on this occasion is focused on the beautiful Croatian fishing port of Rovinj. Ever fancied a trip? Perhaps you want to find out a little more? Rest assured, our guide has you covered!
Overview…
Serenely situated on the western coast of the Istrian peninsula by the beautiful Adriatic Sea, Rovinj's climate rivals that of even the sunniest areas of Europe, with stunning views to boot. Just a short boat ride away from neighbouring Italy, Venetian influence can still be experienced today in the city's architecture and landmarks.
Croatia itself is located at the crossroads of Central and Southeast Europe and gained independence from Yugoslavia in 1991 after a referendum passed with 94% of people in favour. Today, its beauty and importance is emphasized by the fact that it has the highest number of UNESCO Intangible Goods of any European country, which is one of many reasons why tourism has increased in recent times, by around 56% in the last 10 years.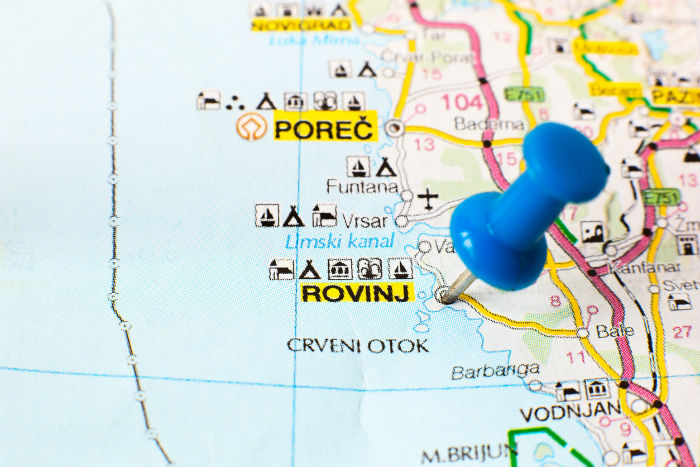 Our Top 3 Things To See & Do…
Stroll through the Old Town: An absolute must for any Rovinj holiday, wander the tight streets and alleys that glide under archways and staircases covered in history and worn by footfall.
Visit St. Euphemia Cathedral: A stunning piece of architecture that can be seen dominating Rovinj's supreme skyline, take a trip to the top for amazing views that can offer sightings of the Alps on a clear day, or simply admire the incredible design available back at ground level.
Up your Insta game at the city's port: Some of the best Rovinj snaps are taken from the port, awash with picturesque housing colours and formations that overlook the waterfront. Face seawards to see local fishermen going about their business and enjoy a bite at one of the nearby restaurants for the ultimate experience.
Useful Things To Know…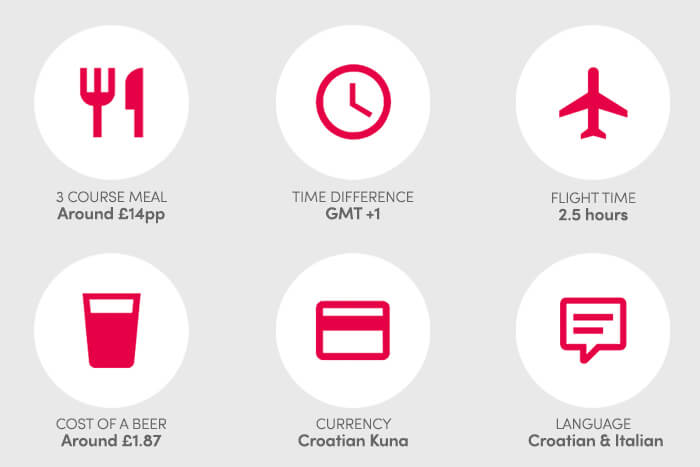 Food & Drink…
Seafood: As with any fishing town, seafood is available in abundance and certainly a must-try at least once during your trip. Calamari and grilled octopus get our vote – don't be afraid to give something different a go!
Truffles: Istrian truffles are a culinary winner, an underground mushroom with potato-like body that lives in local soil, and is a highlight of the country's cuisine.
Croatian wine: With a history dating all the way back to Ancient Greek settlers, varying grape varieties still survive in Croatia to this day and the production falls under a strict classification system to ensure the upmost quality.
Fun Facts…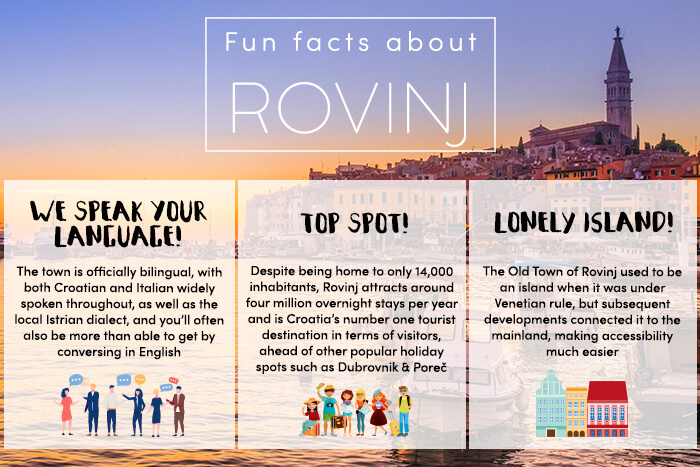 What The Bloggers Think…
Here's what a couple of travel bloggers thought of their recent trips to Rovinj…
David from Wandering The World: "Climbing cobbled streets up to the Church of St. Euphemia, and then the rickety wooden steps of the bell tower was an experience; but provided an amazing view.
"We explored the small shops on the way back down, and enjoyed sitting by the waterside in what felt like Venice without the canals."
Ilka from Ilka Rocks: "Rovinj is just two hours away from Venice on a ferry, which makes it the perfect one or two-day trip if you are staying in either of these lovely cities.
"If you are travelling with children, it is good to know that staying in the old town is not very child-friendly. There are no elevators in the buildings, the staircases are narrow and steep and the parking is limited."
Have you been to Rovinj? Tweet @icelollyholiday and let us know what you thought!