For our latest Destination Of The Week we've decided to embrace the spooky season and select Salem for our focus. If you're unfamiliar with our Destination Of The Week posts, they're where the icelolly.com content team provide insight into holiday spots that are slightly more 'out there' – think unusual, unknown or otherwise different to the norm!
So if you're interested in embracing your spooky side and discovering more about Salem, put your feet up, have a read and prepare for wanderlust to take hold…
Overview
Salem is one of the worlds most famous spooky destinations, and the month of October is their most popular month for tourism due to its rich witchy history. The city was settled in 1626 by a company of fishermen due to it's riverside location and proximity to the sea. It became infamous for its witch trials which began in 1692 after many allegations of witchcraft which started with Abigail Williams and Betty Parris. Throughout the trials hundreds of people were accused of witchcraft, with 19 being sentenced to death for the crime. However, Salem has more to offer than a spooky past…
Our Top 3 Things To See And Do
Stroll Down Chestnut Street: Chestnut Street is home to many quintessentially New English style houses and buildings. The entire street is a Registered National Historic Landmark, and it's perfect for an afternoon stroll tasking in the awe inspiring architecture.
Take A Trip To The Salem Witch Museum: OK, so we know we said it wasn't all about witches, but you'd be crazy to miss out on one of Salem's most famous attractions. The museum building itself is something to behold with its eerie exterior. The museum includes 13 stage sets depicting the trials via life size figurines and narration.
Visit The Merchant Salem: This boutique hotel located at the heart of downtown Salem is steeped in history and somewhere not to be missed. It was originally built as a home for the sea merchant Joshua Ward, but has since been used as offices, a tavern and also a rare book shop. Inside the now hotel you can stay in the George Washington King Deluxe Room, where the then president stayed in 1789 after his election.
Useful Things To Know
Food & Drink…
Boston Baked Beans: Although baked beans might be a staple over here in the UK, in the US they're not that widely eaten, except in Boston and the wider state. Despite the name the beans aren't actually baked; they're stewed, sweetened or molasses and swirled with bacon or salt pork. The dish is traditionally served in an iron dish and a side serving of thick crusty bread – comfort food at its best!
Clam Chowder: The dish is most famously from New England, however it's a much loved dish over in Salem too due to the abundance of seafood available there. The dish is a rich concoction of shellfish, clams, onions, pork, potatoes and cream all mixed into a thick creamy soup like dish.
Lobster Rolls: This much loved sandwich is often served on a griddled, buttered bread roll which is stuffed with pink lobster meat and drizzled with warm melted butter or mayo. On the side are usually a helping of fries in a basket for a no frills meal.
Fun Facts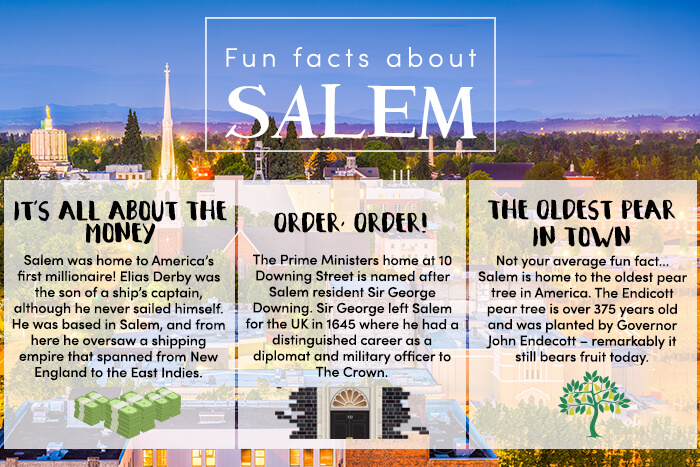 What Do The Bloggers Think?
Lisa from Chase The Horizon said: "The main streets in the centre have some pretty quirky shops; lots of Wiccan shops and a shed load of palm readers and psychics as well as a fun wand shop. There seem to be loads of tours offered in Salem, ghost tours, Wiccan tours - everything you could want. We chose this one as two of our good friends have done it before and highly recommended it and I must say after doing it, I am in full agreement! It is an historical tour which is just what we wanted."
Hannah from Hannah Henderson Travel said: "Salem is an easy hop, skip and a jump away from Boston, so it is a perfect day trip destination if you are in the area. Salem has an intriguing history of pilgrims, witches, and of course the infamous witch trials. And if, like me, you loved the movie 'Hocus Pocus' as a child, a day trip to Salem MA is a must."
Cathy from Cathy Travelling said: "When we were there in September (the beginning of Fall – Autumn), spending three nights, it was quiet and humid. A lovely downtown area to wander and to take in the many museums dedicated to Salem and it's large historic dock area, witches and culture."
Have you visited Salem? Drop us a tweet and let us know what you thought of it - @icelollyholiday!
About The Author: