It's destination discovery time once again, where the icelolly.com content team shine the spotlight on a destination that doesn't get given the credit it deserves. This week, we're focusing on Salzburg, a city that often gets overlooked in favour of Vienna, the capital of Austria - especially by interrailers. Here's everything they're missing!
Overview
Adjacent to the river Salzach and surrounded by snow-capped mountains, this gateway to the Alps is known for being the birthplace of Mozart and the main filming location for The Sound of Music. However, there's so much else to discover here including world-renowned baroque architecture, modern art and more.
Just two hours from the UK and served by a multitude of airlines, including British Airways, TUI and Ryanair, the fairytale city, that's also a UNESCO World Cultural Heritage site, is best enjoyed from September to October when it's not too hot or busy to explore. The run-up to Christmas is also a great time to enjoy winter sports or visit the festive markets here.
Top Things To See & Do
Salzburg Festival: 2020 is the centenary of the Salzburg Festival, which takes place in July. This world-famous festival is featured in The Sound of Music and guarantees a performance of Hofmannsthal's Everyman play. While the full programme is still to be announced, you can guarantee it will be an unforgettable event.
Fortress Hohensalzburg: This fully preserved 11th-century castle is an unmistakable feature of Salzburg's skyline. Climb up or take the cable car to see magnificent views across the city, or venture inside to learn about its fascinating history
Mirabell Gardens: The world-famous Mirabell Gardens are the perfect place to relax (or sing Do-Re-Mi if you're a fan of The Sound of Music). The gates of the park open at 8 am so be sure not to arrive before then.
Useful Things To Know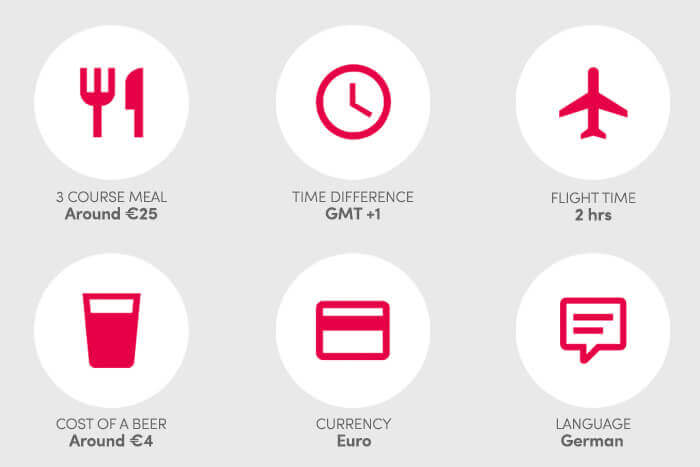 Food And Drink
Schnitzel: The epitome of Austrian cuisine, a schnitzel is a thin slice of meat (usually veal, pork, chicken, mutton, beef or turkey) that's breaded and fried in fat. It is traditionally served with potatoes and a slice of lemon, rather than the noodles you'll have seen the Trapp family eat in The Sound of Music.
Bosna: A spicy take on the hotdog, this dish combines a grilled pork bratwurst, with onions, fresh parsley and a secret blend of spices, served between two slices of fresh bread.
Strudel: This dessert is a type of layered pastry with a filling that can be either sweet or savoury. The most popular kind in Salzburg is apple strudel.
Fun Facts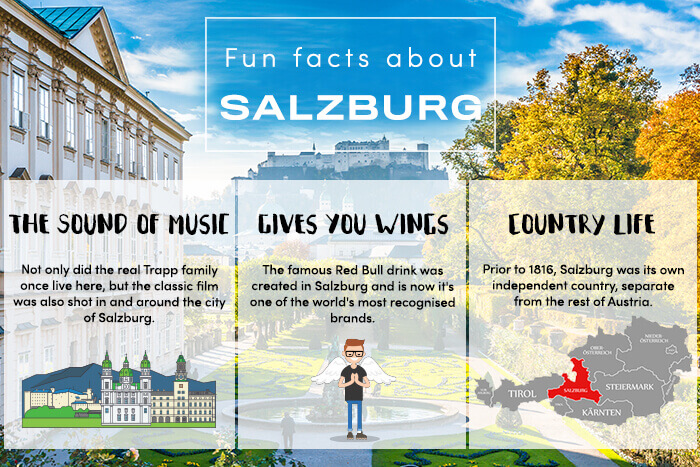 What The Bloggers Think?
Jess from The Travelista said: "Although it's the smallest, Salzburg was definitely the most famous city on my Austrian travel itinerary. As the birthplace of Amadeus Mozart, it's a city inspired by music and is also well known as the city where The Sound of Music was filmed. Of all three cities, I have to say that Salzburg captured my heart the most."
Laura from The Creative Adventurer said: "Salzburg is not only a historical and picturesque, baroque utopia, but it was also the setting for the classic film The Sound of Music. Any place deemed charming enough to be the backdrop for such an extraordinary film is undoubtedly worth your time."
Whitney from Blonde Atlas said: "It's architecture boasts stunning medieval and baroque edifices, well-manicured parks are plentiful and a formidable clifftop fortress set against the northern border of the Alps makes for breathtaking scenery. Yes, Salzburg is an idyllic combination of man-made and natural beauty."
Have you been to Salzburg or Austria before? Tweet @icelollyholiday and let us know if it's on your city break bucket list!
About The Author: