We're continuing our destination of the week blog feature with a look at another intriguing spot you really need to be adding to your travel bucket list. This week we wanted to focus our a Far Eastern destination and we thought Siem Reap in Cambodia was the perfect place. Read on to find out more information about this monumental city.
Overview
Siem Reap is mainly known for Angkor Wat, the beautiful and ancient Hindu temple(s), however there is much more to the Cambodian gem than the temples. The area is rich in history, culture and a haven for foodies!
Top Things To See & Do
Visit Angkor Wat: This is obviously the main attraction in Siem Reap, and for good reason… it's the largest religious building in the world! The site was constructed in the 12th century and is built over 1.6 million square miles!
Spend Time At The Landmine Museum: Cambodia has a war torn past and to this day is still undergoing landmine clearing exercises. In order to learn more about the clearing and the past of Cambodia, including the Khmer Regime, a trip to the Landmine Museum and School is a must.
Pick Up Some Local Art: The Angkor Artisans is a great places to pick up some souvenirs of your trip. Housed at the Les Chantiers Ecoles the shops sell everything from wooden art, paintings and Angkorian statues.
Useful Things To Know
Food And Drink
Nom Banh Chok: This dish is incredibly popular in Cambodia, and around the world – so much so that it's often referred to as just Khmer Noodles. The dish is based around noodles and a fish green curry on top, which is made with lemongrass, ginger, banana flower and edible flowers amongst many other tasty ingredients.
Fish Amok: One of the most popular dishes in Cambodia is Fish Amok, a mix of rich creamy curry and rice that is most often served wrapped in a banana leaf.
Banana Blossom Salad: A refreshing salad made up from stir fried banana blossom topped with garlic, fried shallots, and lemongrass. The salad is then topped with lime adding a citrusy taste to it.
Fun Facts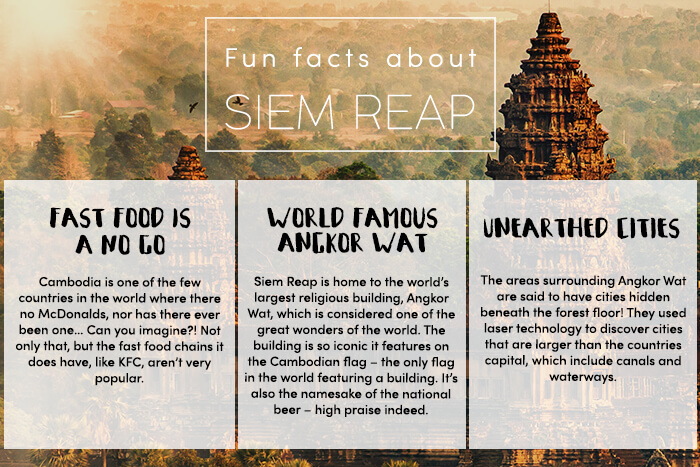 What The Bloggers Think?
Christina from Jetset Christina
"The temples today are one of Asia's biggest tourist attractions and what everyone comes here for (after all, they are spectacular) but Siem Reap has so much more to offer tourists outside of its temple walls; from jungle adventures to a vibrant culture to luxury hotels and a fabulous nightlife."
Ang & Sy from Feet Do Travel
"Don't be a temple hopping tourist without exploring more of this historic City. There are many places to eat and drink, museums to visit, Siem Reap is brimming with culture and local crafts and has a lot more to offer than just beautiful temples."
Have you visited Salem? Drop us a tweet and let us know what you thought of it - @icelollyholiday!
About The Author: