We've chosen Tallinn in Estonia as our latest Destination Of The Week. Although synonymous with boozy stag dos, this modern coastal city has so much more to offer than the cheap flights and cheaper beer it's known for. Read on to find out what you can expect from the city voted number one in Lonely Planet's Best Value category in 2018...
Overview
Tallinn, the capital of Estonia, is located in Northern Europe in the north-eastern part of the Baltic Sea region. The city is super easy to reach as it's located a mere 4km from the airport. In fact, the city centre is never more than 15-minutes drive away regardless of if you happen to arrive by plane, train, coach or ferry.
A city break to Tallinn gives travellers the chance to explore a historic port city that dates back to medieval times. Despite being dubbed the Silicon Valley of Europe thanks to the abundance of startup companies, and being the birthplace of Skype, forward-thinking Tallinn has fought to keep its fairytale charm, most evident in its Old Town, a UNESCO World Heritage site.
Our Top 3 Things To See And Do
Kohtuotsa Viewing Platform: If you're on the hunt for the perfect Instagram shot, climb up here and snap a photo of the signature terracotta roofs and the high-rise buildings in the newest part of the city, all with a stunning backdrop of the Gulf of Finland, the port and the Pirita district.
Suur-Karja: This beautiful street situated in the historic Old Town is the place to be when the sun goes down! Known by locals as one side of the Bermuda Triangle, it's full of traditional pubs and lively bars.
NO99 Straw Theatre: In this ultra-modern piece of architecture you'll be able to watch innovative performances in a theatre made from straw.
Useful Things To Know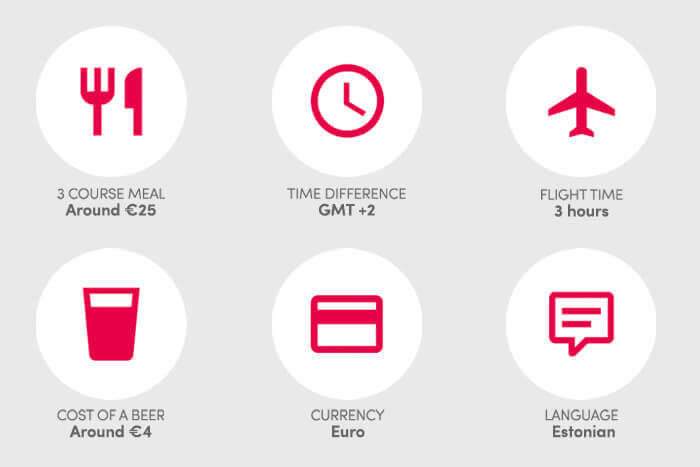 Food & Drink…
Vana Tallinn: A traditional rum-based liqueur mixed with Cognac and flavoured by various natural spices including citrus oil, cinnamon and vanilla for a sweetened taste.
Mulgi Puder: This tasty dish has the consistency of porridge, but is essentially mashed potatoes mixed with barley and topped off with fried onions and bacon.
Kohuke: Eaten as a treat, Kohuke is a freshly pressed sweet curd coated with chocolate or caramel, and often filled with berries, chocolate, coconut or kiwifruit.
Fun Facts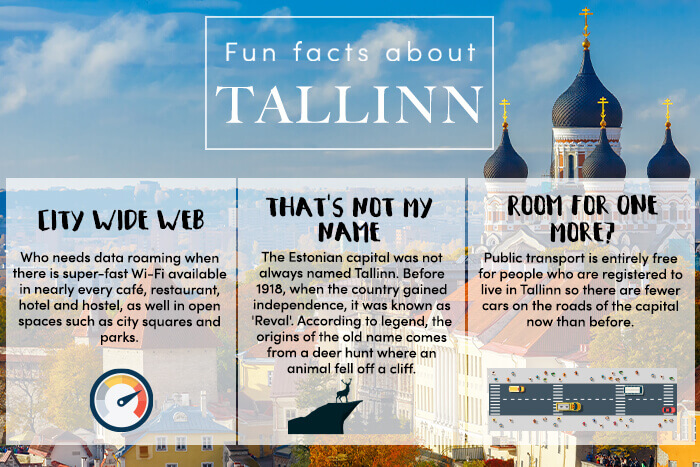 What Do The Bloggers Think?
Luce from On The Luce said: "Arriving in Tallinn was like walking into a wintry fairytale. Europe's best preserved medieval city is a beauty at any time of year, but in the short, cold days of winter, snow adds an extra touch of magic. "
Tom from Travelling Tom said: "Aside from its old-world charm, Tallinn is home to one of the most intriguing sets of attractions in the world. A first-class maritime museum, candlelit restaurants, an abandoned prison, a Soviet television tower and a brightly-coloured palace all help to create a first-class offering.
"Reasonably priced, not overcrowded with tourists and with plenty to fill the itinerary – Tallinn should be added to your to-do list."
Stephanie from Stephanie Fox said: "There are parts of the place that look like a cross between Game of Thrones and Harry Potter, and I searched to see if any filming was done here as I was so sure it would have been, but apparently not. I'd definitely describe it as one of the most medieval cities I've ever been to."
Have you been to Tallinn before or will you be visiting soon? Tweet @icelollyholiday and let us know what got up to!
About The Author: