Today, as part of our Destination Of The Week series, we're showing off Tampa, a water-front city on Tampa Bay in Florida. Full of sun, sea and surprises, it is fast becoming the hip, urban heart of Florida's Gulf coast.
Overview…
Located on Florida's west coast, Tampa is Florida's third-largest city. It's an up-and-coming place that's teeming with historic architecture, modern landmarks, fantastic food, exciting attractions, and a welcoming culture, making it Florida's most diverse travel destination.
Our Top 3 Things To See & Do…
Busch Garden® Tampa Bay: This African themed amusement park really has something for everyone. Adrenaline junkies can experience thrilling rides such as the tallest launch coaster, while animal lovers wander around the wildlife viewing areas.
Live Sports: Tampa is home to four major sports teams, so there's bound to be a game that coincides with your stay.
Shopping: With an eclectic mix of high street names you'll recognise, local boutiques, designer shops and bargain outlets, Tampa Bay's diverse shopping scene is the place to be if you're in the market for any new wardrobe gear - just make sure you check your baggage allowance!
Useful Things To Know…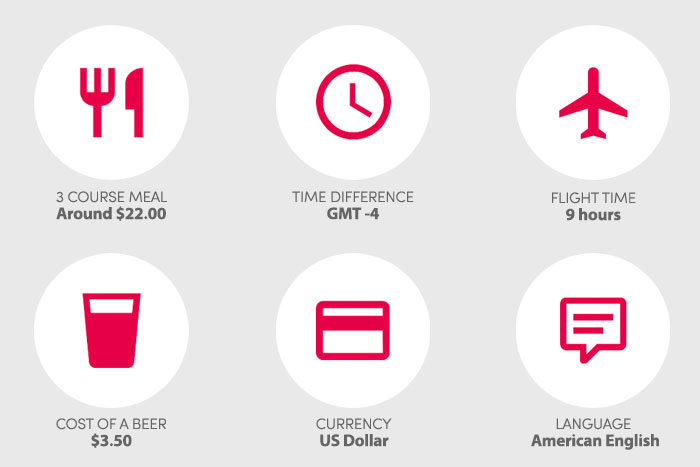 Food & Drink…
Over the past ten years, Tampa Bay's food scene has skyrocketed. There's now an abundance of award-winning restaurants for you to enjoy, including independently owned Cuban, Spanish, Thai, Italian, Vietnamese, New American and gourmet ones.
Cuban Sandwich: Forget a standard ham and cheese baguette, this variation has delicious roast pork, glazed ham, Swiss cheese, and thinly sliced dill pickles sandwiched between two slices of Cuban bread.
Guava Pastry: Filled with guava paste and cream cheese, this easy to make puff pastry is the signature flavour of Tampa.
Local Brew: The craft beer scene in Tampa is unrivalled so make sure you sample a pint (or more) of their famous ales, lagers, sour beers and high-gravity beers.
Fun Facts…
What The Bloggers Think…
Here's what a couple of travel bloggers think about holidaying in Tampa…
Chloe from Wanderlust Chloe said: "It was cosmopolitan, but with a retro vibe. It's a city where new life is being breathed into old buildings, as they're converted into buzzy food halls. Nostalgic eatery Goody Goody Burgers has made a historic comeback. Ybor City, the former cigar capital of the world, once a booming area of trade, then left for many years, has transformed into a cool part of town with bars, clubs and restaurants."
Claire & Laura from Twins That Travel said: "There is something stirring in Tampa: an energy, an excitement, a buzz. Walk through the city's downtown area – a territory once dominated by linoleum-filled skyscrapers – and you might feel it rush by; a current of creativity that is leaving artisan coffee shops and food stalls in its wake."
Have you been to Tampa before? Tweet @icelollyholiday and let us know what got up to!
About The Author: