It's destination discovery time yet again – where does the time go? This week we're taking a virtual trip to Tel Aviv to discover all the best bits of this modern city that's packed full of culture. So, if you've ever wondered what Tel Aviv has to offer, put your feet up, have a read and get ready to add this destination to your bucket list…
Overview…
Not only is Tel Aviv one of the top 2019 destinations to visit, it also plays host to this year's Eurovision Song Contest. As the winners of 2018's competition, it's now their turn to hold the event, and they'll be welcoming Europe's singing elite for the final on 18th May 2019.
But, that's not all this metropolitan city has to offer! Tel Aviv is known for its great city life vibe, with streets packed full of cafes, shops and nightlife – many of which are open 24/7. If the city life gets a little too much for you however, there are nearly 9 miles of beautiful beaches to chill out on.
Our Top 3 Things To See & Do…
Visit The Markets: Visiting the local markets when travelling is a great way to get a feel for a place, and Tel Aviv is no different. A trip to Carmel Market is a must, so be sure not to skip it as you'll miss out on the great atmosphere and even better street food.
Take A Trip To The Beach: There are many beach spots on the coast of Tel Aviv, so be sure to pack your swimming gear so you can visit one. There are not many cosmopolitan cities that can boast beautiful beaches too, so make the most of it.
Explore Jaffa: Although Jaffa isn't strictly in Tel Aviv, it is considered part of the great area and the port city from which Tel Aviv grew. Jaffa is in stark contrast to modern feeling Tel Aviv, so if you fancy exploring an older town and seeing how Tel Aviv came about, then this is the trip for you.
Useful Things To Know…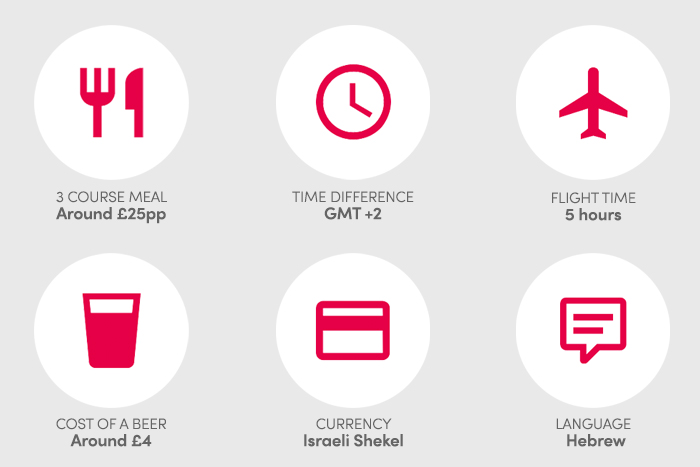 Food & Drink…
Some tasty treats found in Tel Aviv that you must try:
Shawarma: This is traditionally a street food dish, but in recent years the stuffed pitta has managed to find itself on the menus of many of the local restaurants. A mix of spit grilled meat, veg and hummus is packed into a pitta to make an easy to eat dish.
Shakshuka: Ok, so this may not be a native Israeli dish, and instead hails from Northern Africa, however the people of Tel Aviv have fully embraced this and made it their own. The dish consists of a spicy tomato stew topped with a perfectly poached egg and some toasted fresh bread.
Hummus: How could we talk about Israeli food and not include hummus?! A beautiful blend of chickpeas often garnished with herbs and spices, it's the perfect start to any meal.
Fun Facts…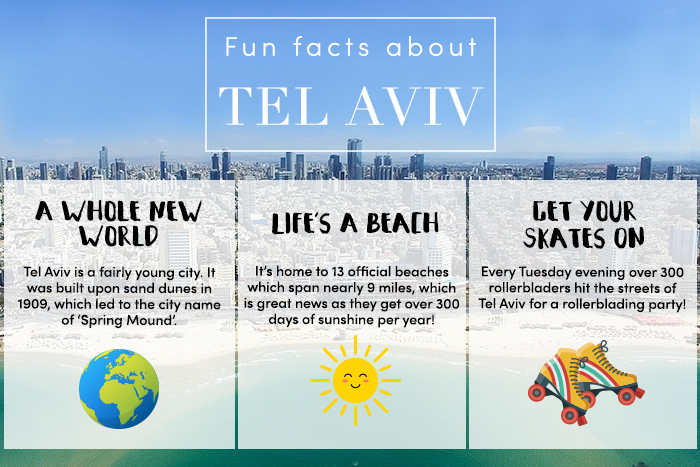 What Bloggers Think…
Take a look at what these two travel bloggers think to Tel Aviv as a holiday destination…
Nicola from Polkadot Passport: "Tel Aviv knows how to draw in a young, cosmopolitan crowd with its hipster boutiques & cafes, an endless array of restaurants and arguably some of the best nightlife in the world.
Whilst there is SO much to do and see throughout the whole country of Israel, I would recommend spending a solid few days experiencing this vivacious city for yourself."
Dani from Globetrotter Girls: "It took me a few days of wandering the streets, but then, completely unexpected, the city put a spell on me and grabbed me hard.
It pulled me into its fascinating mix of old-fashioned markets and trendy coffee shops, coexisting cultures of trendy hipsters, Jewish families and Arab Muslims; a city with a delicious food scene, buzzing nightlife and gorgeous beaches right at your doorstep."
Have you been to Tel Aviv? Tweet @icelollyholiday & let us know what you thought!
About The Author: