Just like Marmite, you either hate or love Valentine's day, this week we are delving deep into the origins of St Valentine and his hometown of Terni in Umbria. So whether you are looking for a romantic escape or another city break to add to your bucket list, read on to find out more about this scenic destination.
Overview
Located in Southern Umbria, the town is known for its ancient Roman ruins, cathedrals and the origins of many a romantic tale starting with the patron of lovers; Saint Valentine of Terni. Statues, shrines and frequents congregations of the beloved Saint Valentine remain in the city of Terni, with the Basilica di San Valentino housing his remains in the altar, where he was the first bishop and martyr.
Often overlooked by larger cities such as Rome and Florence, Terni and the surrounding towns are significantly cheaper, offering similar four and five-star hotels, with the option of authentic, rustic hotels. Make the most of the Umbria rural setting and explore the great outdoors, with a plethora of hiking trails, lakes and rolling mountains to explore.
Top Things To See & Do
Cascata Delle Marmore: the Balcony of Lovers is one of many trails that run at Marmore waterfalls. The balcony is situated behind the first 'jump' of the waterful and makes for a perfect photo opportunity! Local legend has it that St Valentine formed the cave himself.
Roman Amphitheatre: Much of the original structure remains including sections of the outer walls and a whole section of the tiered oval seating.
Lago di Piediluco: Only 30 minutes from Terni, is the small town of Piediulco, situated on a picture-perfect lake, ideal for a couple of nights break from the hustle of bustle of the city, with masses of walking, biking and trekking trails.
Useful Things To Know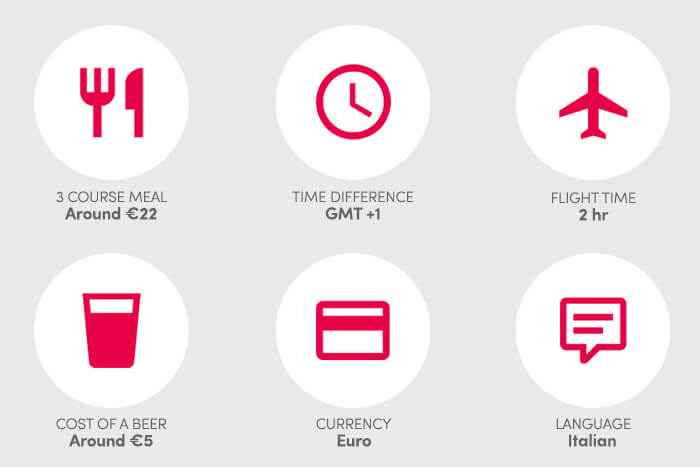 Food And Drink
Strangozzi: each region of Italy has a type of pasta it is well known for, strangozzi resembles a thick, long noodle usually served with truffles, tomato sauce or ragu.
Truffles: the delicacy can be found in abundance in the Umbrian countryside. You'll find truffles on most things; shaved on meat, cheese, pasta, even in scrambled eggs!
Baci Perugina: is a well known chocolate 'kiss' filled with hazelnut and accompanied with a love note.
Fun Facts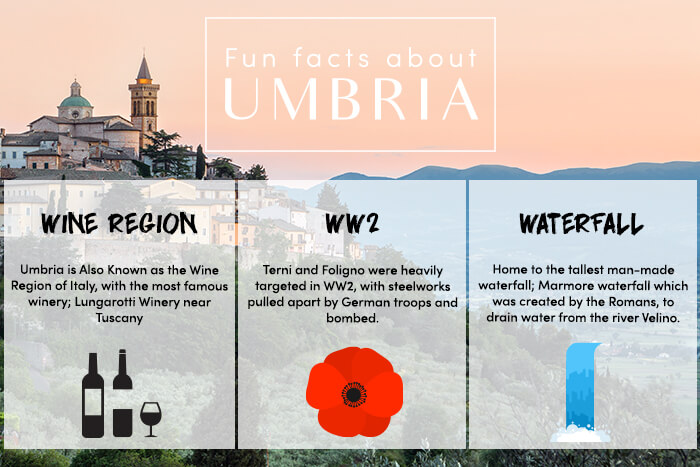 What The Bloggers Think?
Jo from A Luxury Travel Blog said: "Trevi views itself very much as the 'oil capital' of Umbria and is home to a museum devoted to educating visitors about the cultivation, production and preservation of olive oil."
Dylan from Shoot from the Trip said: "The Cascata Delle Marmore was one of the highlights of this trip … Set within a park of botanical gardens and hiking trails which give access to some of the most fabulous views of the falls themselves, it is an attraction not to be missed if you visit Umbria"
Have you been to Terni, Umbria? Tweet @icelollyholiday and let us know if it's on your travel bucket list!
About The Author: