It's destination discovery time once again, where the icelolly.com content team provide insight into holiday spots that are slightly more 'out there' – think unusual, unknown or otherwise different to the norm! This week we're taking a look at Transylvania in Romania, so put your feet up, have a read and get ready to discover that there is more to this destination than Dracula…
Overview…
When you think of Transylvania your mind automatically goes to an imposing castle atop a hill surrounded by a large eerie wooded area… Yes, it goes to Bram Stoker's Dracula! There is certainly more to Transylvania than this image, however the image is very much true and the town can give off the creepy vibe, which just adds to its charm.
If you want to see what else Transylvania has to offer then you won't be disappointed as there is something for everyone, from enchanting forests and caves for the hikers and adventurous to quaint little towns for those who prefer to explore like a local.
Our Top 3 Things To See & Do…
Visit Bran Castle: There is definitely more to Transylvania than Dracula and Bran Castle, but that doesn't mean you shouldn't add it to your 'must visit' list. Whilst Dracula may be a work of a wild imagination, the person he was inspired by, Count Vlad Dracul III also affectionately known as Vlad the Impaler. Despite what you believe Vlad, or Dracula, never actually lived at Bran Castle and in fact it's what the communist party of the 1970s wanted tourists to believe. You have to admit the castle does fit the bill for a spooky residence, so you can see why they chose it.
Don't feel too betrayed however, as Bran Castle is most certainly still worth a visit! It's an incredible building that gives off both an air of the eerie and the fairy tale. If Bran Castle isn't for you be sure to check out many of the other castles in the area, as they're equally as spectacular!
Explore Clay Castle: Not another castle we hear you say… But, it's a castle with a twist – it's made of clay and is actually an eco hotel! The castle is surrounded by similarly built buildings and looks like a village of hobbit buildings that stepped into the Hanzel and Gretel fairy tale. It's great to spend a few hours exploring the rural area and taking lots of pictures of cute clay castles!
Walk The Streets Of Sighisoara: The brightly coloured houses dotted along winding streets don't automatically conjure up thoughts of Transylvania, even more so when you find out the district is where Vlad the Impaler was born! The UNESCO World Heritage site is one of the most colourful districts in Romania and is a popular place to visit for tourists – it's definitely one for the 'gram.
Useful Things To Know…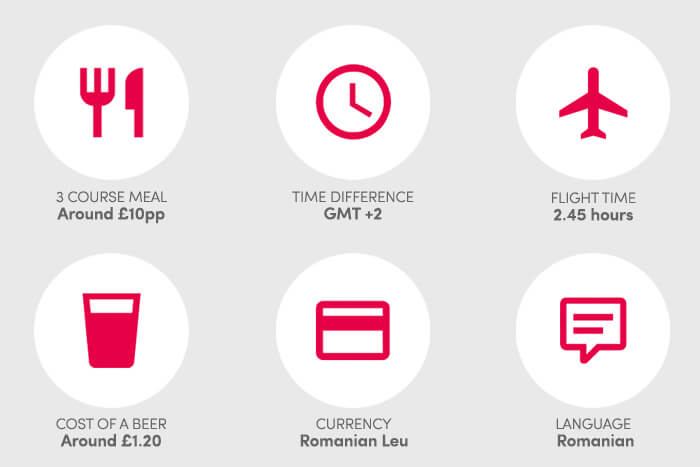 Food & Drink…
Typical tasty Transylvanian delights include:
Sarmale: A mix of minced pork and spices mixed with rice and rolled into fermented cabbage leaves. These are then slow boiled over a couple of hours in a local mixture containing water, tomato juice and sauerkraut.
Mamaliga: This dish is made by boiling yellow maize flour with a dash of salt, and is similar to polenta. The mixture is served with traditional Romanian cheeses and sour cream.
Cozonac: A traditional cake dish that is usually served around the holidays. It's a sweetbread packed with walnut paste, poppy seeds and Turkish Delight. This is then topped off with chopped walnuts and a sweet sauce.
Fun Facts…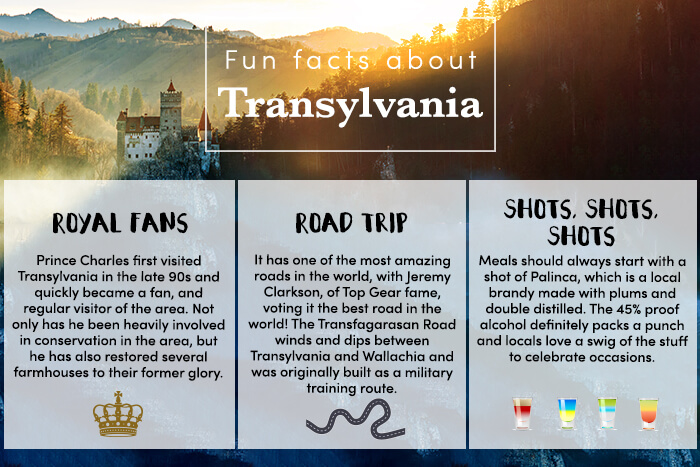 What The Bloggers Think…
Take a look at what these two travel bloggers thought of Transylvania…
Miriam from Adventurous Miriam: " Like most people with a resourceful imagination, I pictured Transylvania filled with dark mountains, creepy castles and forests crawling with menacing werewolves and flapping bats. But now I know… the real Transylvania doesn't exactly send a chill down the spine. Transylvania is more like a fairy tale land. An unspoilt landscape of lush pastures and wildflower meadows, where shepherds tend their flocks and villagers make hay stacks in the sunshine. And people there are quite tanned. Not pale-faced and pointy toothed."
Monica from The Travel Hack: "Transylvania and Bucharest are an incredible, unique, once-in-a-lifetime kind of trip! I'm a big fan of the book by Bram Stoker and I've read it a few times so visiting Bran Castle, where the legendary vampire is said to reside, was a dream. The 13th century castle inspired Bram Stoker when writing Dracula and all of Transylvania is steeped in creepy myths and eerie legends."
Have you been to Transylvania? Tweet @icelollyholiday & let us know what you thought!
About The Author: