In her latest adventure, Joanna Lumley travels 1500-miles from Havana to Haiti in brand-new ITV series, Hidden Caribbean. Here's why we think she'll be missing a trick if she doesn't stop off in the colonial town of Trinidad, our latest destination of the week...
Overview
Trinidad is situated in central Cuba, around 4 hours south of Havana, the capital city most commonly associated with holidays to the country. Havana may have the reputation for being Cuba's star, but it's Trinidad that really is the jewel in Cuba's cultural crown.
A recognised UNESCO World Heritage, the heart of Trinidad is a literal living museum. Make sure you wear comfortable shoes as, by day, you can spend hours upon hours wandering through the cobblestone streets, visiting churches, mansions, pastel-coloured houses and more 18th and 19th Century buildings, or relax on the handful of gorgeous beaches nearby. After dark, listen to live music, watch some salsa dancing and maybe try out a few moves yourself.
Top things to see and do
El Pilón Waterfall: Enjoy a horseback ride on the way to this stunning waterfall, where you'll be able to see mother nature in all her glory as water trickles down the mountain into a cooling pool.
Valle De Los Ingenios: Although most of the mills were destroyed during the War of Independence and the Spanish-Cuban-American War, this area still contains the ruins of dozens of 19th-century sugar mills, including buildings, machinery, slave quarters, manor houses and a fully functioning steam train.
Playa Ancón: A ribbon of white beach, considered the most beautiful on the south coast of Cuba, that's located 7 miles from Trinidad and easily accessible by bus, taxi or bike.
Useful things to know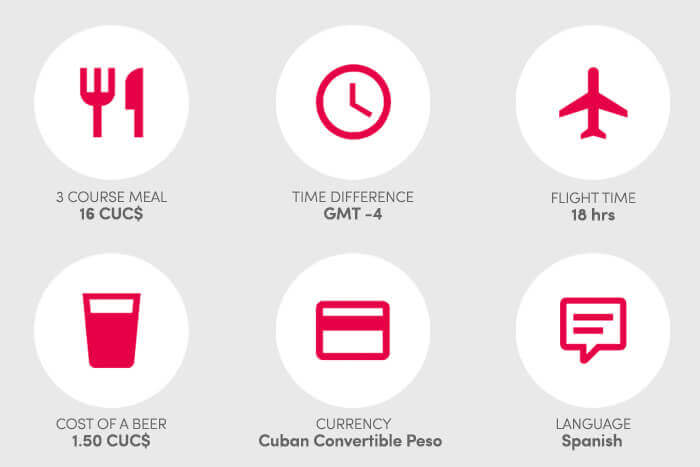 Food and drink
Guarapo: Made from sugarcane juice, this extremely sweet drink is Cuba's signature street beverage. You'll find the freshest guarapo in August during harvest time.
Ropa vieja: Famed for being the national dish of Cuba, this tasty meal consists of slow cooked beef (usually shredded or pulled) and vegetables.
Paella: A variation on the Spanish dish, Cuban paella replaces the traditional saffron with annatto seed paste and is served in a cazuela, a round ceramic dish, unlike the flat metal pan used in Spain.
Fun facts
What do the bloggers think?
Gemma and Craig from Two Scots Abroad said: "Pastel houses, cute cobbled streets, crumbling Colonial buildings, killer sunsets, jumping nightlife and salsa! There are so many things to do in Trinidad, Cuba including sightseeing, cycling and a day trip to a turquoise water postcard-perfect beach."
Shing from The Culture Map said: "It's no surprise why people flock to Trinidad after you catch a glimpse of the perfectly preserved old town with its open-air museum of colonial architecture, when wealthy sugarcane plantation owners lived in sprawling mansions. But it's not just its physical beauty that makes Trinidad one of Cuba's top destinations, it's the array of things to do in the surrounding area that adds to its appeal for adventure-seekers."
Have you been to Trinidad or Cuba before? Have you tried any of the activities or foods we've recommended? Tweet @icelollyholiday and let us know!
About The Author: