Another week at icelolly.com HQ means another destination of the week feature, focusing on unique, unusual or otherwise different holiday hotspots that you may not have considered adding to your list, but really should! Tulum is in the limelight this time around, so read on for all the deets about this fascinating little town.
Overview
Situated right along the gorgeous Caribbean coastline, Tulum can be found in Mexico's Yucatan Peninsula and is famed for its 12 metre-high cliffs that are home to a series of Mayan ruins in the Quintana Roo state.
Cancun is the nearest international airport, and tourists regularly take the hour or so long trip to Tulum for a cultural visit in between tequila-fueled days (and nights) in the country's party capital. Glorious, pristine beaches wrap the eastern side of the town, so be sure to bring along your bathing suit for a dip in crystal clear waters when the weather really begins to heat up.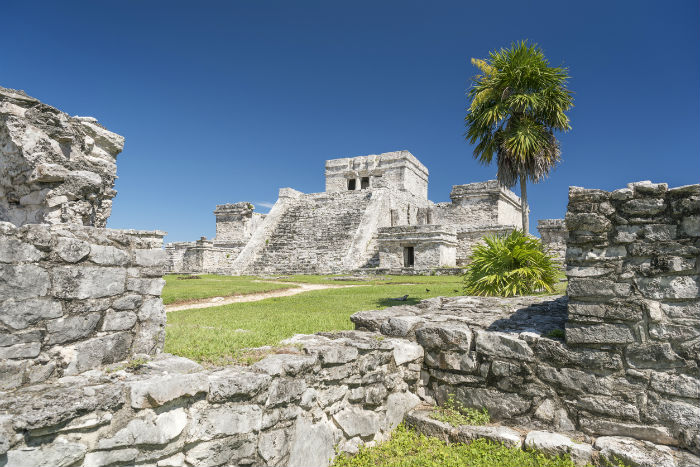 Our Top 3 Things To See & Do
Visit The Mayan Ruins: The main tourist attraction in Tulum is, of course, the Mayan ruins - consider booking a guided tour if you really want to learn more about the finer details of their history.
Swim In A Cenote: Cool off from the warm weather by jumping into a jungle swimming hole, known as a "cenote", formed from underground springs cutting into limestone bedrock.
Take A Picture At The Tulum Sign: It's touristy…so touristy. But did you even go to s holiday destination if you didn't take a photo at the big sign!?
Useful Things To Know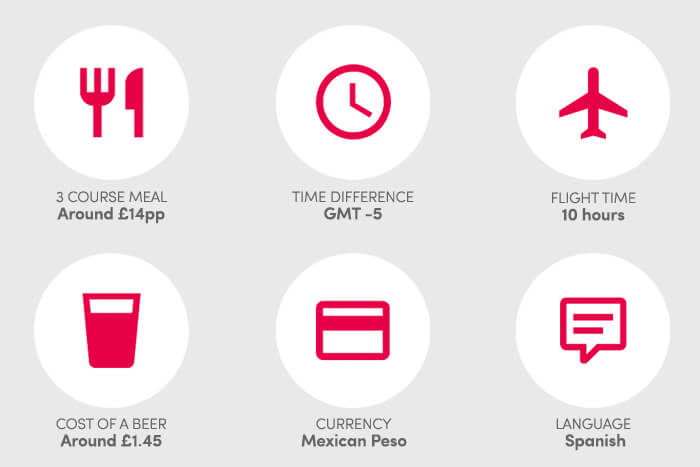 Food & Drink
Typical tasty Mexican delicacies include:
Tacos, Burritos, Enchiladas, Quesadillas & Fajitas: How many different ways can you eat what is essentially just a wrap, cooked in slightly different ways with meat and veg in it? Plenty!
Arroz Con Leche: This thick, creamy dessert is Mexico's answer to rice pudding, which comes with raisins and cinnamon and is perfect for all sweet treat searchers.
Tequila: You'll find it hard to walk into a Mexican bar that doesn't have bottle upon bottle of tequila ready to taste, arguably the country's most famous beverage offering. Free shots are also often provided in restaurants upon receiving your bill as a thank you for your custom.
Fun Facts
Bloggers' Thoughts
Take a look at what these travel bloggers think to Tulum as a holiday destination…..
Priya from Priya Faith: "I stopped off in Tulum as we journeyed south from Cancun on a road trip and from what I experienced, Tulum was enchanting, picturesque and peaceful.
"The thing that stands out most in my memory is the dramatic coastline made up of white sand and clear sea. Of course, the ruins are well worth a visit too, although, on a hot day, you'll be yearning for a dip in those turquoise waters. I'll be back one day!"
Katie from Katie Jane Collins: "I spent a day in Tulum during a 2017 holiday to Riviera Maya, and it was the slice of palm-fringed beach heaven I didn't know I needed. I spent the day exploring the ruins, sinking into the warm sands and sipping water from fallen coconuts as a storm rolled in. Absolute paradise!"
Joris from FishingBooker: "As a fishing blogger, I went fly fishing in Tulum in January. However, I didn't expect the trip to be such an all-round delight. Yes, the boat and crew of the Pesca Maya lodge were outstanding, but I was also amazed by my first snorkeling experience and swimming with sea turtles. An unforgettable trip."
Have you been to Tulum? Tweet @icelollyholiday & let us know what you thought!