It's destination of the week time, which means we'll be shining a spotlight on yet another intriguing holiday spot you really need to be adding to your travel hit list. Vilnius, the capital of Lithuania, is a cosmopolitan, historical and unique city that has a variety of inexpensive attractions and a lively nightlife. Read on to find out what makes it so special...
Overview
Vilnius is situated in the South Eastern part of the country. Not only is the city home to one of the largest old town centres in Eastern Europe, but Vilnius' historical Old Town is also a UNESCO World Heritage Site and Europe's largest baroque capital.
Vilnius is unlike most European cities as its tourist attractions are scattered all over, instead of concentrated around the main square. This allows you to explore on foot very easily and discover the city from the eyes of a local. With a huge tourist attraction list, Vlnius is also one of the few capitals in the world where you can fly over by a balloon!
English is spoken everywhere and shopping, dining and drinking is cheaper than in any of the other baltic capitals, making it the perfect city break destination.
Top Things To See & Do
Trakai Island Castle: The most popular day-trip from Vilnius is the town of Trakai. Visit the iconic Trakai Island Castle where Lithaunain grand dukes lived back in the 14th century.
Vilnius Cathedral Crypts: Take the tour of the underground Cathedral crypts to discover unique history.
Gediminas Castle: This features the remains of what was once the upper castle! It's located in the heart of the city centre and 100% one of the top things to do in Vilnius.
Useful Things To Know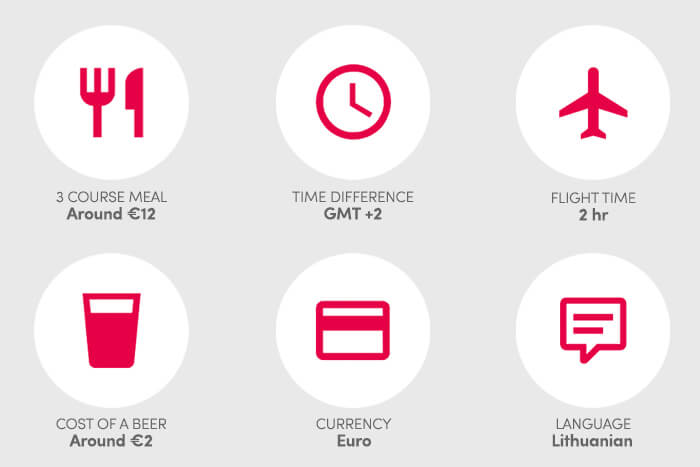 Food And Drink
Cepelinai (Zeppelins): Often called the national dish of Lithuania, Cepelinai are large dumplings made of a mixture of raw and cooked potato dough that is filled with pork and doused in a ladle of a sour cream and bacon sauce.
Chilled Borscht (Šaltibarščiai): Šaltibarščiai is a popular summer soup easily recognisable by its vivid pink color. Beetroot and kefir soup is accompanied by hardboiled eggs and hot boiled potatoes.
Gira - Kvass: Gira is a fermented drink traditionally made from black rye bread. It has a unique bready flavor and a sweet, yet tangy, taste.
Fun Facts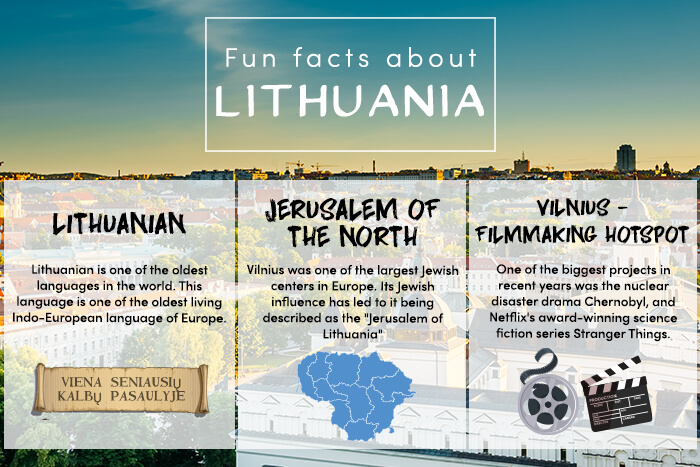 What Do The Bloggers Think?
Karisa Klee from Flirting With the Globe said: "Lithuania is one of Europe's best kept secrets!"
Kevin & Amanda from Kevin & Amanda Blog said: "Lithuania has a charming capital city with beautiful architecture!"
About The Author: