What better time to enjoy your own little Mexican fiesta than Cinco de Mayo? The famous date (which simply translates to 'fifth of May' in English) is widely celebrated in many parts of Mexico and the USA, particularly those areas with large Mexican-American populations, and often marked with parties, parades, Mexican folk dancing, mariachi music and traditional food such as tacos!
The history of the celebration dates back to 1862 and commemorates the Battle of Puebla, which saw Mexico's army defeat France during the Franco-Mexican war, and thus it has often been enjoyed with a huge amount of pride by natives to the country, though these days it is a lot more commercialised and a big drawer for tourists and people in general that just want a taste of its culture and traditions.
Of course right now we're not able to jet away on a Mexican adventure in time for Cinco De Mayo, which is why our team have been busy thinking of ways we can instead mark the occasion at home. Read on for how you can sample this superb yearly tradition, without needing to leave your own house!
1) Eat tacos, fajitas and nachos to your heart's content
There's no better way to get a taste of Mexico than to…literally taste it! Many Cinco de Mayo celebrations centre around the gorgeous cuisine that originates from the country, including fajitas, nachos, quesadillas, burritos and, of course, tacos.
There are loads super-easy recipes to follow online that will assist in the making of your Mexican feast, or if cooking isn't particularly your forte, many restaurants in the UK take inspiration from the delicious foods of the country, such as Taco Bell, Chiquito, Barburrito and other smaller independents that you can order in for delivery.
2) Then wash it down with a classic Mexican tipple
Many Mexican dishes can be slightly fiery, so it's best to make sure you have something close by to wash down your tacos, nachos et al. with, and what could be more perfect for that very job than a classic Mexican tipple?
Tequila is a hugely popular alcoholic beverage which is primarily made in the surrounding areas of the Mexican city of, erm, Tequila, located 65km northwest of Guadalajara in the central western state of Jalisco. Beers Corona and Sol are also Mexican exports and world-renowned for their taste, whilst Dos Equis and Pacifico are slightly less well known but similarly as refreshing.
For any cocktail-lovers out there, Margaritas will be right up your street, whilst for an intriguing non-alcoholic option you may want to try Mexican Coke, which is slightly different in taste to traditional Coca Cola (many people swear it tastes better!) and sweetened using cane sugar as opposed to corn syrup.
3) Listen to some mariachi music – or learn to play one of the instruments yourself!
Each country tends to have their own type of music popular with locals, and Mexico is no different! Mariachi music is often heard during big events and festivals such as Cinco de Mayo and also Mexican Independence Day, but any readers that have previously visited the country will also be aware that bands are known to serenade bar-goers and restaurant-eaters late into the evening with their array of traditional lyrics and tunes.
Check places like Spotify, turn up the volume and prepare to listen to some classic Mexican music, or better yet, why not attempt to play one of the famous mariachi instruments yourself? Lockdown has seen many people try or learn something new, and Cinco de Mayo could be the perfect opportunity for you to pick up a new skill, be that learning to play the violin, trumpet, guitar or vihuela.
4) Rewatch Cinco de Mayo festivals, parades and general celebrations from years gone by on YouTube
In an ideal world we'd all be off celebrating this famous date in the country itself, and whilst lockdown restrictions in the UK and other places around the world are beginning to ease, 5th May 2021 will come just slightly too early to enjoy the festivities in person.
But that doesn't mean you can't sample a slice of this Mexican celebration online. Lots of Cinco de Mayo festivals and parades from years gone by have been recorded and uploaded to YouTube, which helps you to gain the perfect insight into what exactly is involved without even needing to leave your sofa.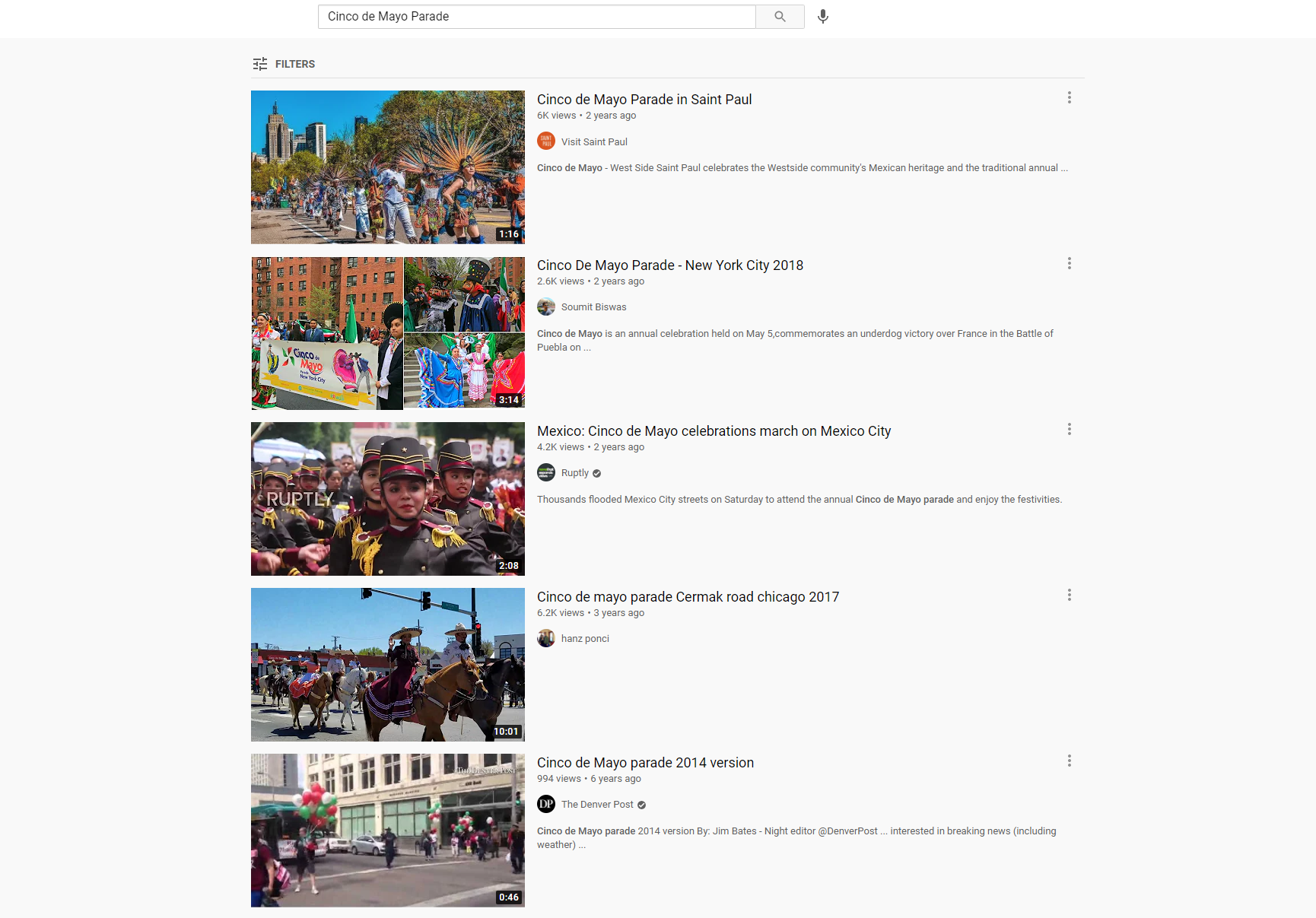 5) Book your next holiday to Mexico
The disruption caused by Covid-19 on international travel has impacted lots of holiday plans over the last year or so, but there's nothing stopping you from putting plans in place for your next long haul break – which is always one of the most exciting aspects of jetting away! From Cancun and Riviera Maya on the country's Caribbean Coast, to Puerto Vallarta by the Pacific, there are a wide range of dreamy options for a magical Mexican adventure to experience for yourself the Cinco de Mayo celebrations from next year and beyond.
Compare the latest deals available on icelolly.com and don't put your Mexican holiday plans on ice!
Have you ever been to Mexico? What's your favourite thing about holidaying in the country? Tweet @icelollyholiday and let us know!