Growing increasingly popular amongst UK tourists, Cyprus holidays have been a hot topic of conversation with icelolly.com's social media audience recently. The island's close proximity to other countries with differing tiers of government travel advice have led to questions about how safe trips to the region are, amongst a few other matters.
Rest assured, we're here to answer all of your queries relating to Cypriot getaways with this handy guide…
What is the latest travel advice for Cyprus?
Around one million UK nationals visit Cyprus annually and the vast majority of trips are trouble free. Crime against tourists is certainly not common, though you should still take the usual relevant precautions that you would back home for example. This includes travelling in groups, avoiding dark or poorly lit and/or policed areas and making sure you keep valuables such as passports and money safe.
The country is deemed generally safe to visit by the government though, as with any holiday destination, you should always be aware of the very latest travel advice before departing.
Where is it geographically and how safe is it to visit?
Cyprus is a small island situated in the Eastern Mediterranean and surrounded by a host of other countries including Turkey, Syria, Israel, Egypt and parts of Greece. As mentioned above, it is generally considered safe to visit, though different advice has been issued by the UK government for other regions located nearby.
The main touristy regions of Turkey are around 300km north west, whilst areas of the country deemed not safe to visit, namely along its border with Syria is roughly the same distance further east. Both Egypt and Israel are located to the south of Cyprus, whilst a number of Greek Islands are placed level with its western coast.
For context, areas considered not safe to visit by the government are a good few hundred kilometers away – around the same distance between London and Scotland.
Are deals to Cyprus currently available to compare on icelolly.com?
Yes! Paphos holidays are hugely popular with travellers, as are Aiya Napa holidays, whilst other areas such as Larnaca and Protaras also shouldn't be discounted when contemplating a Cyprus break.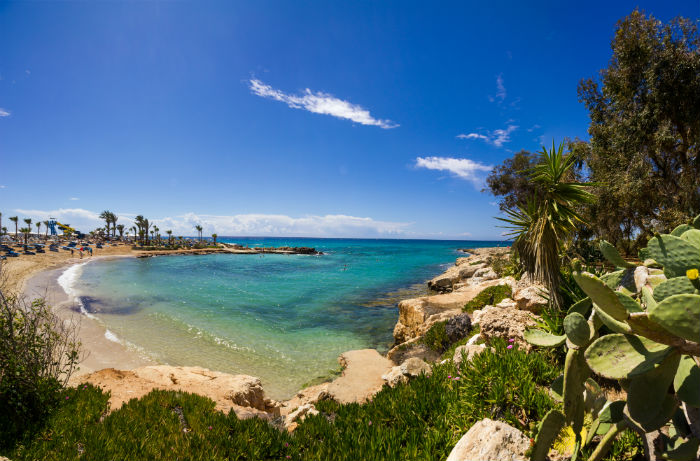 Is a tourist tax in place for holidaymakers?
Small tourist taxes have been imposed by various destinations popular with travellers over recent times, including the Balearics, the Algarve and Greece. However those visiting Cyprus will be pleased to know that no such tax applies in this particular holiday hotspot – that's one less expense to worry about!
I'm still not sure a Cyprus holiday is for me. Which other destinations could I travel to for the same type of trip?
Situated close by, Malta has many similarities to Cyprus. Both are island countries, quieter in comparison to Europe's main tourist destinations and experience an almost identical climate. Lots of Greek islands also enjoy the same type of weather and offer a picturesque alternative whilst as a former British colony, it does have some things in common with the UK.
They are one of the few other European countries that drive on the same side of the road as us for example!
I have a few more questions relating to holidays in Cyprus. What should I do?
If you have any further queries relating to a Cyprus holiday you have already booked through icelolly.com, simply contact the travel provider again and they'll be happy to assist.
Alternatively, drop a comment below and we'll do our best to help with any other questions or concerns.
Would you go on holiday to Cyprus?
Information in this article has been taken from the government's latest travel advice for Cyprus holidays and is correct as of the time of publication - 18th July 2018