A series of advice and restrictions regarding Egypt holidays have been communicated by the UK government in recent times, due to the potential risk of terrorism against tourists. There are certain areas of the country considered more dangerous than others, and precautions travellers should take in order to ensure their safety when visiting.
Below are a few of the main questions we've received from users on icelolly.com's various social media channels, so read on for the latest information from GOV.UK…
What is the latest advice for travel to Egypt?
The main tourist areas are considered generally safe to visit, though you should always check the latest government advice before travelling. There are some parts holidaymakers are not advised to visit, though this does not refer to the popular resorts of Hurghada, Luxor or Marsa Alam for example.
Egypt is a predominantly an Islamic country and local laws reflect this. Tourists should always respect local traditions, customs and religions, especially during the holy month of Ramadan or if you are intending to visit religious areas.
Are deals to Egypt still available to compare on icelolly.com?
Yes. Numerous travel brands advertise Egypt breaks on our site including Thomas Cook, TUI, Teletext Holidays and LoveHolidays as well as many others as demand is high amongst travellers.
If so, why?
The vast majority of attacks have taken place far away from the popular tourist resorts and have usually targeted the government, military or security forces, so there is not an explicit threat towards holidaymakers.
In recent years, three terror attacks have occurred on tourist locations, some way lower than the number recorded around the area of North Sinai where such instances are more frequent, and no more than have happened on UK shores during this time in London and Manchester for example.
The country's counter-terrorism efforts have intensified over recent years, which has led to a decrease in the amount of terrorist activity on the Egyptian mainland since January 2015, and significant security presence has been maintained throughout, including armed officers stationed at important sites, infrastructure and road checkpoints.
Are people still visiting Egypt, and in what numbers?
Yes. Around 319k Brits travelled to Egypt last year and the vast majority of visits are trouble free.
Which areas shouldn't I visit?
The Foreign and Commonwealth Office (FCO) advises against all travel to:
The Governorate of North Sinai
The FCO advises against all but essential travel to:
The Governorate of South Sinai, with the exception of the area within the Sharm el Sheikh perimeter barrier
Sharm el Sheikh by air
Which resorts are people visiting, and where are they geographically?
Popular holiday resorts within Egypt include Hurghada, Marsa Alam, Makadi Bay and Luxor, the closest of which is roughly 7 hours away from North Sinai – the area our government advises against visiting. For context, this is around the same distance between London and Scotland.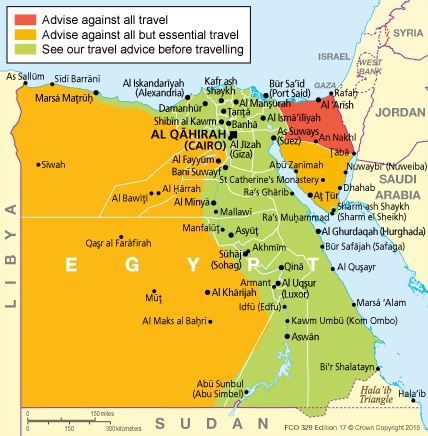 Via GOV.UK
Is there still a restriction on flights to Sharm el Sheikh?
The UK government are working with the Egyptian authorities to enable regular, direct flights between Sharm and our shores, though at present restrictions are still in place.
It is generally believed within the travel industry that holidays to Sharm should be more accessible to UK tourists, given similar restrictions have recently been lifted on Tunisia trips for example.
Other major countries such as Germany and France allow direct travel to Sharm, so many holidaymakers are still visiting the resort with no further reported problems since the ban was initially implemented.
Are there any alternative destinations to Egypt that I could visit for the same type of holiday?
Other popular north African holiday destinations such as Morocco and Tunisia experience a similar climate to Egypt and a boast number of tourist areas. Cyprus and Greek Island breaks offer a nearby European alternative whilst Dubai is just slightly further east and provides a more upmarket substitute.
I have further questions regarding an upcoming Egypt holiday that I have already booked. What should I do?
If you've booked an Egypt trip with one of the travel providers on icelolly.com and have any further questions, queries or concerns about your upcoming holiday, contact them directly.
You can find a list of advertiser telephone numbers here.
Information & advice in this post has been taken from GOV.UK's foreign travel advice for Egypt and is correct as of 8th May 2018.