Whether you're a spontaneous globetrotter who prefers to point a finger anywhere on a map, or a meticulous holidaymaker who loves an itinerary, we've created the perfect travellers' map to help you choose your next cultural adventure.
Our 'Holidays' map plots 12 of the most unmissable celebrations and cultural events across the globe, so you can pick a place you'd love to visit, and discover the wonderful events that country or city hosts.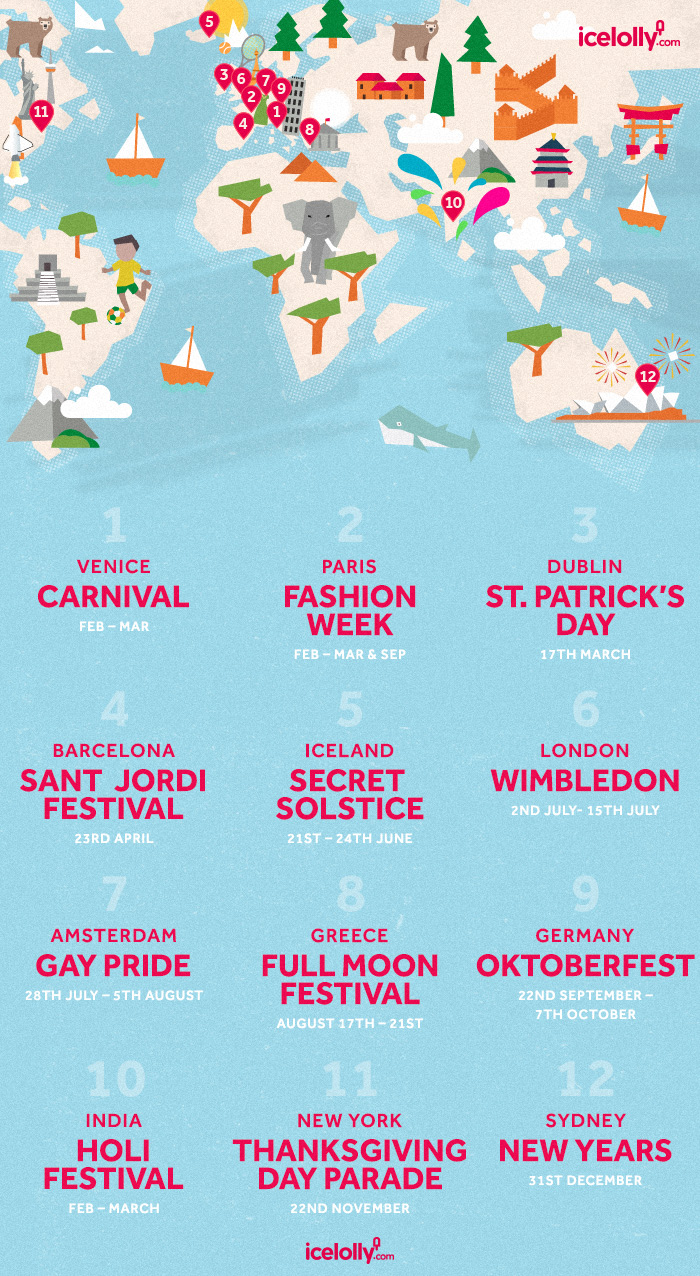 1) Held annually in picturesque Venice, Venice Carnival is a colourful Christian celebration of Lent. Expect to see plenty of traditional Venetian masks and party goers in the city. Date: Takes place between February and March. Number of visitors: 125,071 (avg. 2011-2014).
2) Hosted bi-annually in the capital, Paris Fashion Week attracts some of the biggest designers, models and fashion lovers from across the globe. Date: Held during February/March and September. Number of visitors: 30,000 (2016).
3) The St Patrick's Day festivities in Ireland are lively to say the least - in Dublin, the parade is packed from 10am! Date: 17th March. Number of visitors: 500,000 (2017).
4) Head to Barcelona in April to enjoy the Catalan version of Valentine's Day! Date: 23rd April. Number of Instagram hashtags: 42,525 (2017).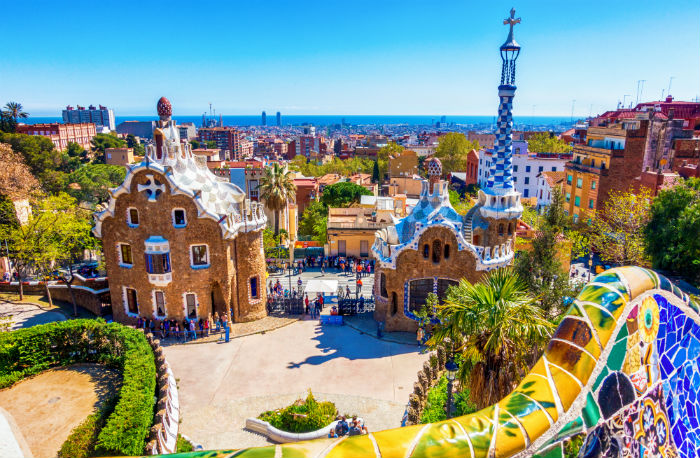 5) Secret Solstice is a festival in Iceland where the sun never sets. Thousands of festival lovers head to Reykjavik to party day and night in the everlasting sun. Date: 21st-24th June. Number of visitors: 8,000 (2014).
6) Regarded as the most prestigious and oldest tennis tournament in the world, Wimbledon isn't one to be missed, especially for sports lovers. Date: 2nd July- 15th July. Number of visitors: 473,372 (2017).
7) Amsterdam Gay Pride is one of the biggest celebrations of gay pride in the world, where the city becomes awash with rainbow flags and balloons. During the celebrations, there are an abundance of parties, exhibitions, screenings and debates to attend. Date: 28th July- 5th August. Number of visitors: 685,000 (2016).
8) Experience Athens under the midsummer moon and visit many of the city's best museums, archaeological sites and historical landmarks for free! Date: August 17th-21st.
9) Oktoberfest is one of the world's largest beer festivals and is held each year in Munich. Expect funfair rides, bratwurst and plenty of beer. Date: 22nd September- 7th October. Number of visitors: 5.6 million (2016).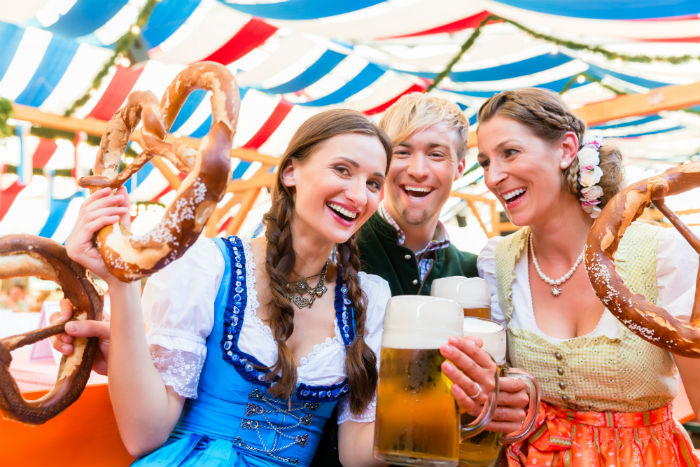 10) Holi Festival, also known as 'The Festival of Colours' is a celebration of good over evil and marks the beginning of spring. Date: Usually between the end of February and the middle of March. Number of visitors: 1.5 million (2017).
11) Macy's Thanksgiving Day Parade in New York is the world's largest parade. The annual display of giant balloons, performers and floats is one of New York City's most treasured traditions. Date: 22nd November. Number of visitors: 3.5 million (2018).
12) Celebrating New Years in style is easy in Sydney. Each year more than a million spectators watch one of the biggest firework displays in the world, against the beautiful Sydney harbour backdrop. Date: 31st December. Number of visitors: 1 million (2017).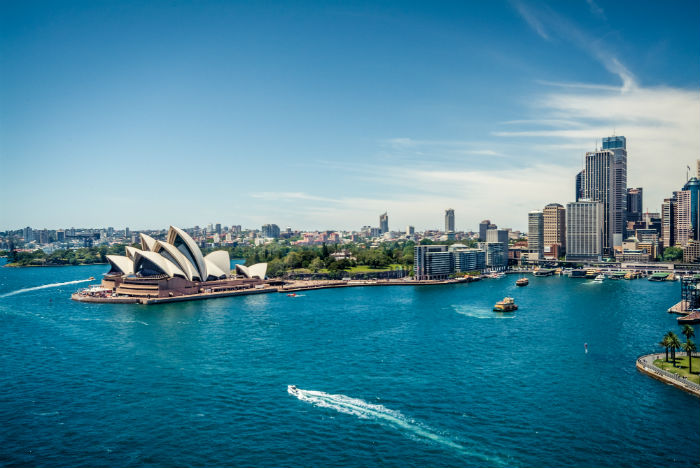 We've been chatting to a couple of people who were lucky enough to visit some of these special events. Read about their experiences below:
Content Executive, Jamie visited London during Wimbledon: "It's hard not to get wrapped up in the magic of Wimbledon. Eating strawberries and cream on Henman Hill is a must and the atmosphere, both inside and outside the courts is amazing! You're guaranteed to see some of the top players in the world and it's even more special if there is someone British playing."
Food and Travel Blogger, Krian Kishore, lived in Munich and got to experience Oktoberfest in all its glory: "The atmosphere was immense. Everybody was on the tables singing traditional songs, there were lederhosen and dirndls as far as the eye could see! The beer flowed freely, there was celebration in the air, copious food stands and a fun fair too. I cannot wait to go back!"
If you're still not sure where to go on your next adventure, check out some of our destination guides, they're packed with plenty of advice, hints and tips for keen travellers.
*All specific dates listed are for 2018.