Last year I asked my Twitter followers whether I should choose to visit Iceland or Canada to bring in the new year. Iceland won with a clear majority, demonstrating just how popular the country has become with other travellers. Having been to (and lived in) Canada before, I took the hint and booked a pair of flights to Reykjavik in Iceland.
The trip was due to be a special one for two reasons: firstly, to celebrate the new year in someplace completely different, and secondly because my husband celebrates his birthday at the end of December.
Despite this, we were keen to keep the costs down as we had heard just how pricey it can be for visitors to Iceland, and Christmas itself can be an expensive time of year.
Having now visited Reykjavik and its surrounding area, I've now got a handful of tips that should be helpful if you want to book a trip to Iceland either this year or next. Here's how you can see the best of Iceland on a budget:
Consider Your Accommodation Options
When I first started looking at accommodation in Reykjavik, I quickly found out that some hotels would be well out of our price range! It's helpful to use a website like hotels.icelolly.com which lets you put in your holiday dates and then shows you a list of all available options such as hotels, apartments and guesthouses. The list can then be filtered by price so you can find the most affordable option for your budget.
If you haven't already booked flights, you can use the main part of the icelolly.com website to get a deal on both travel and accommodation; this is ideal if you're short on time to plan your visit too.
Hire A Car
I love to explore when I travel, so getting out of the town or resort where I'm staying is a must. There are many companies that operate excursions out of Reykjavik (Grey Line is probably the most well-known) but I didn't want to be confined to predefined schedules, or share every would-be magical moment with an entire coach load of people.
That's why we decided to hire a car for a few days. We chose Blue Car Rental as they were a short walk from where we were staying, as opposed to many of the other firms which operate from just outside the city. The weather in Iceland is cold and snowy during the winter months, but they fit their cars with studded tyres from early November to mid-April; making the prospect of driving a much more appealing one.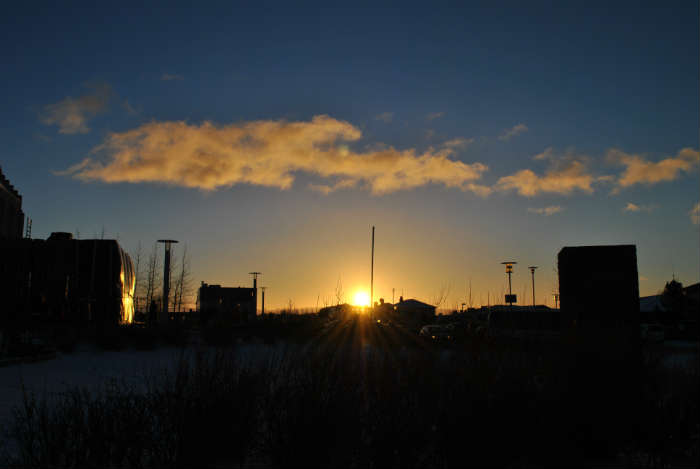 Visit Free Attractions
Having a car at our disposal meant we could do what we wanted, when we wanted. This is especially important if you want to have the best chance of seeing the Northern Lights (Aurora Borealis). We used the Aurora forecast from the Icelandic Met Office which uses a scale to predict auroral activity. Due to relatively clear skies and an active aurora, we found out that December 31st would be our best chance to see the skies light up. We got our wish at around 9:30pm when we drove 10 minutes to the Grótta Island Lighthouse and saw green waves and swirls in the night sky away from the city lights. What a way to bring in the new year!
Further away, but also free to visit if you have a rental car, are the waterfalls and geysers you've probably already read about. You can visit Gullfoss waterfall and the Strokkur geyser in one day as they're located close together. Set out just before dawn in the winter to give yourself enough daylight hours to do the trip back, especially if snow is forecast.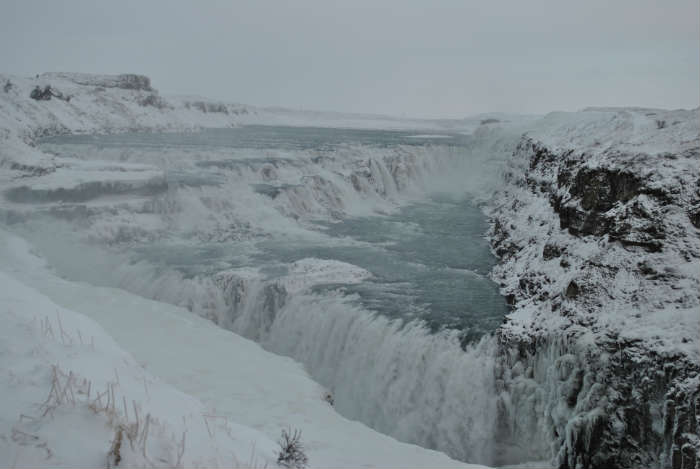 Try The Cuisine
Days might be short in the Icelandic winter (we had between four and five hours of daylight) but there is plenty to do indoors when the inevitable night falls again quickly. Reykjavik is blessed with many great places to eat, and it isn't just shark or whale on the menu.
A cheap option is the Icelandic hot dog, known locally as Pylsa or Pulsa. Made with Icelandic lamb, pork or beef, they'll be served on a steamed bun, along with raw and fried onions, a sweet brown mustard, and remoulade (a sauce made with mayo, capers, mustard and herbs). You'll find huts dotted around the city where you can order one of these to take away.
For a sit-down meal, try Icelandic Fish and Chips in Volcano House. Make a reservation to make the experience more pleasant, and you'll also be happy enough when you get the bill; main meals cost less than £20 per person. The fish is incredibly fresh and served with some truly delicious dips.
Stay Off The Booze
To keep your bills low, you'll probably want to avoid drinking alcohol when you're out at dinner. A bottle of beer can easily cost £10 at a restaurant. If you do want to sink a couple of beverages whilst you're away, the most cost efficient way of buying alcohol is to stop off at the duty-free shop when you enter the country through the airport.
As a pregnant traveller, I wasn't going to be drinking wine or beer anyway, but I found another way to save money on drinks. I usually depend on buying bottles of water when I'm abroad, but you'll only need one bottle in Iceland which you can fill up again straight from the tap. It turns out that the Icelandic tap water is incredibly pure and delicious. Don't let the slight sulphuric smell of the hot water put you off as the cold water is amongst the best you can get.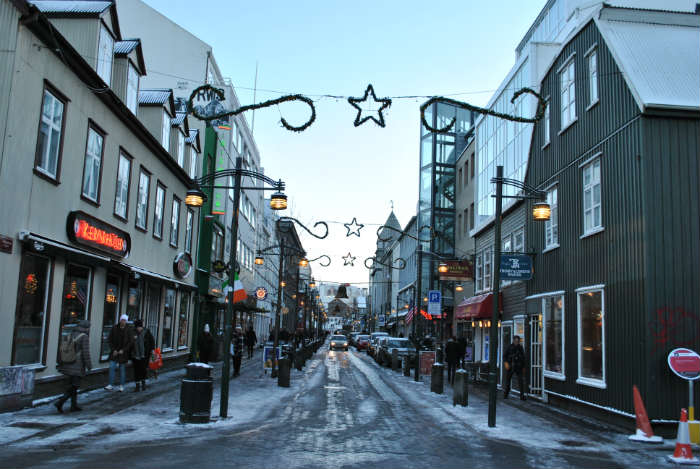 Have you visited Iceland before? Hopefully this post has persuaded you to go and shown you that it doesn't have to cost a fortune to visit this beautiful country.
This post has been written by our guest blogger Hannah Butcher and her blog, Wherever I May Roam, contains so many more adventures for you to read about. Go check it out!