We're always thinking of ways to make your holiday search faster and easier, and we've been busy this year working on some handy new features! In case you haven't dropped by in a while, we've put together a quick rundown of all our favourite new additions to the site, with tips on how to use them.
Top Deals
Have you heard about our Top Deals yet? It's our newest need-to-know section of the website, showcasing really special deals from our top rated advertisers! Our travel experts select these deals especially for you, and our Top Deals page is designed to show off all the things we love about each one. Every deal offers a huge saving and luxurious extras or benefits that make it irresistible, and some of them are even exclusive to icelolly.com, which means you won't find them for the same price anywhere else. You can find the Top Deals tab in the header of the website.
Saved Holidays
Sometimes, you find a great holiday deal but don't have time to look into it straight away. Now, you can make an account, save deals that you find on icelolly.com and come back later to view them at your leisure and book whenever is convenient. You can even log in on different devices to see your saved holidays. If the deal you had saved expires before you go back to it, we'll suggest the most similar alternative for the same criteria. You can save deals from the search results page, or from individual deal pages.
Social Sharing
If you're planning a group holiday and want to share it with the other people on the trip, you can now share deals directly from the search results or deal page. You can choose from Facebook, Twitter or Pinterest (and tag your friends), or share privately via email. You'll find the share button next to the saving function, on the search result pages and deal pages.
The Deal Pod
When you find a hotel you love, you can now search for and compare deals for that hotel by using the deal pod on the hotel page. You can edit the date, airport, board basis and number of nights, and we'll show you the cheapest price for your selected criteria to help you find the perfect deal at the right price. We also show a list of all the other advertisers offering the same deal, so you can book with your preferred travel provider.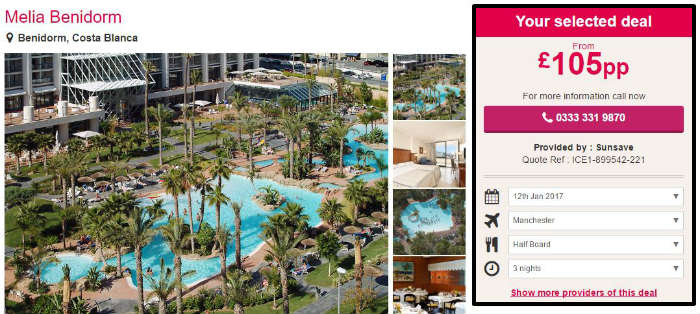 Recommended Sort
By default we show all deals in price order, starting with the cheapest, but we know that for many of you that's not what you want. We've now introduced Recommended Sort, a ranking system which prioritises the most popular deals that our customers are looking at and that we think you might like too. You can choose to browse according to recommended sort by selecting the option from the dropdown list in the top right hand corner of the search results.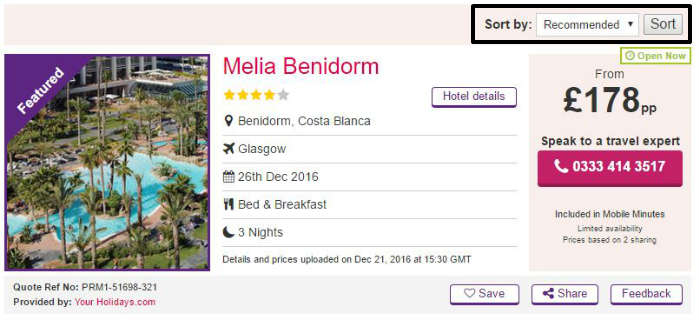 We hope you enjoy using our new site tools, and we'll let you know when we have some more to share! In the meantime, get searching and find your next holiday...