There's been a lot of debate recently over what makes the perfect beach body – is it slim, is it curvy, or is it just any body on a beach? icelolly.com recently questioned 2,000 Brits on the celebrity body parts that make up their ideal beach body, and it seems the perfect bod is a bit of everything!
The ideal female body proves that all bodies are indeed created equal, embracing all shapes, sizes and ages! Skinny minnies ruled up top with Cheryl Fernandez-Versini's face and Millie Mackintosh's hair making the list of most desirable features, but curves dominated the rest of the body with Holly Willoughby's breasts and Jennifer Lopez's bum topping the list of desirable celebrity features! Beyoncé's toned stomach also made the list, alongside Susanna Reid's legs and the arms of – wait for it – Lorraine Kelly!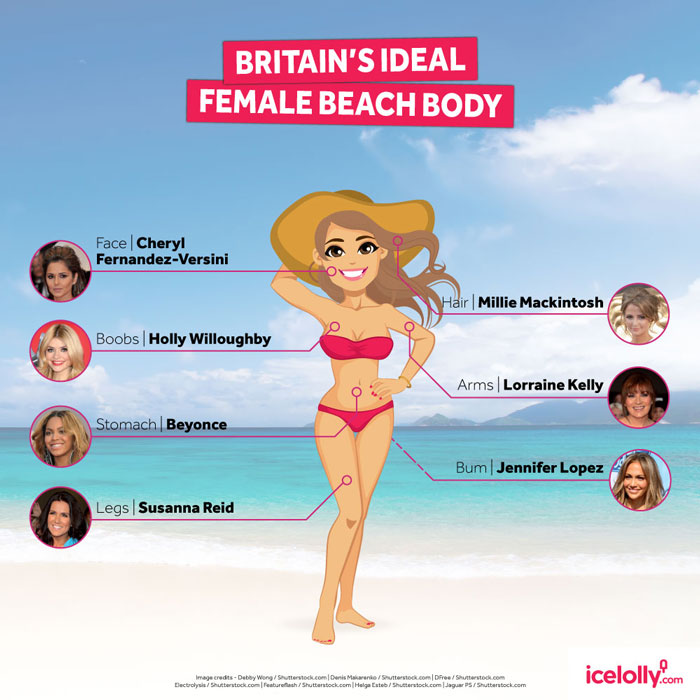 Curvy is clearly back in fashion - when our female respondants were asked to pick the word that best described how they would like to look in a bikini, 'curvy' beat 'skinny' with 68% of women voting for curves. Maybe that pre-holiday diet isn't as essential as you thought...
Read more: Style Tips For The Ultimate Beach Look
The ideal male beach body featured assets from a whole host of gorgeous men, including Chris Hemworth's legs, David Beckham's bum and Channing Tatum's torso, although voting suggested that most people prefer Channing's 'natural' look, without his Magic Mike abs! George Clooney's arms also made the cut, proving that he's still got it at 54, and the perfect celebrity body was topped off by Ryan Gosling's face and Kit Harington's luscious locks!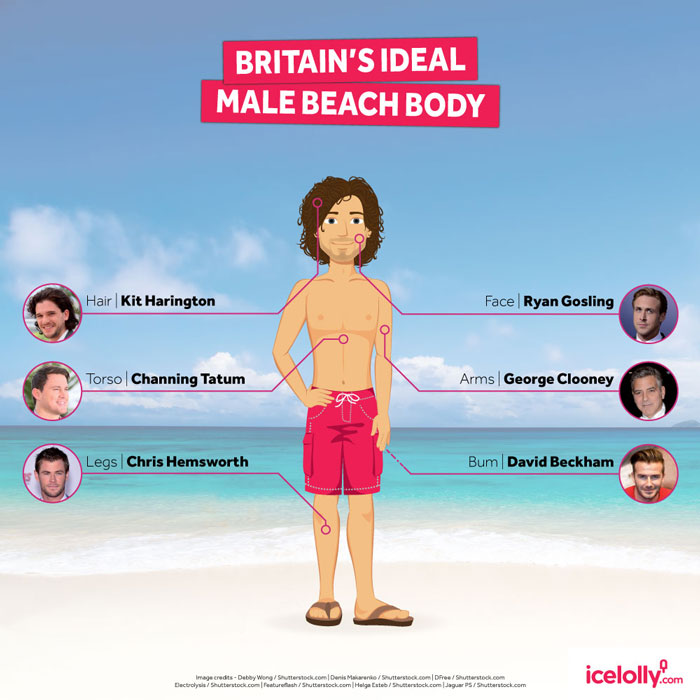 The rise of the 'dad bod', popularised by celebrities such as Leonardo DiCaprio and is clearly having an effect on how men feel they need to look, as 59% stated that they would prefer to look 'athletic' rather than 'ripped'. Cancel those gym memberships guys!
Read more: 6 Simple Tips For The Perfect Beach Look