icelolly.com is almost 10 years old, so we've been in the travel business for a long time! We're always looking for new ways to make holidays cheaper, easier and more amazing for our customers, and after all this time we think we've cracked the recipe for the perfect holiday. Take a look at the essential ingredients we think you can't do without on your holiday in the sun!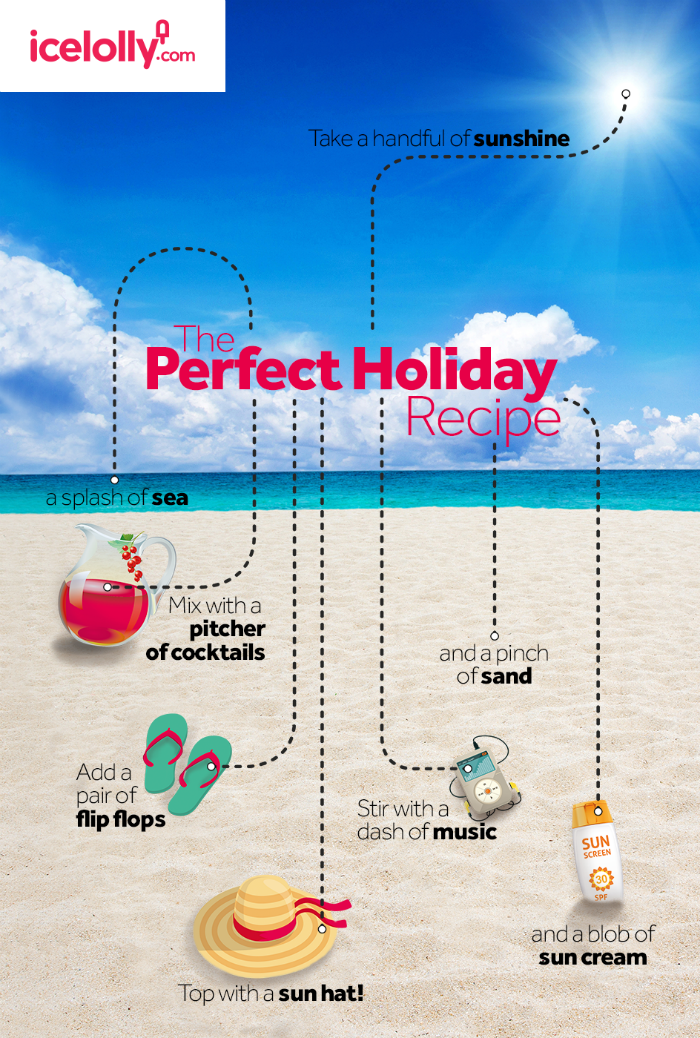 Sunshine – this one's obvious. How else are you going to get that golden tan to show off to everyone back home? Of course you're still going to enjoy your holiday break whatever the weather, but being able to walk around in warm sunshine just makes everyone feel happier.
Sea – nothing is more relaxing on holiday than lying on the beach listening to the sound of the waves, or floating in the ocean looking up at a clear blue sky. Besides, where there's sea there are watersports, which are fun for the whole family!
Cocktails – when you're on holiday it's never too early to head to the bar, and if you're on an all inclusive package the drinks can flow all day! Wherever you are, try out the country's trademark drink; sangria in Spain, margaritas in Mexico, pina coladas in Puerto Rico…
Sand – icelolly.com are all about sun holidays, so for us a holiday without a gorgeous stretch of sandy beach is no holiday at all! Even though sand gets everywhere and we're still finding it in our clothes for weeks after we get home, we love it anyway.
Flip Flops – is there a more pleasant feeling than getting to your hotel, kicking off your hot boots or trainers and slipping your toes into a pair of flip flops? We don't think so! They go on as soon as you hit the beach, and chances are you won't take them off until you get back to the airport.
Music – the sounds of the beach are great for relaxing, but sometimes you need your favourite holiday tunes to get you in the party mood, particularly if you're hitting the clubs! Get your perfect summer playlist loaded onto your phone before you jet off, and those songs will forever remind you of the amazing holiday you had.
Sun Cream – yes, we're going to play mum for a second. Everyone wants to come back from their holiday with a bronze glow, but remember to play it safe with sun cream, especially if you have pale skin. Nobody likes the lobster look…
Sun Hat – because whatever you're doing on your holiday, you want to look and feel good doing it! Not only does a good sun hat add an extra bit of style to your beach look, it protects your scalp and face from the sun and will help to ward off sunstroke.
Do you agree with us? What are the ingredients of your perfect holiday?