It has got towards that time of year when we're all back from our jollies and promptly craving the next one. Luckily the cost of your 2018 holiday doesn't have to be sky high, if you take note of these clever, quirky and pretty shrewd cost-effective tips.
We took to Twitter to seek out pointers from some of those who know travelling on a budget best, so check them out and discover how you can save on next year's getaway!
Keep things simple
Via @PulpedTravel
How to travel…in the simplest of simple terms.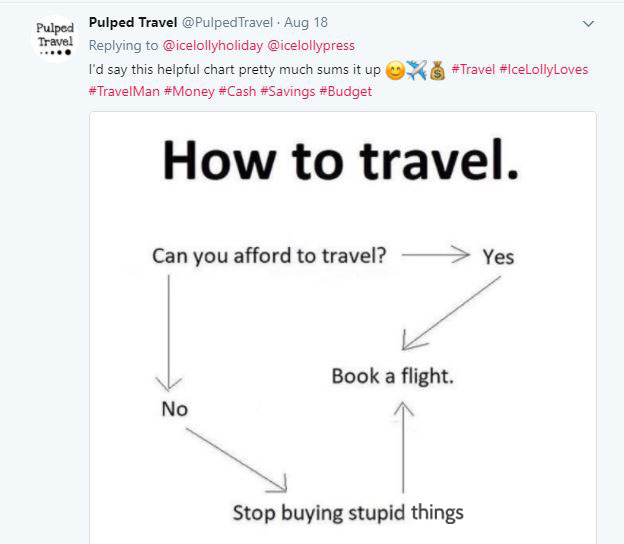 Use local transport
Via @EKW_Blog & @casespacked
Save money on taxis or renting a car by utilising public transport. It's almost always so much cheaper, whilst still efficient, and provides an insight into how the locals go about their daily business.


Avoid peak season
Via @JimByersTravel
School holidays tend to be a little pricier, so travelling just before or just after the peak 2018 summer season means you'll spend less but still enjoy that all-important sunshine.
Research on price comparison websites
Via @Jaz_Butterfly
Take some time to compare holidays on one of those price comparison websites and find yourself the cheapest holiday for the destination you want to visit and the dates you'd like to be there for. If only we could name one for you, eh?

Eat cheaply
Via @opiumteahouse & @DreamOfHomeBlog
Eating out all the time can be expensive, so take packed lunches to work before you go and buy from the local shop a few times whilst you're on holiday. That way, it'll be quicker to save beforehand plus you'll have more spending money to do other things.


Stock up at the sales
Via @raethedeer
Buy your bikinis, flip flops and sunglasses post summer 2017 when retailers are looking to shift leftover stock or wait until after Christmas and bag a few bargains in the January sales.

Spread the cost
Via @EppieShepherd
It's usually possible to pay off your holiday in installments, which means you don't have to save over a long period before booking. Give yourself little targets each week or month and put the spare cash towards that vacation kitty!

Round up every purchase
Via @lolitambonita
Get smart with your money! Say if you bought some snacks from the shop for £4.60, pay with a fiver and put the 40p change to one side. It may take a while to build up anything substantial, but every little helps.

Collect coins
Via @GFBlogger & @NicoleNavigates
Pick a coin and each time it appears in your change, stick it somewhere safe and before long, you'll have a fair bit stored away whilst barely realising you were without it.


Get someone else to save for you
Via @LunarLunarxo
This might sound a strange one but transferring money over to a relative or close friend means you simply can't spend it! Always make sure it's somebody you're able to trust and exchange into the local currency when you see the best conversion rate, meaning you get more bang for your buck.

Ask yourself; do I really need this?
Via @daintyandivory
To go back to an earlier tip; stop buying stupid things! Use the spare dosh to put towards your holiday, or spending money.

Sacrifice little luxuries
Via @xchristybx
Cut down on shelling out for little luxuries before your trip and take the money you would have spent with you on holiday.
Whether it's dying your own hair or something else, you get the idea!

Do you have any tips to help people save money on 2018 holidays? Drop a comment below and let us know!