When it comes to USA holidays, there's one particular destination which truly stands out from the rest. Florida getaways have long been a popular choice for UK travellers, offering an abundance of great resorts and attractions to enjoy and excellent warm weather to boot.
But if you're tired of all the tried and tested spots in the Sunshine State and are looking for something a little different, keep on reading, as we've teamed up with our friends at Visit Florida to provide details about six hidden gems you may not have heard about, but really need to visit!
1) Walk Down Ocean Drive
It's one of the most popular streets in the whole of America, with an abundance of things to do and see for tourists, mainly known for its Art Deco hotels, restaurants and bars. Grab a bite by the beach, shop 'til you drop or simply people-watch as the locals go about their daily business.
Oh, and don't forget to take a snap of the famous road sign for your Insta feed!
2) Go To Gatorland
Given Florida is widely regarded as the 'Alligator Capital of the World', it would make sense for a land dedicated to such animals to be in existence, right? Home to thousands of alligators and crocodiles, there's a wide variety of shows and activities for guests to enjoy including aviary, a petting zoo, swamp walk, and educational programmes.
You'll also be supporting a worthy cause by visiting as the park is known to rescue nuisance alligators from trappers that would otherwise be killed for their meat and skin.
3) Cool Off At One Of The Many Water Parks
Given the climate, it makes sense to take a dip in the wet stuff from time to time and finding space to squeeze in a trip to one of the State's many water parks is a must. Aquatica Orlando is a third of three owned by the chain in America and features various body, raft and multi-person family rides as well as lazy rivers and child pools.
Daytona Lagoon is also a common choice, as is the amazing recently-opened Volcano Bay, which replaced Wet 'n Wild in 2017, and houses attractions located in four themed areas inspired by Polynesian islands and cultures.
4) Catch Some Rays At Daytona Beach
The city of Daytona is famed for its glorious beach, where socking up the sunshine is a popular pastime for visitors, or for a different experience, the hard-packed sand allows motorised vehicles to drive along the coastline in restricted areas.
It's also the home of NASCAR and The Daytona 500 is a 500-mile-long motor race held at Daytona International Speedway which attracts thousands upon thousands of thrill-seeking visitors each year.
5) Explore Everglades National Park
The largest tropical wilderness in the US, the Everglades National Park protects the southern 20% of original Everglades in Florida and was the first of such created to protect fragile ecosystem.
One of the most common times to visit is during dry season due to the lower temperatures and abundance of wildlife, some people even camp there for a truly immersive experience.
6) Visit The Kennedy Space Center
NASA's primary launch centre of human spaceflight, the Kennedy Space Center has initiated the launch of various interstellar missions and offers visitors the chance to enjoy a number of activities such as a guided tour, educational programmes and the intriguing Space Shuttle zone.
You can also see rocket launches live from the viewing area and check out locations used in various Hollywood films including Apollo 13, Armageddon and Transformers.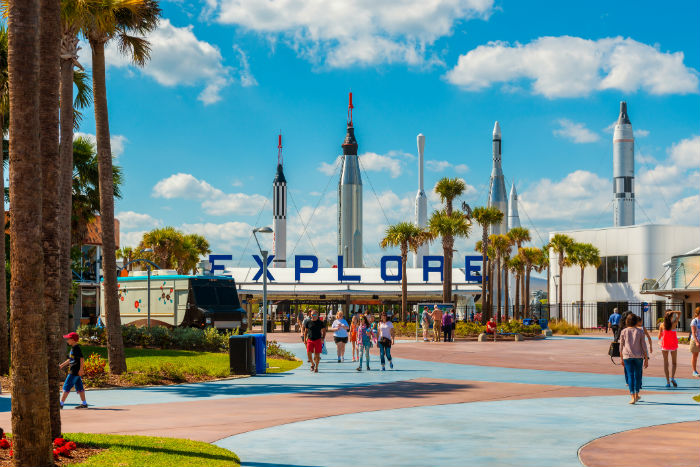 Have you visited any of these places in Florida before? Tweet @icelollyholiday and let us know!