Well June has come around quickly hasn't it? We're still waiting for the summer to arrive here at icelolly.com HQ, so we thought what better way to have a bright start to the month, than by enjoying a brand new #HolidayChat? This month, we sparked up some conversation about using social media on holiday and you all had some interesting things to say!
Q1. What is your favourite social media to use on holiday?
It turns out, even on holiday we love a bit of social media and Instagram was, without doubt, the favourite social media to use on holiday. How else would we show off our pool side drinks and holiday tan to family and friends back at home?


Q2. Have you ever tried doing a digital detox when you've been abroad?
Digital detoxes can be difficult, but super relaxing at the same time. When was the last time you totally switched off from all forms of social media or cut out the internet completely? It seems that while doing a totally digital detox isn't always possible, we do cut down when we're away…



But sometimes we're forced into a digital detox and the benefits can be amazing. Who wants to work while they're on holiday anyway?

Q3. Has social media ever influenced you holiday destination?
We know Instagram, Twitter and several blogs can give us extreme wanderlust, but has social media ever succeeded in making us book a holiday somewhere we might not otherwise have gone to?


And for some, social media and blogs make us book the adventure of a lifetime…

Q4. Have you discovered somewhere spectacular on your travels because of social media?
Gone are the days when we only had guidebooks and recommendations to be able to find the best places on holiday. Now we can have a browse through the internet and even search social media to find hidden and secret spots that only a handful of people know about. We wanted to know though if anyone had ever found anywhere amazing through researching their holiday on social media? Turns out, Instagram especially is a really good source of information.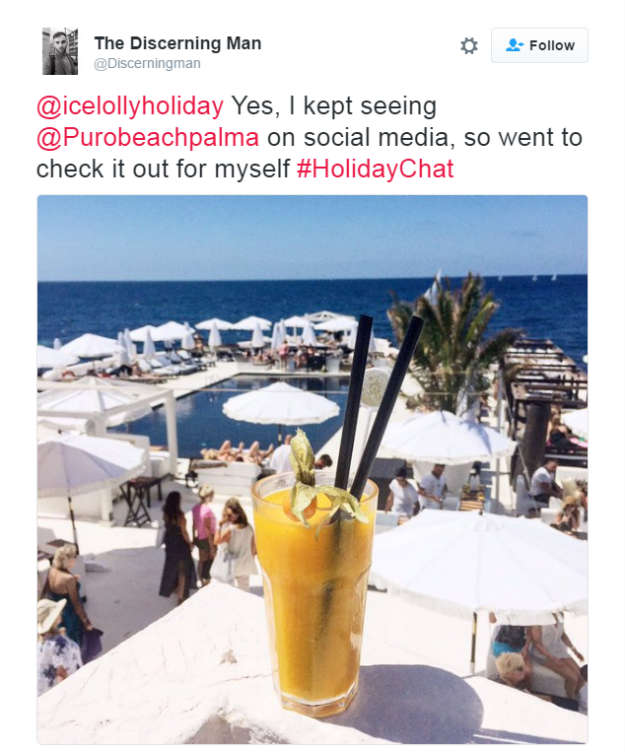 You can even find some great spots in your back yard too. Lucy discovered the beautiful Minack Theatre in Cornwall thanks to the powers of Instagram!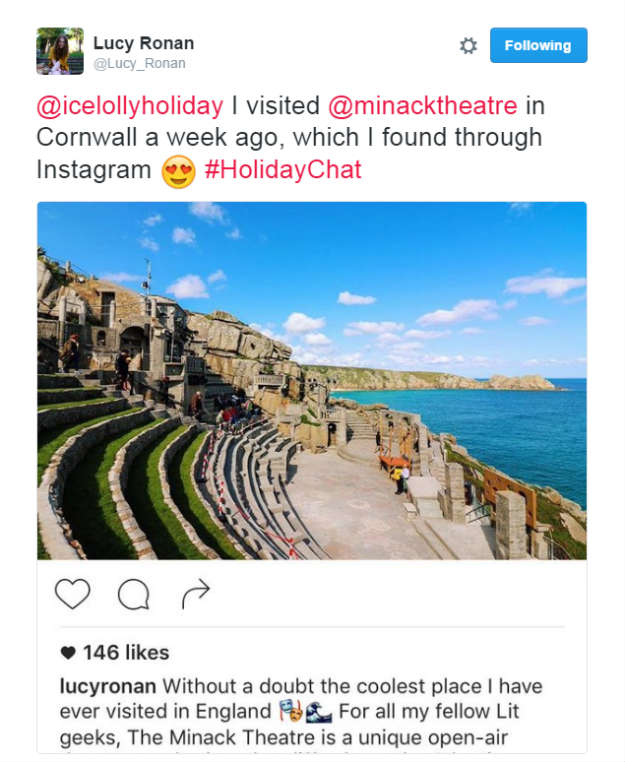 Q5. Finally, give a shout out to a blog, or a Twitter or Instagram account, that gives you serious wanderlust?
Forever wanting new sources of inspiration, we asked our Twitter chatters who their favourite, wanderlust inspiring, people are on social media. Maybe they'll inspire you where to go on your next holiday?



Rachel even picked a couple of our favourites as her travel inspiration...

Did you miss out on June's #HolidayChat? Join us for the next one which will be on Wednesday July 6th at 8pm! You might also what to catch up on May's #HolidayChat too!