It's the start of a new month and what better way to celebrate such an occasion than with our #HolidayChat!? (Psst, this is the part when you're supposed to say "there's no better way!") We got all Jason Derulo on you this time and March's discussion was focused on Ridin' Solo. Thankfully things never threatened to Get Ugly and a frequent response was that when it comes to holidays, you guys just Don't Wanna Go Home so get a Wiggle Wiggle Wiggle on and catch up with the natter! Mm, Whatcha Say?
Q1) Have you ever been on a solo adventure? Where did you go?
Our first question of the evening drew a mixed bag of answers, with some of you proudly stating your solo travel veteran status and others classing it as something that's on the to-do list.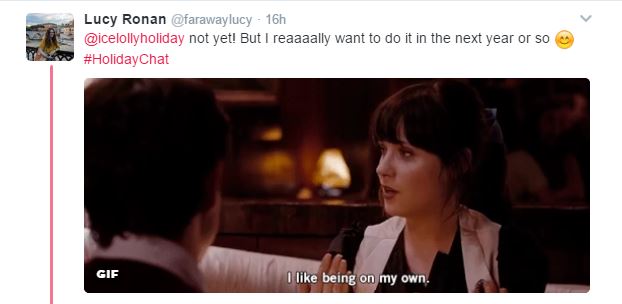 Q2) What would be your ideal solo travel destination and why?
City breaks got a lot of loving here but there were also some destinations further afield mentioned as ideal for tackling solo.


Okay, so things did threaten to Get Ugly at one stage…

But thankfully the chat quickly reverted back to The Other Side…

Q3) How would you convince someone who is considering ridin' solo, but perhaps unsure what to expect, to just go ahead & do it? #HolidayChat
Our chatters were full of motivating messages and useful pointers, with a common response being that sometimes one giant leap of faith can get you a long way!


Oh, and we also kind of added a new employee to our ranks…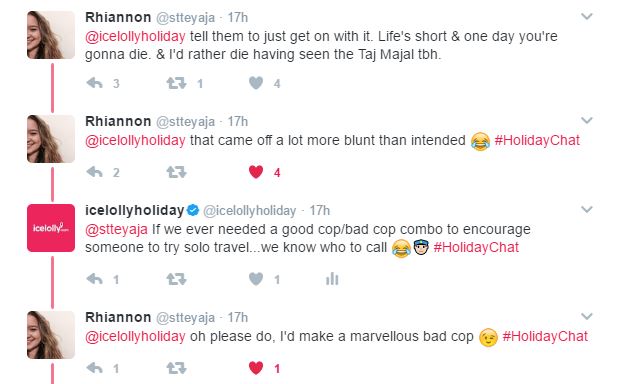 You're hired!
Q4) Do you have any fears or reservations about holidaying on your own? #HolidayChat
Language barriers and the fear of getting lost or lonely were the most popular answers to question four. Some people however had more concerns about holidaying in a group; once you've tried solo travel, you'll never go back so it seems!



Q5) We need your top 3 tips for solo travel GO! #HolidayChat
Purchase phrase books, be prepared to meet new people, plan ahead and trust your instincts! You suggested these handy tips to help make solo travel go down without a hitch…



Join us on Wednesday 5th April for our next #HolidayChat and let us know in the comments below if you have any topic suggestions!