Hello everyone!
First, I'd like to wish you all a very belated Happy New Year! I ended 2014 on a positive note, with the lovely team at icelolly.com sending me on a holiday to Cape Verde - perfect for some winter sun! Our flight out was good, we flew with Thomson and it took about five and a half hours to get there. The airport we landed at was tiny, but our hotel was only twenty minutes away, which was perfect as we didn't fancy a long transfer.
The resort we stayed at, the Melia Dunas, had a beautiful reception and we were greeted by the very helpful and polite staff. The complex was so big we had to use buggies to get around, which was something that my daughter Madison loved! We were lucky enough to stay in a stunning villa, with full kitchen, private dining area and front room, three bedrooms (each with their own bathroom). We also had a garden with our own private pool. The whole property was very clean and modern, and the beds were very comfortable!
There were a lot of great facilities available on site, including a spa, beauty salon, and a boulevard-type shopping area. We loved the private beach, which was gorgeous. The kids' club was brilliant too, Madison loved it! They taught her how to make things and braided her hair, and the hotel also had a kids' pool with a big ship in the middle and a huge playground with a castle. In the evenings they had all sorts of entertainment, my favourite being the Amy Winehouse tribute band, who played in their amphitheatre.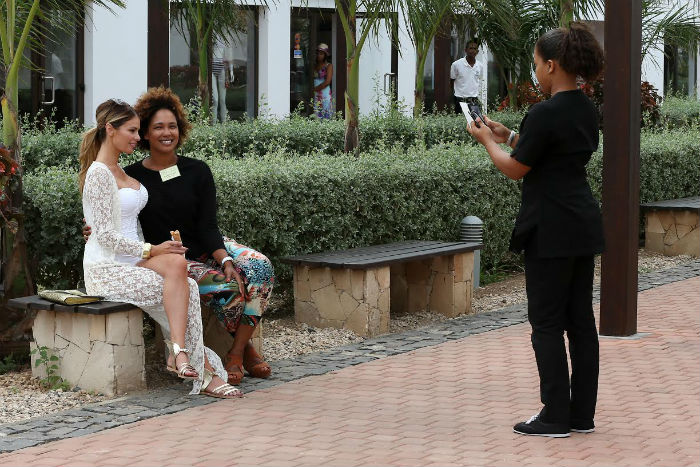 Options for food were aplenty. There was a massive buffet restaurant, which served a wide variety of cuisines. The main restaurant was very nice, looking on to the pool with an outside dining area. We also visited the a la carte restaurants (there are four in total on the resort), my favourite was the seafood restaurant called Atlantis, a 5* venue.
We did venture out of the hotel a few times; cab fare was about €3-5 to the town, which was only five minutes away. We went shopping and bought some ornaments. There was only one tiny supermarket there, but it really added to the exclusive feel of the place. They were a few restaurants, I really liked the one called Oj D'Agua, located on the beach. Absolutely stunning. I took some pics of the view, which was incredible!
Overall, Cape Verde was a beautiful place to visit, blessed with some superb weather, and with a flight time under 6 hours, what more could you want?!
I really enjoyed the experience, as did my nan and Madison. Thank you very much again to the lovely people at icelolly.com!
C x
Read our destination guide to find out more about the Cape Verdean island of Sal, or compare deals to emulate Chloe's fabulous holiday!