We all know how popular the beaches of Ibiza and Majorca can be, but what about the beaches on the less boastful and quieter Balearic island of Menorca? This Spanish destination is always popular with families but there is also plenty here to explore for beach bums. Here we've picked out the best for those of you craving a quiet beach break or wanting a little adventure in seeking out that perfect patch of sand.
Cala Macarelleta
There are many untouched beaches in Menorca and Cala Macarelleta is one of the best. The shallow waters and lifeguard make it a perfect spot for families too and it works as a practical base for the day but without the looming crowds. If you fancy food, you've no need to bring a picnic either as you can walk across to neighbouring Cala Macarella where you'll find a chirunguito to get some midday food. Even if you don't fancy food, the walk between the beaches offers spectacular views of the white sands below and that's definitely one of the highlights of Cala Macarelleta.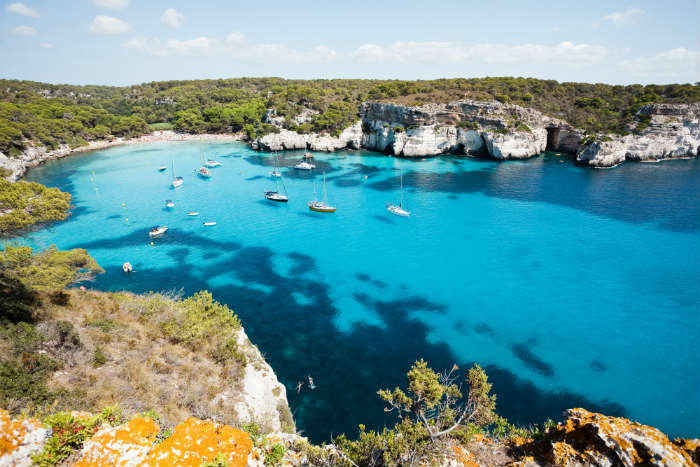 Platges Son Saura
On the South West coast of Menorca, lies Platges Son Saura, a pairing of two beaches that are separated by a rocky headland. This is another great place for families as the waters are clear and shallow and access to the beach is only a short 5-minute walk from the car park. It's the perfect beach to enjoy a picnic on too. There are no food facilities at Platges son Saura so stop off at a nearby shop to pick up some supplies beforehand. Otherwise, grab your patch of sand, settle in for the day and relax on one of Menorca's best beaches.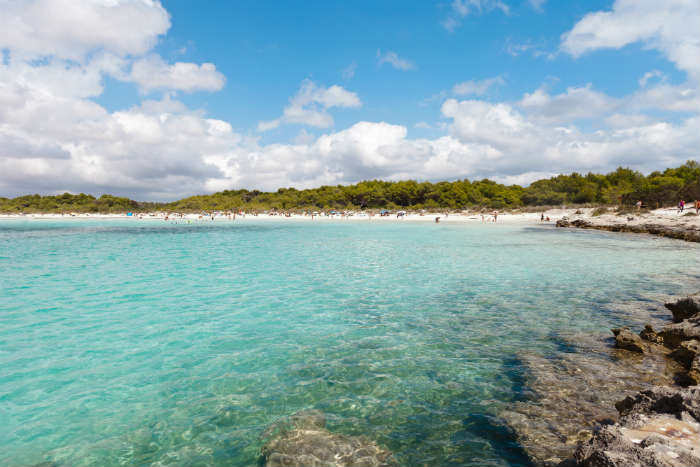 Cala Pregonda
If you're looking for a beach with a few unique characteristics, then head to Cala Pregonda on Menorca's central North coast. Surrounded by golden rocky cliffs that contrast with the aqua blue waters below, you'd be forgiven for thinking that is this beach's most distinguishing feature. Look a little closer though and Cala Pregonda also has an island that you can swim out to. That's pretty cool, isn't it? And, if you needed yet another reason to visit Cala Pregonda, this beach is also part of a marine reserve where you can spot rare Audouin seagulls. It's a little bit of an adventure to get to with a 30 minute walk down a dirt track, but with so much to see and discover at this beach, we reckon it's worth it!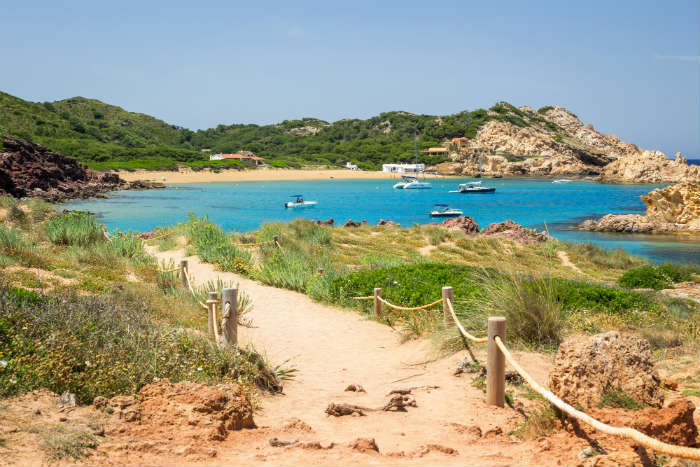 Calo Blanc
Now, Calo Blanc might not have the biggest stretch of sand – okay, there's hardly any sand here at all apart from that on a narrow cove – but the rocky cliffs along this part of the coastline are so dramatic, it'd be heart-breaking to miss out on them. Calo Blanc is well known for having some of the bluest waters on the island too, making it perfect for those wanting to snorkel and search out the marine life of Menorca.
Cala Escorxada
This one is for the adventurers out there. The ones that want to enjoy a hike that rewards with a stretch of virgin and uncrowded beach at the end. Cala Escorxada is where you go to get away from everything and the hour walk along the Cami de Cavalls – or the coastal horse path – from Binigaus is more than worth it. Just take your camera, a towel, maybe some snorkelling equipment and food and you're set for a relaxing day by the coast.