Do you feel like you've only just managed to wash the fake blood stains out of last year's fancy dress costume? Well unfortunately, it's time to dig out the face paint and the plastic fangs again, Halloween is almost upon us!
Some of you may already have plans to go trick or treating with the kids, or have an invite to a party where you can throw some ghoulish shapes on the dance floor after one too many, ahem… lemonades… But if your Halloween plans are dangling by a spider's web (see what we did there?), then read on dear friends to find out about some of the spine-tingling Halloween celebrations taking place this weekend, wherever you may be!
Disney to Die For!
What?
Halloween Festival
Where?
Disneyland Paris, Marne-la-Vallée, Paris, France.
When?
Wednesday 1st October – Sunday 2nd November 2014
How much?
1 day, 2 parks Super Magic Ticket - Adults £67.00/Kids £62.00 (When bought online, prices on the day may vary)
If you happen to find yourself in Paris this weekend (you lucky thing you!), then why not join in with some Halloween magic at Disneyland Paris? Mingle with Maleficent and other Disney villains, dress up in some ghoulish get-up with Minnie Mouse, and run amok with the pumpkin king in Jack and Sally's Cemetery.
The Halloween celebrations culminate in a big party on Halloween night (Friday 31st October) so for more fun, frolics and fireworks then make sure you book your tickets in advance!
Terrifying Tulley's Farm
What?
Pumpkin Patch + Spookfest and the legendary Shocktober Fest Scream Park
Where?
Tulley's Farm, Crawley, West Sussex, England.
When?
Saturday 4th October – Sunday 2nd November 2014
How much?
Pumpkin Patch + Spookfest (10.30am – 4.30pm) access all areas pass - Adult £10 online/£11 at the gate, Child £12 online/£13 at the gate
How brave are you? Does Casper the friendly ghost give you the heebie-jeebies? Or do you love being frightened out of your wits? Whether you're looking for family-friendly spooky fun or pure adrenaline-pumping horror, get yourself to Tulley's Farm this Halloween.
By day, your little monsters can enjoy the milder thrills of the haunted house, puppet shows and craft activities, but by night beware… as the farm transforms into a scene from your worst nightmares. Haunted hayrides, twisted mazes and zombie paintball are all part of the fun after the sun goes down, but be warned, this is no place for the faint of heart!
Shocktober Fest (6pm – Midnight) Xscream pass – £27.95-£32.95 online/£29.95-£37.95 at the gate (Age 15+ advised)
Chilling Chillingham!
What?
Halloween + Fireworks
Where?
Chillingham Castle, Northumberland, England.
When?
Friday 31st October 2014
How much?
Adults £10.00/Kids £5.00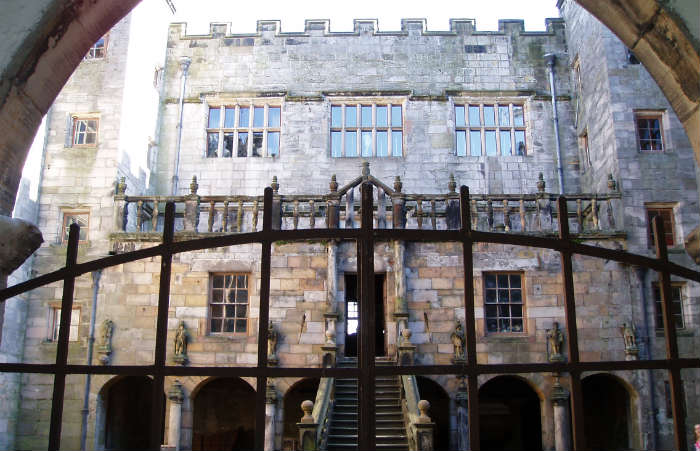 Once the home of rebellious English nobility, Chillingham Castle in rural Northumberland has a long and gory past. Largely considered to be the North East's most haunted property, where better to spend an eerie Halloween night?
On Friday 31st October, the castle throws open its gates to welcome in ghosts and ghoulies of all ages to enjoy a spectacular night of fireworks and entertainment. Test your skills at apple bobbing, follow the spooky pumpkin trail through the grounds and then enjoy a fabulous fireworks display over a mug of hot chocolate (or something stronger!)
Petrifying PortAventura
What?
The Great Night of Halloween
Where?
PortAventura, Salou, Spain.
When?
Friday 31st October 2014
How much?
Event tickets (7pm-2am) - Adults €15/Kids €12 (Overnight stays from €61)
If you're lucky enough to be away in sunny Spain this week, don't miss out on the thrills of Halloween night and get yourself to PortAventura theme park. Just an hour away from bustling Barcelona, enjoy a frightful night of rides, rollercoasters and dancing vampires at special discounted prices.
Also, if all of that isn't enough, new for 2014, if you want to be in with a chance of winning a stay at PortAventura, then you can, by entering the Halloween fancy dress competition! There are three categories to choose from, best male costume, best female costume and best family costume, so get practicing those face painting skills and book your tickets now!
Macabre Mexico
What?
El Dias de los Muertos (Days of the Dead)
Where?
Mexico, Spain, USA.
When?
Friday 31st October – Sunday 2nd November 2014
Spanning over the 1st and 2nd of November each year, the Mexican festival of El Dias de los Muertos or 'The days of the dead' involves no trick or treating rituals or scary masks… Despite is macabre title, the festival is actually a colourful celebration of life. Huge altars are piled high with sugar skulls, flowers and possessions of dearly departed loved ones by their families, and it is believed that their souls are welcomed back into the world.
A celebration of the triumph of life over death, there is much merrymaking, drinking and dancing which lasts long into the night, so you see, not everything that goes bump in the night has to be terrifying…
By Leanne Tonks – Monstrous Marketing Intern at icelolly.com
Banner image by David Boté Estrada on Flickr.