Wannabe holidaymakers have been quick to snap up breaks to the beautiful Portuguese island of Madeira in recent times, the world's leading island destination, as Brits look to get their latest dose of European sunshine.
Sometimes finding the right hotel can be a long and drawn out process that requires a bit of research and just generally uses up plenty of time, which is why we're taking all the stress out of this aspect of your next getaway by putting all the info right here in one place for you. And as Madeira is a year-round destination, we think it could be the perfect choice for your next holiday, offering something for everyone including tours, activities, sports, food and wine.
Madeira Selection is a group of hotels offering a diverse range of product, all with excellent service and great value for money. Interested in booking a trip to one of their hotels but unsure which one to go for? Read on for a round-up of some of our favourites!
We're also giving you the chance to win a stay at the 5* Melia Madeira Mare Hotel in Madeira for two, bed & breakfast, to help you enjoy that much-needed break you deserve! Click below to discover how you can enter.
1) Quintinha Sao Joao Hotel
Aptly described as a small hotel with a big heart, this accommodation is supremely integrated into the island's landscape and boasts the perfect amount of old and existing Madeiran Quintas. It is rated 5/5 on Tripadvisor, has a real home from home feel and a la carte dining that takes inspiration from local and Goan cuisine, whilst other main facilities include a spa, pools, gardens, gym, and tranquil sitting areas.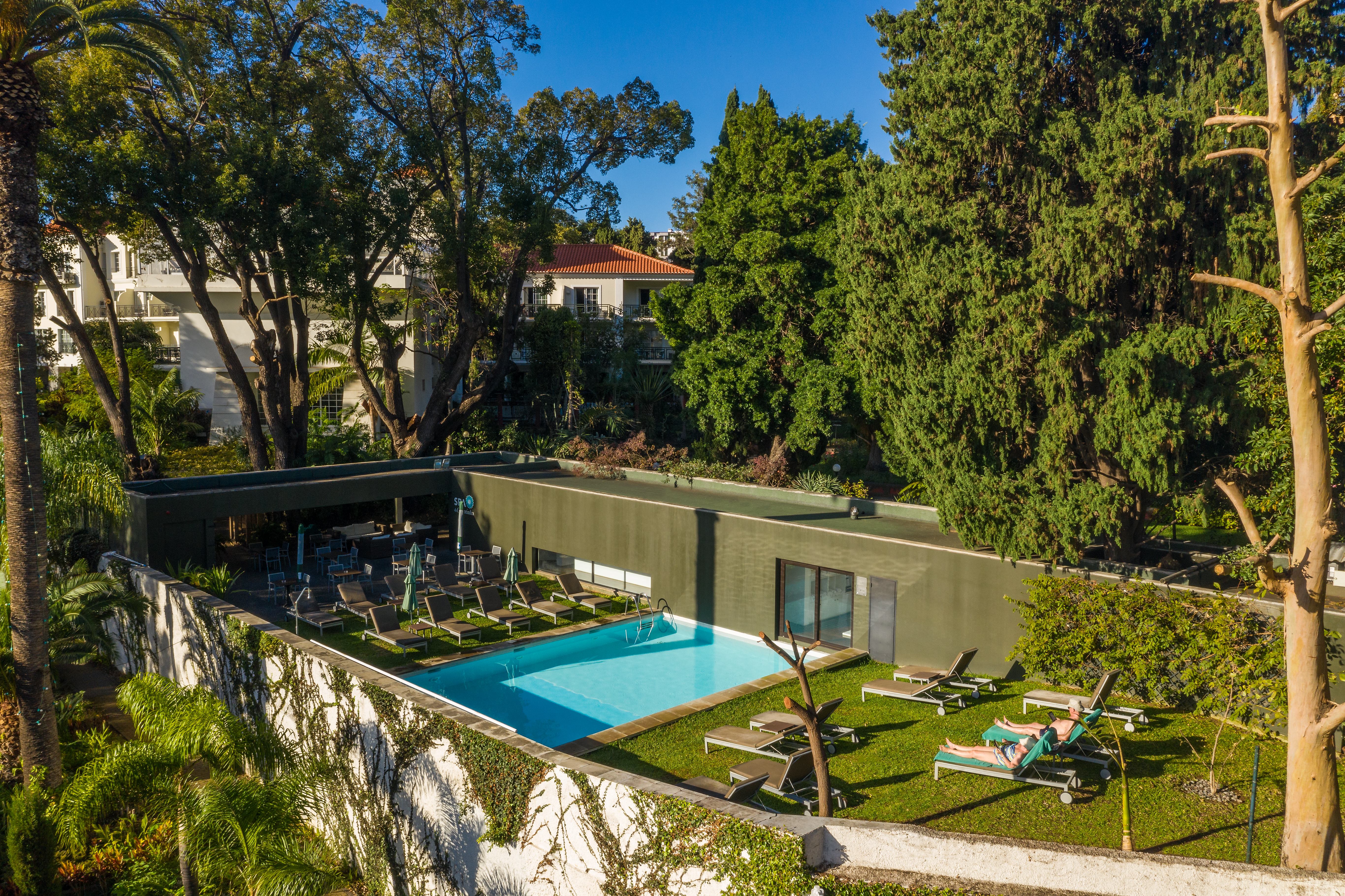 2) Se Boutique Hotel
If you're really looking for high quality, this boutique hotel in the heart of Funchal will be perfect for you. With easy access to prestigious museums and other major attractions, you're superbly situated in a prime spot for exploring the city and close to the cathedral, as well as being able to benefit from a rooftop terrace bar which is great for enjoying a cocktail or two with perfect views, massage area, indoor pool and fine dining restaurants.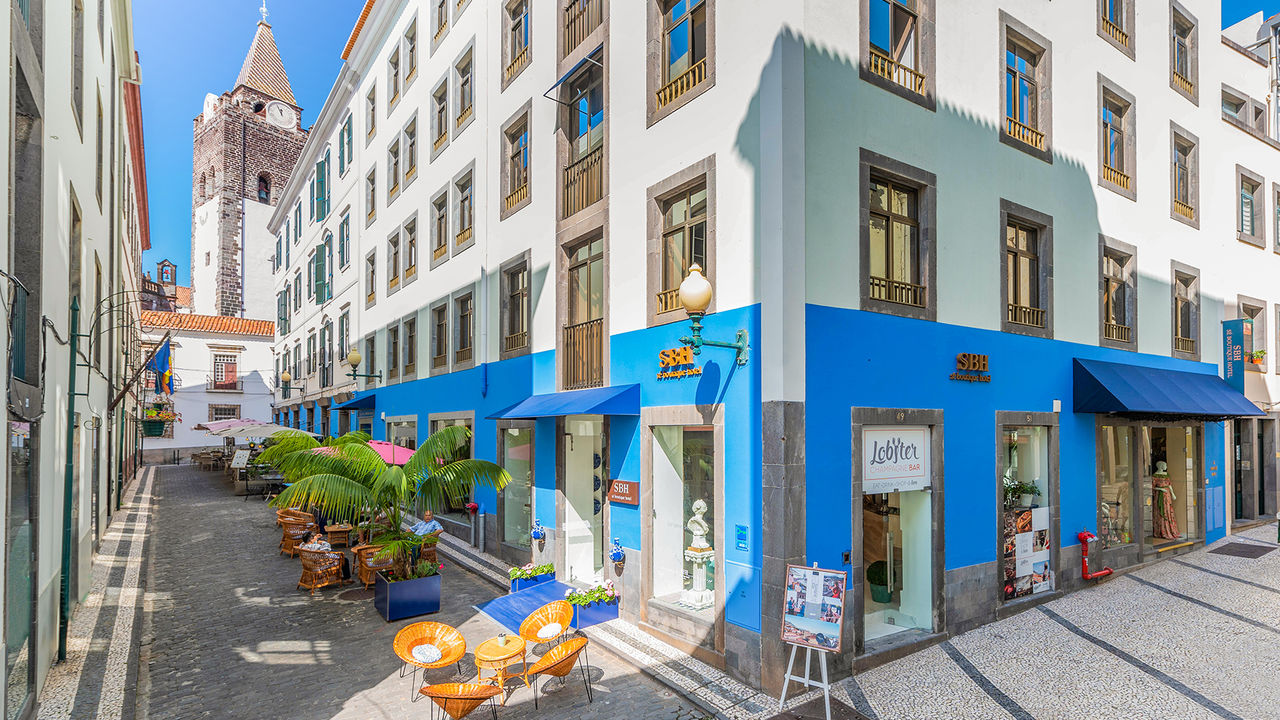 3) Vila Alto
This traditional Maderian manor house was built in the last 19th century and features both a multi-hectare vegetable garden and fruit farm. It was renovated in 2022 and is home today to 14 individual rooms across four levels, maintaining its original style but now including all the modern amenities you'd expect such as Wi-Fi, cable and satellite TV and a swimming pool.
You can wake up to amazing views of the ocean in this incredible hotel, which sits at the top of a mountain assuring peace, quiet and privacy. Visit here if you'd like a unique stay that allows you to disconnect from the daily stresses of life and be at one with nature.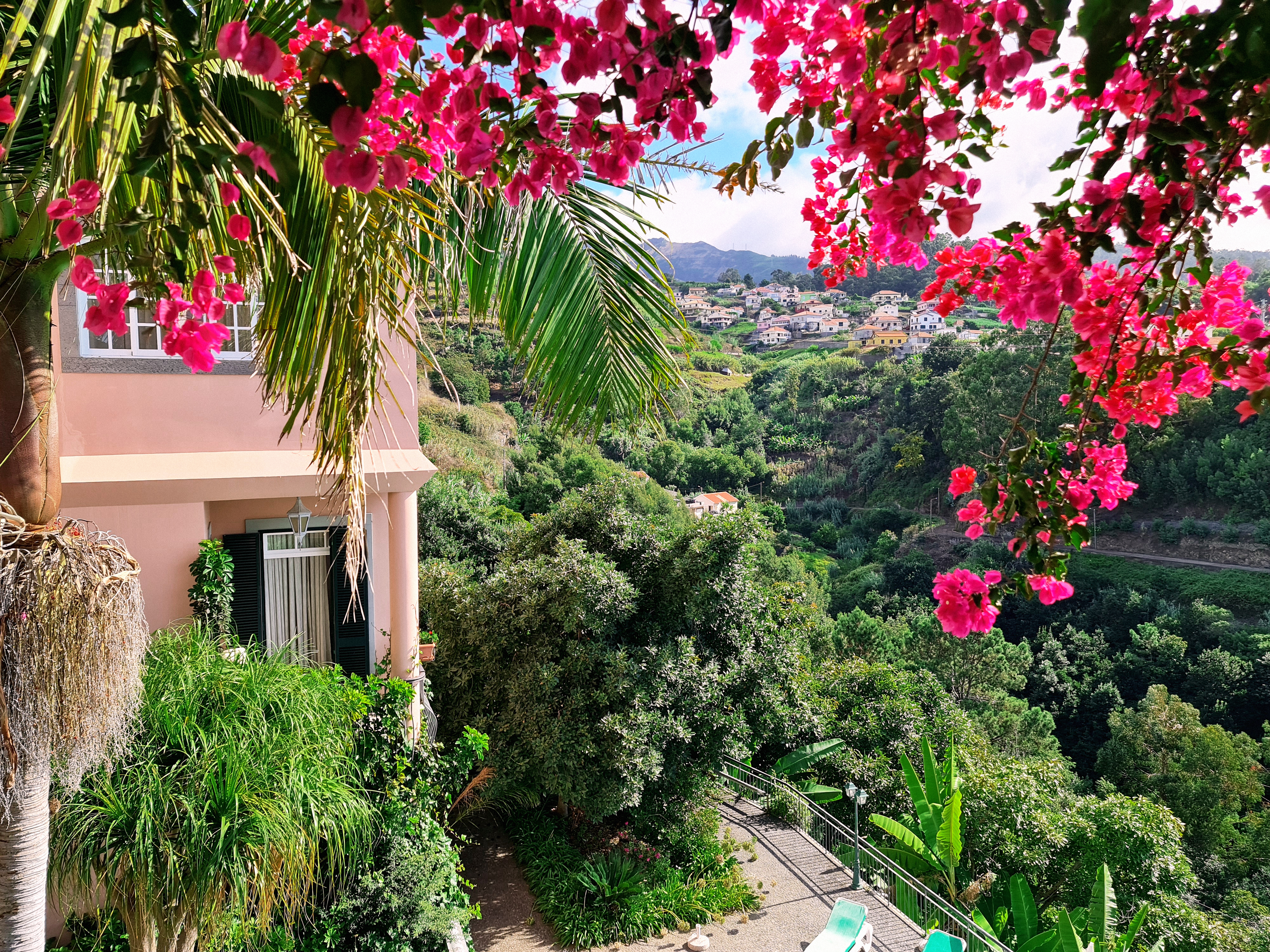 4) Quinta da Serra Bio Hotel
Located in a truly unique and exquisite setting, this rural retreat invites you to rest and renew energy amidst the superb backdrop of leafy gardens. Offering guests both international and biological cuisine you'll be spoilt for choice when it comes to filling your belly, all served with a magnificent view over the valley.
Set in lush gardens with its own vineyard, this bio hotel is perfectly placed to offer stunning views of the island.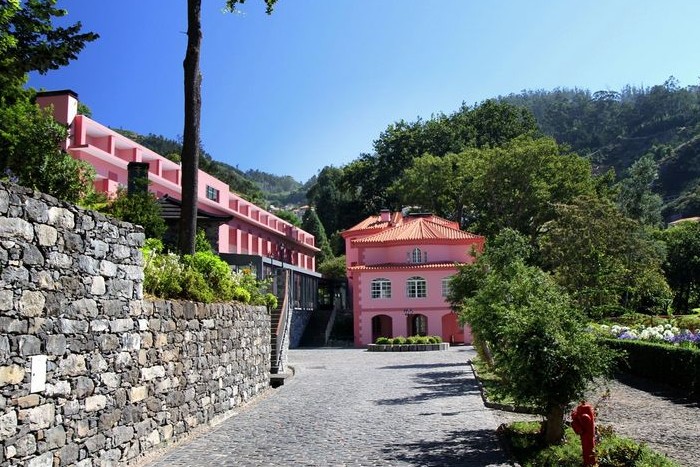 5) Melia Madeira Mare Hotel
If breathtaking views are what you desire from a hotel, the Meliá Madeira Mare is the one for you!
Based in Funchal, you'll be staying right by the Atlantic Ocean, with access to the sea-front promenade and only a 10 minute walk from the city centre.
Featuring contemporary, maritime-influenced lines, it blends in perfectly with its surroundings and includes 2 restaurants, 2 bars, SPA, swimming pools, health club and MALO Dental Clinic.
6) Galo Resort Hotels
Found on the top of a cliff in the south coast of Madeira, this is a combination of three different hotels (Sentido Galosol, Alpino Atlantico and Sentido Galomar), all with their individual brilliance.
Sentido Galosol
This family-friendly hotel has large rooms and public areas, so you'll certainly have plenty of space to relax in and enjoy. It also boasts a sports complex and great dining options as well as quite simply excellent sea views.
Sentido Galomar
An adults only hotel, you can relax in peace and comfort with Sentido Galomar's fantastic spa including stunning sea view saunas. It also has a diving centre located on the island's best coral reef and is set in a stunning location which offers panoramic sea views.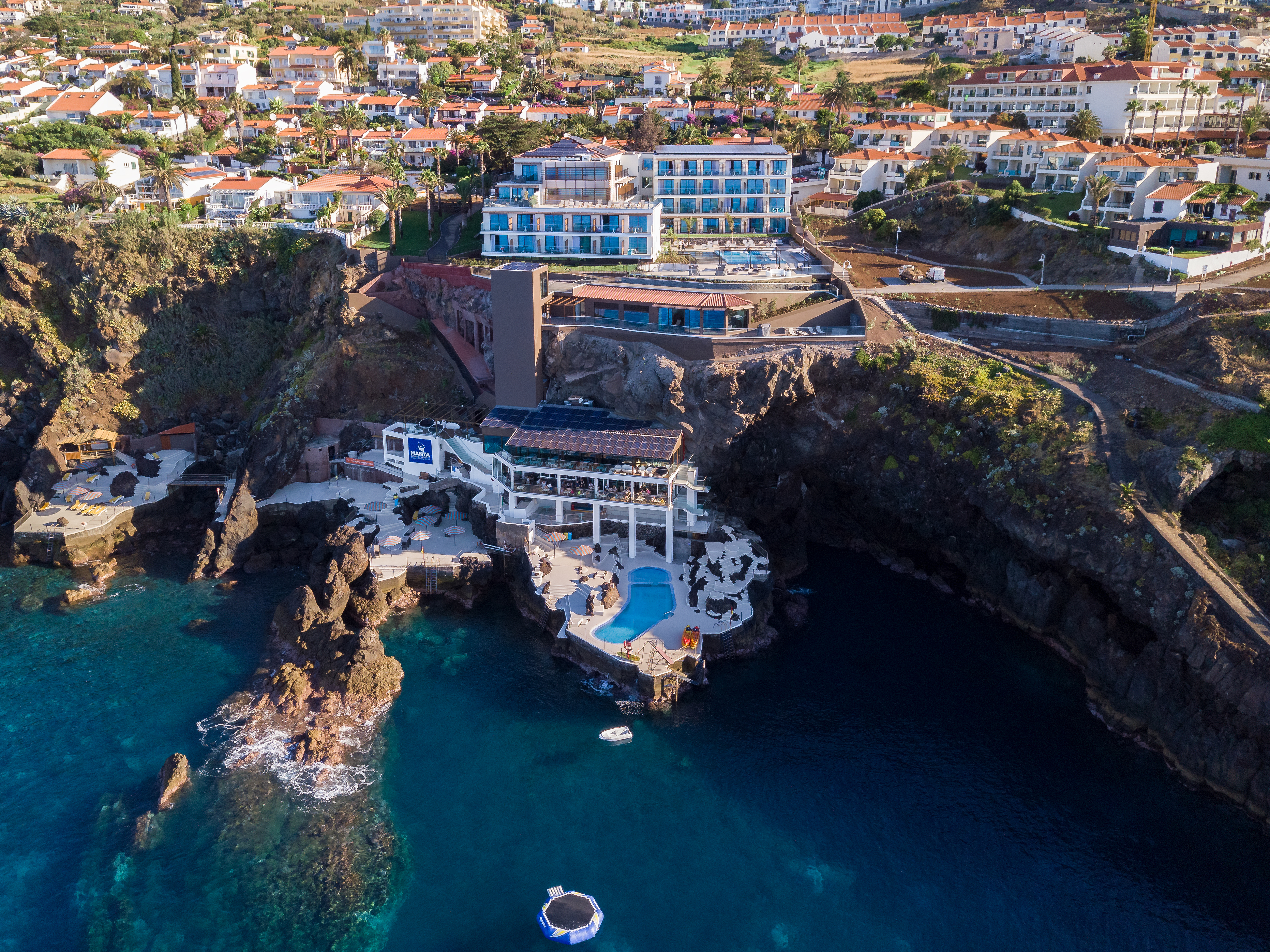 Alpino Atlantico
A truly special place conceived for ayurvedic treatment guests accommodation. With 27 rooms, it ensures the necessary peace and tranquillity so you can easily relax and recover your physical, mental, spiritual and emotional balance. Start your day off with a yoga session and an incredible sea view, without any distractions or worries.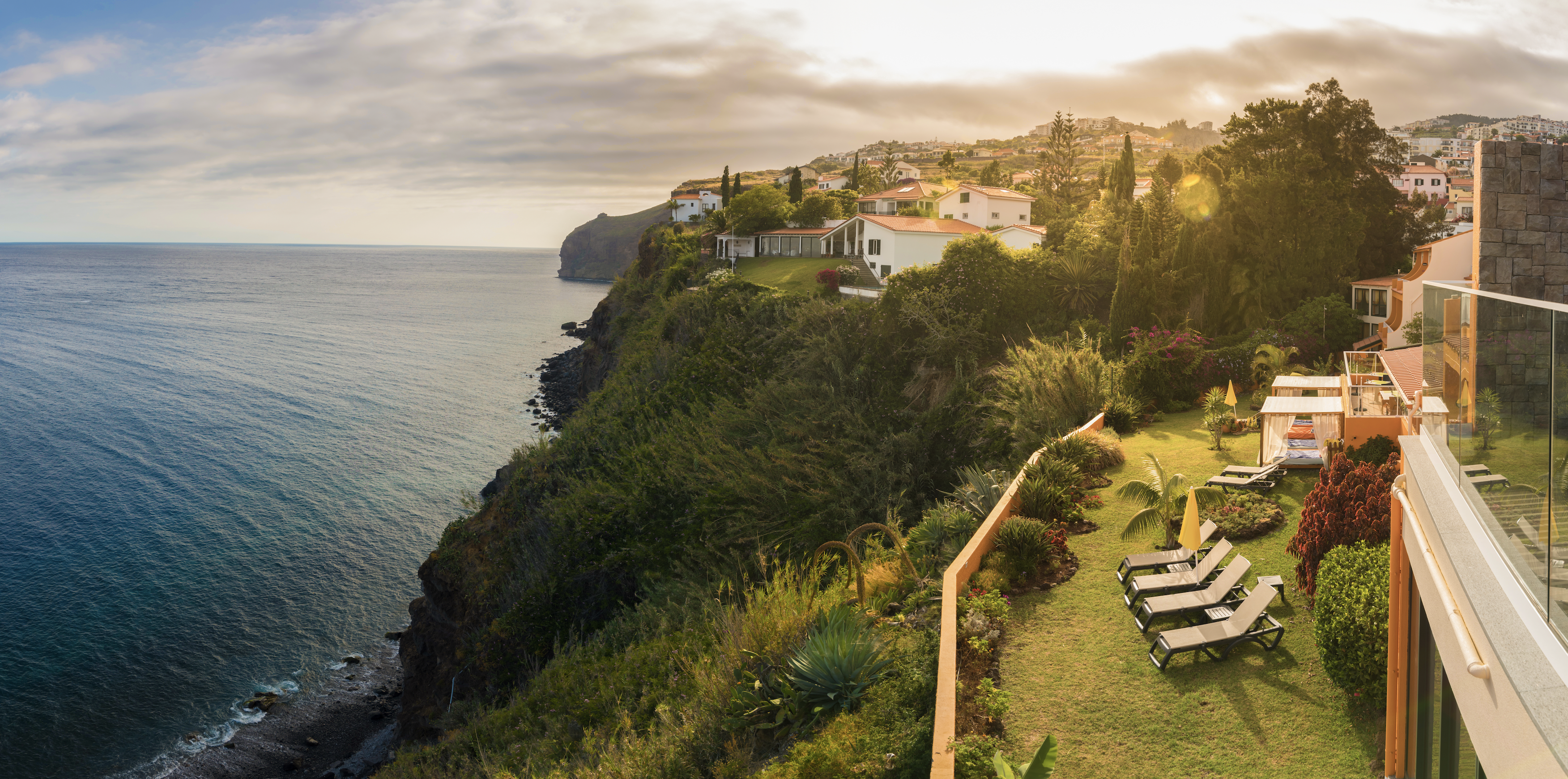 7) Dorisol Hotels
The largest chain of three star hotels in Madeira, Dorisol calls upon more than 50 years of experience and ensures visitors can simply enjoy their holiday with maximum comfort at the best rate.
Dorisol Florasol
Set in a brilliant location close to Lido, this hotel is very spacious and features recently refurbished rooms, as well as stunning ocean views from the pool area.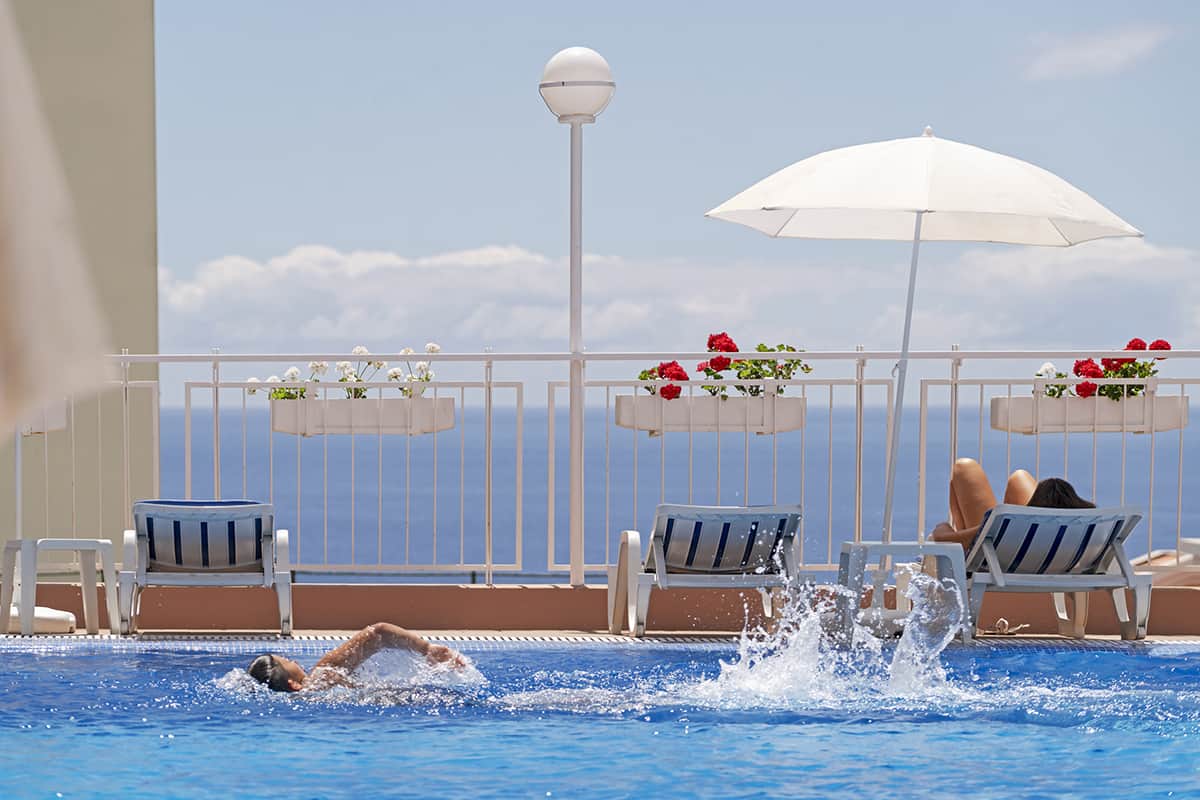 Dorisol Estrelicia
This hotel provides guests with excellent value for money, and a great array of facilities including indoor and outdoor pool areas, tennis courts and a spa. There are also a variety of room types, which cater for larger families and groups.
8) Aqua Natura Hotels
Aqua Natura Hotel
In the cozy and picturesque village of Porto Moniz, you'll find Aqua Natura Hotel which is located between the imposing cliffs of the surrounding north coast and the Atlantic Ocean. Combining comfort with sophistication, guests can enjoy a quiet and peaceful environment with stunning views and facilities that include panoramic restaurants, a solarium, massage area and free access to the famous natural rock pools located directly in front of the hotel.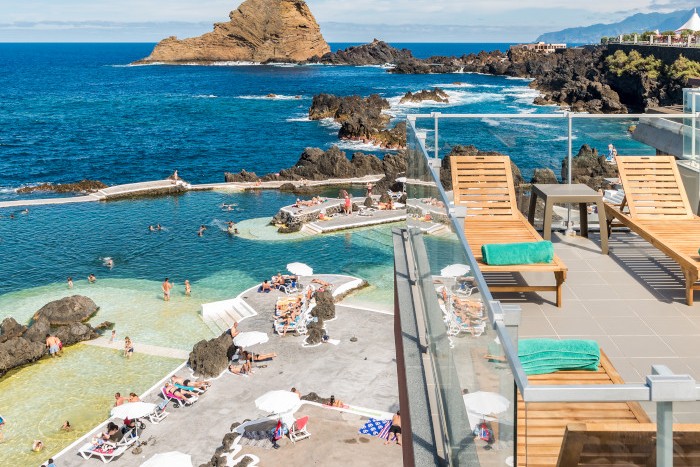 Aqua Natura Bay
Located on the north side of Madeira in the paradisiacal Vila of Porto Moniz, this amazing hotel boasts both an exuberant landscape and fantastic views of the Atlantic Ocean, as well as imposing sights of the mountainside on the northern side of the island. Its highlight is the world-renowned natural swimming pools, as well as 42 twin sea view rooms and 3 family sea view rooms which offer comfort and relaxation aplenty.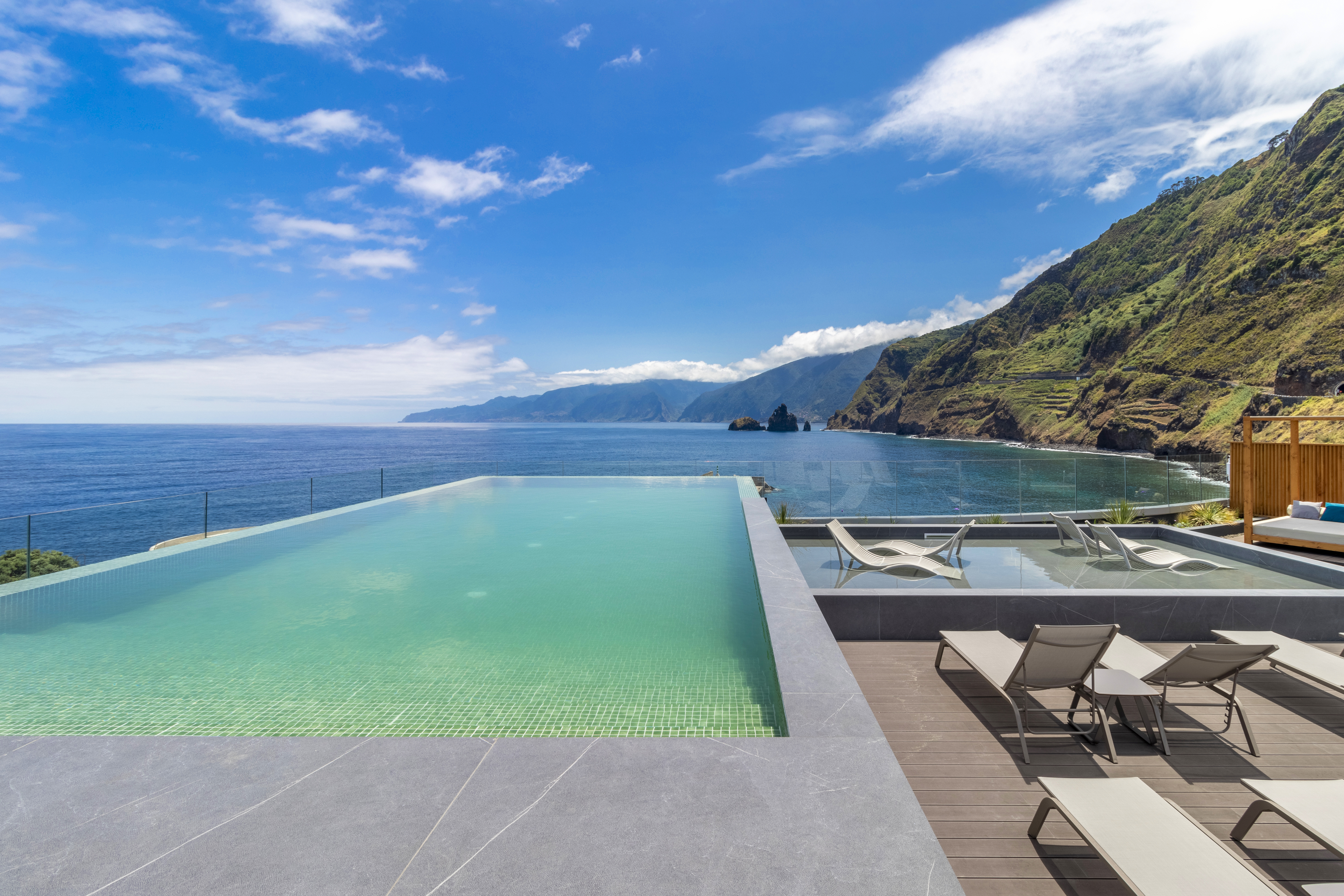 9) Four Views Hotels
Looking for an invigorating holiday in Madeira? Four Views Hotels is the fourth largest hotel group in Madeira that owns a string of stunning accommodation on the island.
Four Views Oasis
This is a stunning sea front location hotel with excellent family facilities. It also has a great all inclusive option and a beautiful spa – perfect for relaxing and recuperating.
Four Views Baia
An adults only hotel that provides extreme peace and tranquility, witness for yourself the amazing surroundings with its brand new panoramic rooftop restaurant. You'll benefit from stunning views over Funchal and the Atlantic Ocean in this superb, fully refurbished hotel.
Four Views Monumental
Situated in the heart of Lido, this family-friendly hotel is great value for money and provides quite incredible panoramic views from the pool terrace area.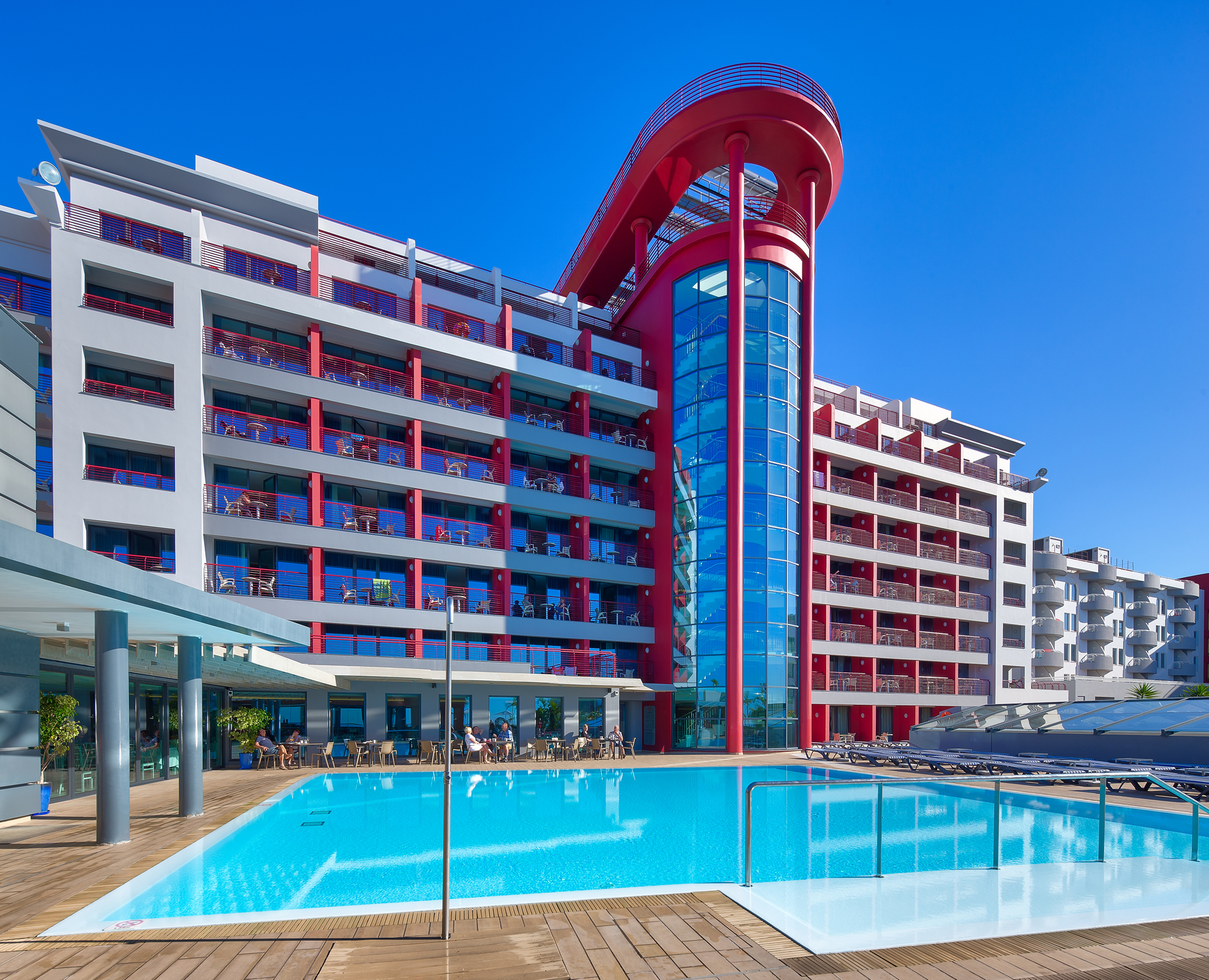 Which of these incredible hotels would you most like to stay in?