We're kicking off a brand new traveller insight blog feature whereby the icelolly.com team delve into fresh, quirky concepts put forward by other travel brands. Our focus on this occasion is all about Virgin Atlantic's intriguing and dreamy Airbus A350 plane, which has recently been unveiled and set to carry passengers in style.
What Is The New Airbus A350 Plane?
Powered by Rolls-Royce Trent XWB engines, this incredible new plane comes with luxury aplenty and offers passengers a first-class flying experience. Each individual suite is window-facing with deployable privacy screens, 44" leg room and a seat that transforms into a fully flat bed.
Travellers have their own 18.5" screen to watch TV shows, films or play games in what is Virgin Atlantic's biggest ever in-flight entertainment system. You can even feast on dishes by Donal Skehan, sip Mile High afternoon tea by Eric Lanlard or enjoy a fine array or cocktails.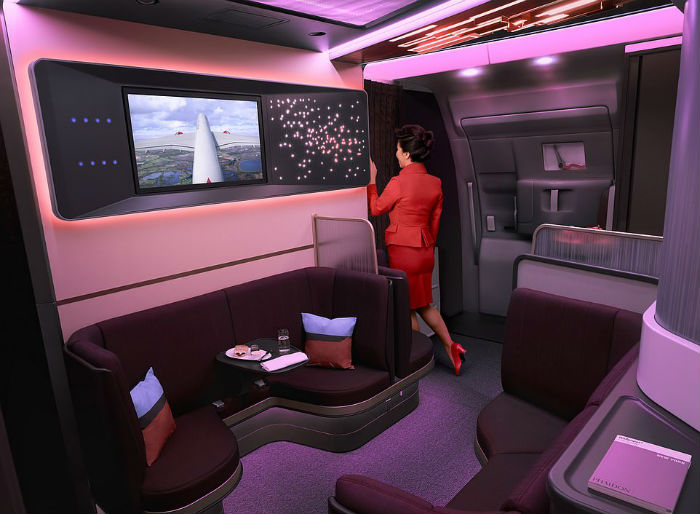 Image: Virgin Atlantic
What Fun And Quirky Features Does It Include?
Economy flyers will be set-up in a 3-3-3 formation, with upgraded seats to more luxurious fabrics and adjustable headrests, though slightly less leg room and screen sizes will be available when compared to business and premium class.
Economy Light and Classic will provide 31" leg room, whilst Economy Delight offers 3" more, and there's high speed Wi-Fi for all passengers on board. Seats transition easily from an upright position straight to a bed, big enough to fit those as tall as 6ft 8.3in, as well as the aforementioned privacy screens.
What About Business And Premium Class?
Premium-economy and business class travellers will be situated behind 'The Loft', which is an area designed for flyers to gather and enjoy food, drink and generally socialise with others, even including a 32" screen for collective movie viewing. Bars are operated on all of Virgin Atlantic's long haul flights, but this new feature is now 'the largest social space in the airline's fleet'.
Premium passengers will also get more storage space and, of course, their very own suites, which have been designed in partnership with a variety of the company's most frequent flyers – a big difference being that seats no longer face each other.
Image: Virgin Atlantic
When Will It Officially Be Unveiled And Used?
Four are expected to be operational later this year, from around August, with another eight set to join them by the end of 2021.
Which Routes Will It Be Used For?
The new planes will operate from both London Gatwick and Heathrow on New York and Atlanta routes. Its first flight, to be known as 'Red Velvet', will travel the airline's flagship journey between Heathrow and New York JFK.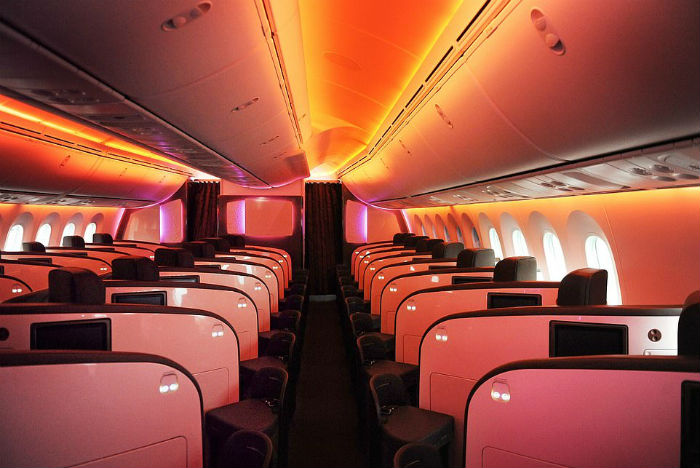 Image: Virgin Atlantic
How Much Will It Cost To Fly On It?
At present, it's not totally clear how much passengers will have to pay for the pleasure of flying on the luxurious Airbus A350. The total cost to Virgin is estimated at around $4.4 billion however, so it's certainly a significant investment.
Why Has It Been Released?
Executive Vice President Customer at Virgin Atlantic, Mark Anderson, commented: "The introduction of our A350 represents a true evolution of our customer experience.
"We believe flying should be exciting, whether it's your first or 100th flight with us and that's why we've elevated our offering to provide our customers with something totally unique.
"The A350 forms a significant part of our fleet transformation strategy and by 2022, we'll have our youngest, cleanest, greenest fleet in the sky as the aircraft transforms our customer experience, reduces our environmental impact and improves our route economics."
Do you have any plans to travel on Virgin Atlantic's Airbus A350? Tweet @icelollyholiday with what you like most about the new fleet!