We all love our favourite bargain destinations, but did you know there could be some great deals on offer to places you'd never even thought of? We've had a snoop around and found out where your money will go furthest in 2014, but keep it to yourself or everyone will be going!
Portugal
Portugal was relatively unaffected by Europe's recent economic crisis, and while its louder cousin Spain was struggling to regain its footing on a slippery financial landscape, Portugal has surged forwards in the holiday stakes. Lisbon consistently low hotel prices have made it one of the more affordable cities in Western Europe, and now Porto has emerged as the up-and-coming place to be with its winding streets, modern architecture and famous port wine. Portugal also offers great value on a beach holiday; the Algarve was recently named the cheapest family holiday destination in Europe for 2014.
What can I expect for my money?
An all-inclusive family holiday in the Algarve, including flights and a 7-night hotel stay, from £250pp.
Search for bargain holidays to Portugal.
Bulgaria
Although many Eastern European countries have grown in popularity in recent years, Bulgaria continues to be largely overlooked as a holiday destination. This makes it a perfect spot for bargain hunters; while prices soar for holidays in Croatia and Turkey, Bulgaria remains great value for money. Capital cities are notoriously expensive but Sofia is a glorious exception, with hotel rates 50% lower than the global average, affordable eating options and cheap alcohol. The city's rich culture, beautiful architecture and vibrant university feel make it a real up-and-coming destination, so get there quick…before everyone else does!
What can I expect for my money?
Return flights to Sofia and 3 nights in a 4* hotel for under £275pp.
Find great value deals in Bulgaria.
Greece
Greece has made headlines in recent years for all the wrong reasons; recession, strikes and unemployment have cast a shadow over this popular destination and the tourism industry has taken quite a hit. With the pressure on to draw visitors back to the country, prices dropped, and Greece is now making its comeback as a leading destination. The beaches, rich history and beautiful scenery that have made Greece popular since the 1960s are still there, but right now you have the chance to experience them with fewer crowds for a lower price. Seems like a win-win to us.
What can I expect for my money?
An all-inclusive week in Crete in May, including flights, for £160pp.
Discover the best prices on holidays to Greece.
More: Find the perfect Greek island for you.
Las Vegas
Sin City has long been a favourite destination for those seeking a wild weekend to remember, and with good reason. The Strip is an adult playground of lavish hotels, exclusive nightclubs and high-roller casinos, while the nearby Grand Canyon is a marvel best saved for a more sober portion of your trip. But for all its glitz, Las Vegas is not as expensive as you would think. Reasonably priced hotels can be found even on the Strip, budget dining options are easy to come by and many casinos supply free drinks to those at the tables.
What can I expect for my money?
Return flights, airport transfers and a week in a mid-range hotel on the Strip from £750pp.
Compare prices on trips to Las Vegas.
More: Find the best things to do in Vegas.
South Africa
For the holiday of a lifetime at the best price, South Africa is the perfect choice! South Africa is generally cheaper than the UK in terms of hotels, food and transport, and with the exchange rate the strongest it's been since 2008 now is the best time to get value for money. Cape Town is arguably the country's most exciting city with a fast-paced lifestyle, great nightlife and diverse population, while the towns on the Garden Route have a more laidback feel. For the ultimate wildlife experience, head to Kruger National Park to spot the Big Five.
What can I expect for my money?
An 11-night tour covering Cape Town, Kruger National Park and Victoria Falls, including all flights and hotels, for under £3000pp.
Get a great deal on a South Africa holiday.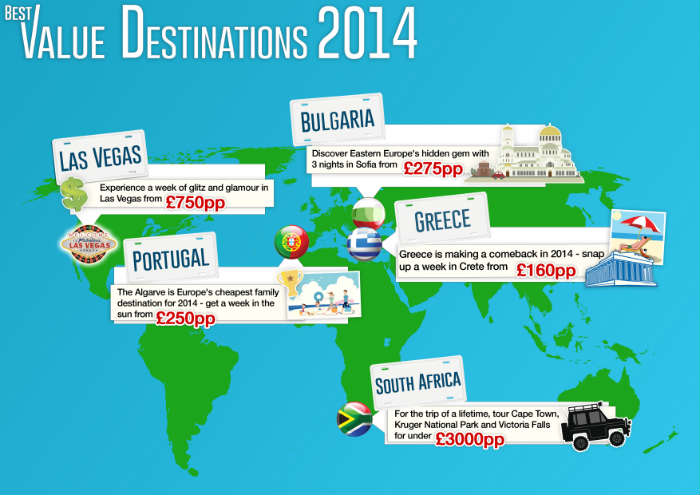 By Kate Moxon – Online Marketing Assistant at icelolly.com