A recent Tweet from cruise enthusiast Emma, revealed the most popular Google searches when it comes to cruise ships... and let's just say they weren't great.
The auto complete on Google searches are generated by the most popular searches conducted by users, which means these 10 results are the general consensus for Google users on cruise ships. Well, we disagree, and we hope to prove Google users wrong by debunking some of the most common myths...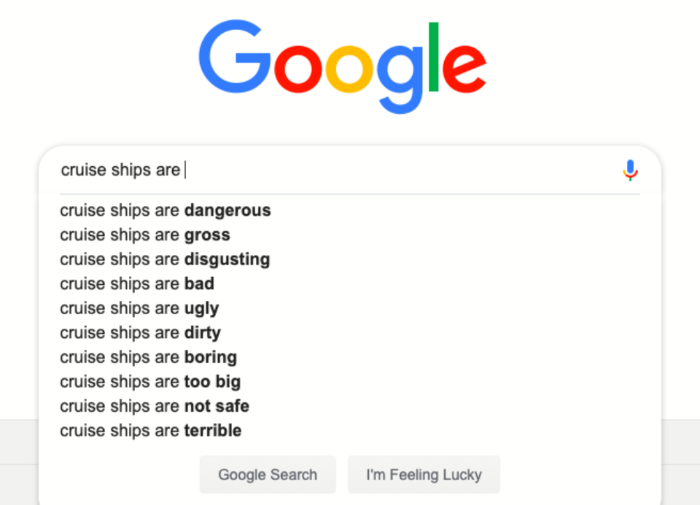 Cruise Ships Are…
…Ugly
Many years ago some ships may have looked a little dated in terms of décor. However, there are plenty of newer and more modern ships on the seas nowadays, with further amazing vessels due to set sail on their maiden voyages over the coming years.
For example the Norwegian Encore with its Go Kart track or the modern looking MSC Bellissima which launched in March 2019 to great applause. These ships are setting the tone when it comes to the new wave of ship styles - modern, airy, fun and packed with tasteful colour.
…Dangerous
All ships follow a large and detailed number of strict laws and procedures in order to ensure the safety of both passengers and members of the crew. This includes fire safety, practice drills for locating life jackets and lifeboats as well as many more.
To learn more about these laws and practices you can check out the SOLAS Convention, which details procedures cruise companies must operate under regarding the Safety of Life at Sea.
…Too Big
Standard cruise ships can be quite large, but they are floating cities that are set to sail the high seas after all. If you're put off by is the sheer size of a ship, perhaps river cruises may be the one for you. These boats are on a smaller scale to the ships as they sail down rivers and therefore need to be narrower and shorter.
If even the river cruise boats seem too large, there are companies that offer even smaller scale trips, like 12 person capacity boats that sail around the Scottish Isles – as seen on with Cruising With Jane McDonald.
…Boring
If there is one thing cruises ships aren't, it's boring! Not only do you get to see several destinations in just one holiday, but on your sea days there is plenty on the ship to keep you amused. With many ships now boasting such things as wave machines, giant slides, casinos, award winning shows such as Kinky Boots, go kart tracks and open-air laser tag.
Alongside the new attractions there are also great basics that have seen upgrades such as the food. Many of the newer ships attract star chefs to design their menus, such as Celebrity Cruise's Edge ship which has food offerings from Michelin-starred chef and vice president of food and beverage Cornelius Gallagher!
Not only do they have mouth-watering menus, but they also offer every type of restaurant your heart could desire, several pools and more bars than you can visit in a week!
Have you ever been on a cruise? Tweet @icelollyholiday and let us know your fave things about trips to the seas!
About The Author: